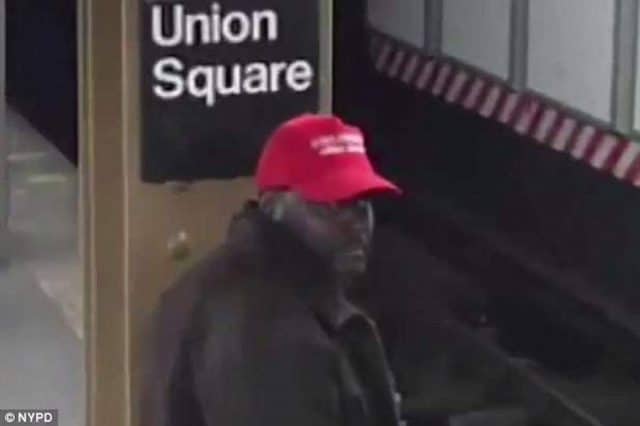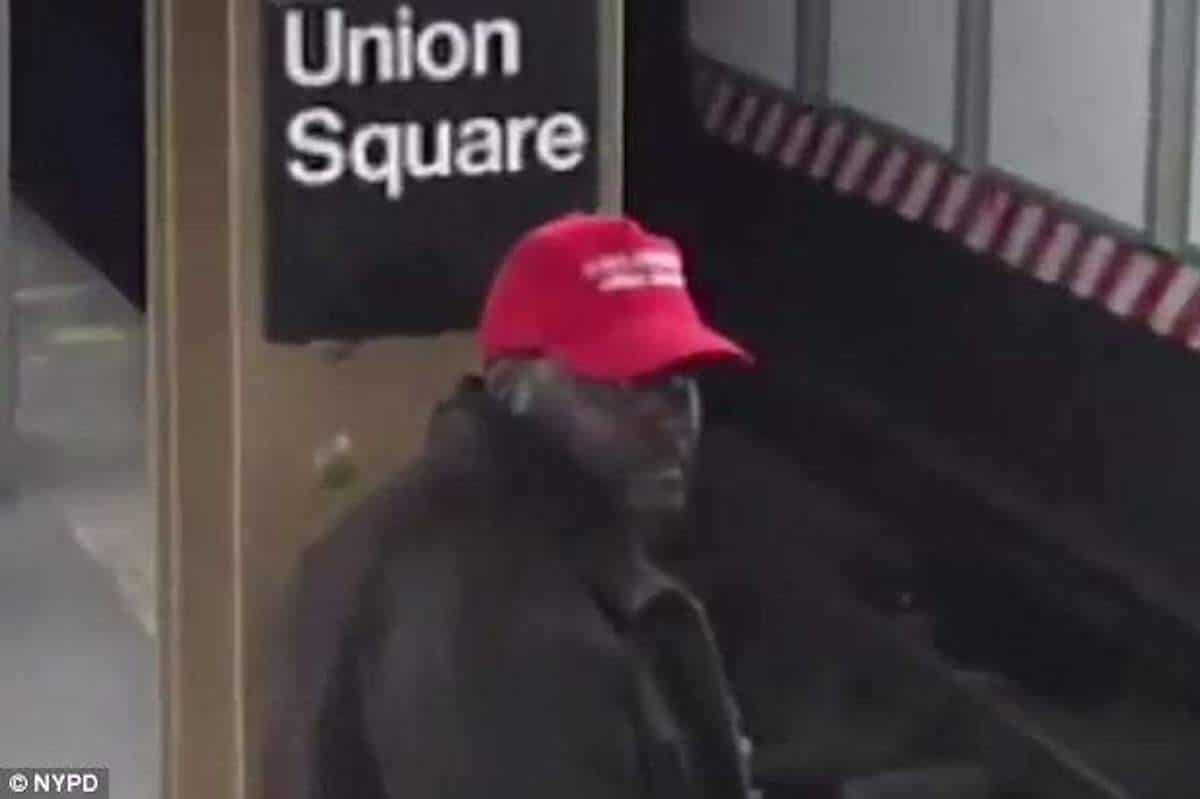 Black man wearing Make America Great Again hat assault: A black male suspect in MAGA hat wanted for suspected hate crime after pushing Hispanic man onto subway tracks at NYC's Union Square. 
NYC cops are seeking a black man who allegedly pushed a Hispanic man onto subway tracks in a suspected hate crime.
Witnesses told of the man wearing a 'Make America Great Again' red hat approaching the Latino man, where a verbal altercation ensued before pushing him onto subway tracks at Manhattan's Union Square station, Friday night.
Police say the black male made several disparaging remarks regarding the Hispanic man's ethnicity, as the altercation spilled out onto the platform.
Specifically, he is thought to have accused Mexicans of coming to the country to bring drugs and take jobs.
Abc7nyc reported the suspect punching the Hispanic man in the head several times before pushing him off the platform onto the tracks.
A friend of the 24 year old victim and a bystander were able to help him back onto the platform before he was struck by a train. 
The victim was rushed to an area hospital with a head laceration that required several staples, and is recovering.
The suspect fled the scene on foot, hopping on a Brooklyn-bound L Train.
Here's the full video of the #MAGA hat wearing suspect the NYPD is seeking in conjunction with the subway assault hate crime investigation. https://t.co/hzHfQihwH5 pic.twitter.com/jdLGP4ghrb

— Hunter Walker (@hunterw) April 22, 2018
Witnesses told of the suspect wearing a red hat and red shirt, both of which read 'Make America Great Again', Donald Trump's famous campaign slogan.
The suspect of heavy set build was also wearing blue overalls, a black jacket and jewelry around his neck, police said.
Friday night's incident comes a week after a tourist was robbed at knifepoint at the Union Square subway station because of his 'Make America Great Again' hat.
Anyone with information about the suspect is urged to call the NYPD Crime Stoppers Hotline at 1-800-577-TIPS.