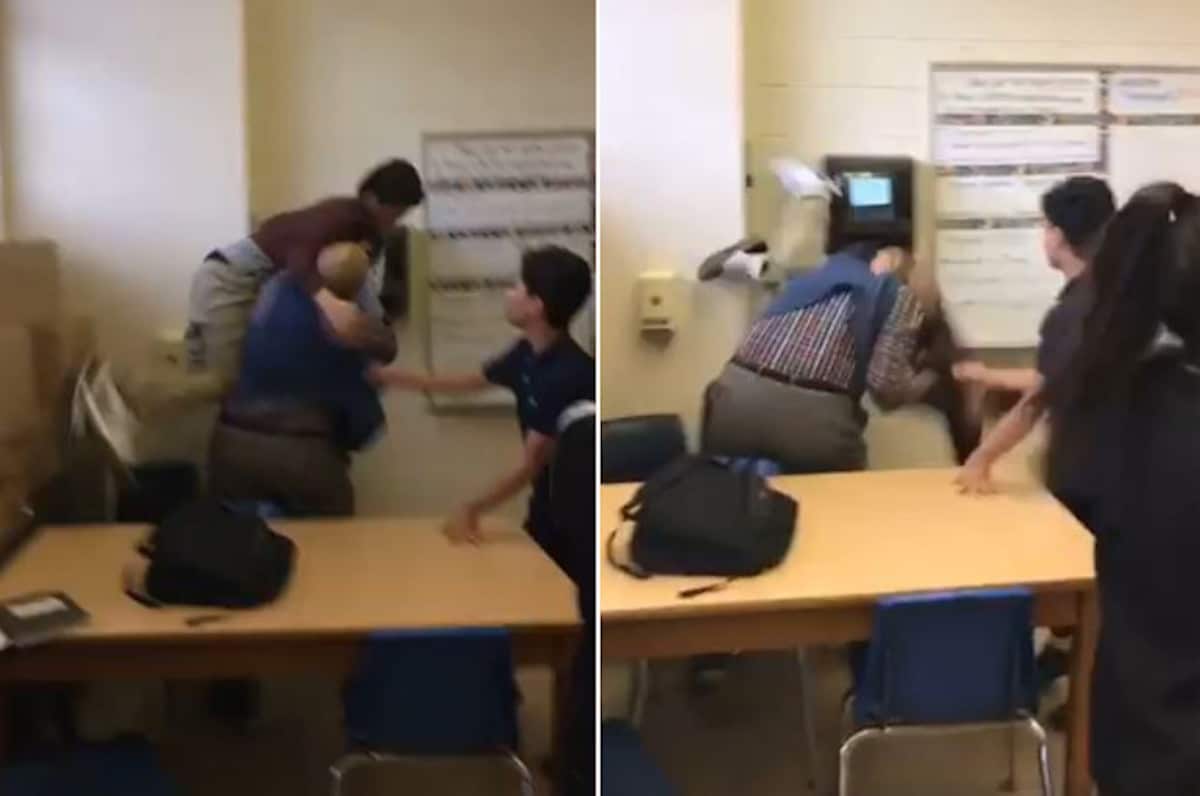 Jose Escudero body slammed: Paul A. Stennent a Greensboro, North Carolina, Western Guilford Middle School substitute teacher fired after disciplining middle school student. 
Paul A. Stennent a 49 year old substitute teacher at a Greensboro, North Carolina school was fired last week following video showing the middle school educator body slamming one of his students.
The video, which was reportedly taken on Wednesday, shows a confrontation between the Western Guilford Middle School substitute teacher, and 12-year-old student Jose Escudero.
Escudero told Fox 8 that the 'incident' was preceded by a disagreement over a box of Valentine's Day chocolates that he'd brought to class that day, with Stennett confiscating the candy and placed it in the sink.
When Escudero went to retrieve the chocolates at the end of class, Stennett tried to stop him, attempting to grab the box away from boy and grabbing him by the front of his shirt. Stennett then allegedly pinned the child against the wall before throwing him over his shoulder and slamming him onto the ground.
Jose Escudero mother: 'Please, I'm asking for is justice.'
The clip which has since gone viral, was shared on Facebook on Friday by Escudero's mother, Mayo Corrales, who says her son was suspended for seven days due to the incident.
Podted the mother, 'The day February 14, 2018, my son was hit by his substitute in the WESTERN GUILFORD MIDDLE SCHOOL in Greensboro NC. For this fact my son was suspended for 7 days. PLEASE I'M ASKING FOR JUSTICE.'
The altercation reportedly left Escudero with bruises on his elbow, shoulder, and back. He and his family are planning to take legal action against the school and the teacher, Newsweek reports.
Tina Firesheets, a spokesperson for the Guilford County Schools district has since revealed that Paul Stennett is no longer working for the district. The substitute teacher first began his employment on December 19. 
'This kind of behavior toward a student is disturbing and unacceptable,' Nora Carr, chief of staff at Guilford County Schools, told via Fox 8. 'We reported the behavior to law enforcement and will no longer employ this person as a substitute teacher or in any other GCS position.'
Responding to the video, Greensboro local police said they had yet to decide whether to pursue charges.
'The video does not capture the entire incident,' Susan Danielsen, Public Information Officer for the Greensboro Police Department told the dailymail on Monday.
Adding, 'We are still interviewing people so it would be premature to place any charges at this time. At this point, no one has been charged.'
The Escuderos plan to now pursue legal action against the school and the teacher.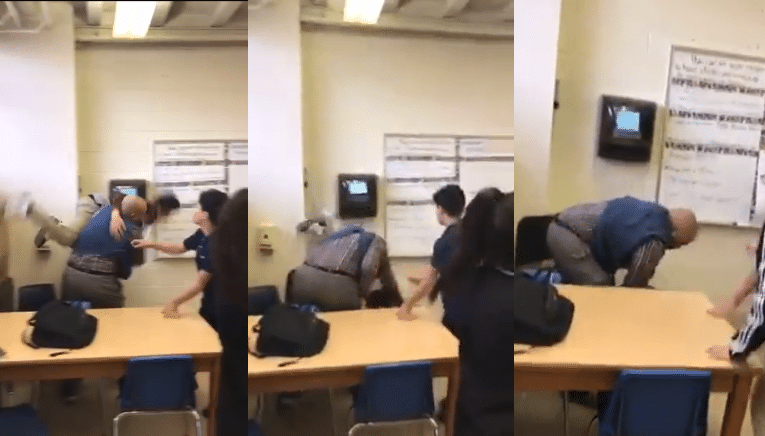 Paul A. Stennent fired: Social media responds.
And then there were these comments on the web that caught this author's attention, see what you think?
'Why would the student take the chocolates back before the end of class when they had been taken from him earlier? Surely if he had bothered to ask the teacher for permission, none of this would have happened. Why was he on the teacher's back? Things don't add up here, and it seems the student is not the innocent victim. I hope the police get to the bottom of it before the teacher is vilified and ruined.'
'Wait a minute here…. all I see is a kid on a teachers back getting thrown off. Need more info.'
'I agree, I hope the teacher wasn't fired unfairly. What else are you supposed to do with a person on your back? Most 12 year old's are bigger than me these days, and most should know right from wrong at that age.'
'Doesn't matter if a twelve year old provokes you, a full grown man shouldn't body slam them.'