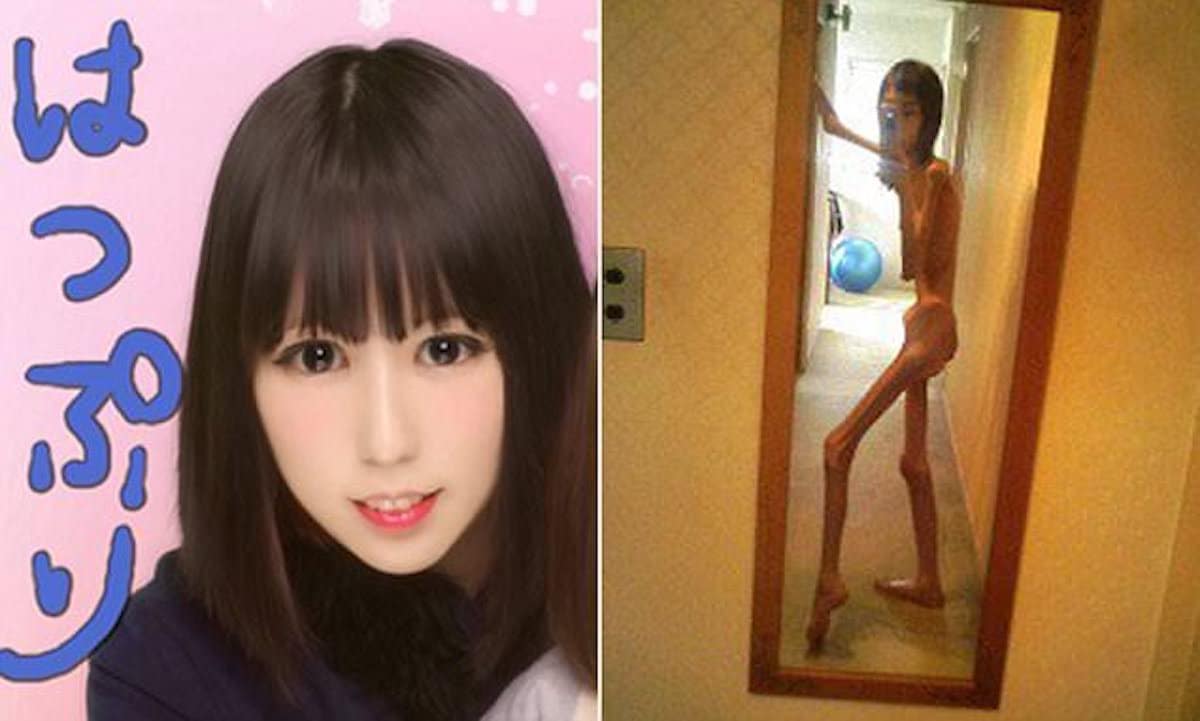 Japanese woman starved by grandfather: A formerly anorexic woman physically abused by a relative tweets images of her nadir and how she managed to survive her ordeal. 
In a testament to the human spirit and the will to live comes a gut wrenching photo ensemble from a Japanese woman who told of surviving gratuitous domestic abuse at the hands of her grandfather over a decade ago.
So audacious was the physical abuse the woman from Kyoto endured, that at her nadir, selfies she shared on social media under the handle of 'Wild Cabbage,' told of her weighing just on 37 pounds (less than 17 kilograms).
Twitter posts revealed how the unidentified woman's grandfather refused to feed her along with physically abusing her if she was caught eating.
The selfies shared are from ten years ago, when the woman was hospitalized after managing to escape the clutches of her grandfather.
The distressing images show a severely emaciated woman, her hip bones and rib cage visibly protruding.
In her tweets, the now healthy woman (see above) claims how she was 'forbidden to eat' by her abusive grandparent, who would 'kick me in the belly' or force her to spit the food out when she was caught eating in secret.
The physical abuse, she said, would then make her vomit reported the dailymail. 
She finally ended up weighing just 16.8 kilograms, 37 lbs – on the scale.
あれから10年近く経ちました。
祖父から食事を許さない、黙って食べたら吐くまで腹蹴りされ体重が16kgまで落ちました。

虐待を受けている人、これとは少し違うけど摂食障害の人、
手遅れになる前に助けを求めてください。
私は発見があと10分遅ければ死んでいたと言われました。#児童虐待#摂食障害 pic.twitter.com/VMTexoUFKd

— 淡々と白菜 (@______410) January 27, 2018
Japanese woman starved by grandfather: 'ask for help before its too late'.
In her social media post, she urged those suffering from similar abuse or eating disorders not to wait, saying they should 'ask for help before it's too late'. 
When she was eventually rescued, experts told her she was 'ten minutes away from death', she added.
How the then Japanese teen came to be rescued, or rather what intervention took place wasn't immediately clear.
The images led to disbelief on social media with some accusing her of faking the images, with the woman in turn posting a series of other photographs which were reportedly taken in hospital, which also shows bruises on her chest and neck.
Now, ten years later and in her 20s, she says she has recovered from her ordeal and is of a healthy weight. Not clear is what led to the woman going public with the domestic abuse, and why now?
The woman has not divulged if any legal actions were taken against her grandfather nor where any other family members were at the time, nor how long the abuse manifested…