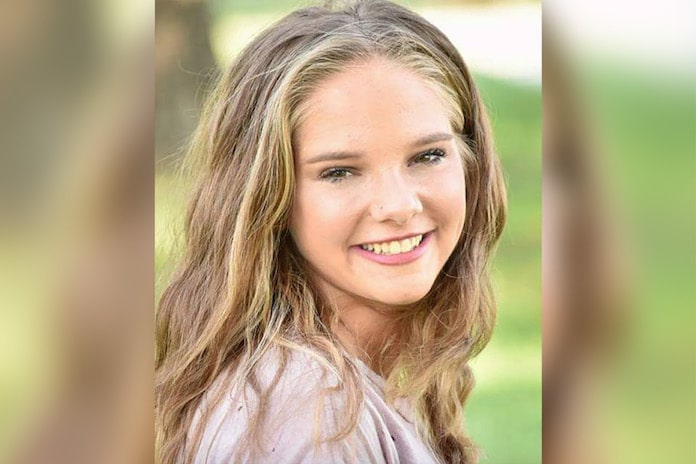 Heaven Ray Cox dead: A runaway Texas teen believed to be lured  by a Snapchat predator and suffering mental illness dies over the weekend. 
Heaven Ray Cox, the 15 year old  Mauriceville, Orange County, Texas teen who allegedly ran away from her home with an older man she met on social media app, Snapchat has reportedly died over the weekend.
Notice of the teen girl's death came after the teen's family posted over the weekend Heather Cox dying.
Posted Heaven's mom, Tammy Cox, on Saturday, 'Our sweet Heaven left us to be with Jesus this afternoon around 4:00. Some bright lights are not meant for this dark and cruel world. I know that Dusty and Gracie were there to welcome her. Sing with the angels sweet girl. I love you.'
The post was met with well wishers, including that of Felicia Marie Hippler who wrote: "She was such a beautiful girl. I remember when I first saw her, she was so little and gorgeous already! I hope she's found her peace and I'm praying for you guys."
While Giomar Chapman wrote, "Dear Tammy I'm so sorry sweetheart, my heart aches for you. She will be greatly miss[ed] but your angel she will always be."
How the previously missing teen, who had returned home soon after allegedly running off passed away remained unexplained.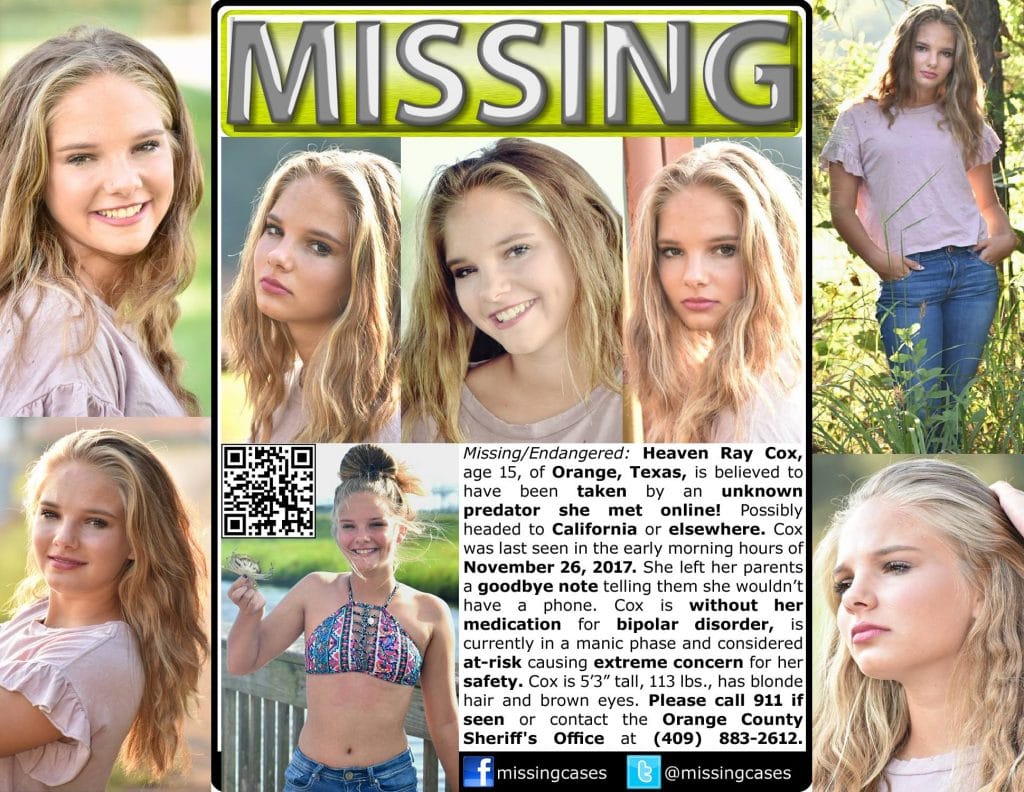 Heaven Ray Cox missing child: Police say the girl ran away of her own accord with police never confirming the existence of a Snapchat predator:  
Heaven Cox's disappearance in November last year sparked a four national hunt, before she was eventually found at a relative's home in Louisiana and not in California with the alleged Snapchat predator, where Tammy feared. 
In social media posts at the time, Tammy Cox said she believed her daughter, who suffered from mental illness, was picked up by a "predator" she met online.
Posted Tammy at the time, 'She is 15 and may be in the company of a man much older than her.
'He is a predator who manipulated her online into believing that he is her friend. She suffers from mental illness and is currently in a manic phase due to being off of her medication.
'We need to bring her home, as we believe she is in grave danger.'
Tammy said she believed the Californian man had promised to pick her daughter up in San Antonio where he was staying for Thanksgiving.
The city is four and a half hours' drive from Heaven's home in Mauriceville.
Previous reports identified the teen suffering from a bipolar disorder condition, with some wondering whether the girl's attraction to her alleged abductor was a reflex from her own pain and deteriorating state of mind.
Posted the mother in a since removed Facebook post last year, 'The man she has been talking to is a predator, who has apparently been manipulating her for some time, and in her current state of mind, she believes that he is her friend.'
Heather Cox was soon after found in a home in Louisiana owned by the relative of someone she knew, according to the sheriff's office. She was returned home safe Dec. 1 to her family, the Beaumont Enterprise reported. 
The Orange County Sheriff's Office said it appeared the teen ran away on her own accord, and police never confirmed whether the Snapchat "predator" was involved.
To date it remained unclear whether any contact with the alleged Snapchat abductor had ever been made and how the teen came to end up at the relative's home, who may or may not have also been the alleged abductor.
Services foe Heaven Cox have not yet been announced.