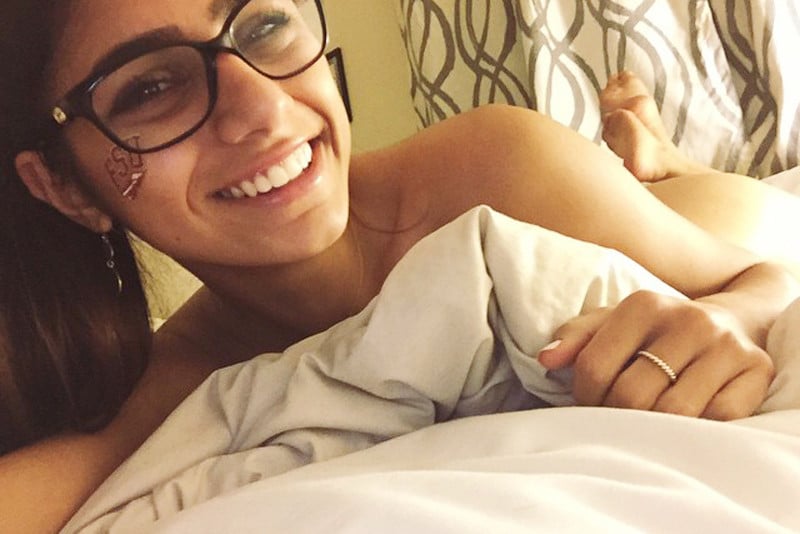 Mia Khalifa ISIS hijab beheading threat: How a former adult actress managed to stoke the intrigue and resentment of fans and dissenters alike. 
Mia Khalifa a former Lebanese porn star has told of being sent mock execution pictures of her being beheaded courtesy of Islamic terror group ISIS.
The revelation comes after Khalifa appeared on the The Sports Junkies radio show on Thursday where she told of ISIS having send a 'photoshopped picture of me being beheaded' via social media.
The image told the 24 year old adult actress turned sports pundit likely comes as a result of her appearing in 2015 clips performing sexual acts while wearing a hijab.
The intimidating image showed a mocked photo with Khalifa's head pasted onto the body of a prisoner in an image taken from an ISIS execution video.
While distressed, the formerly top ranked Pornhub star said she's trying not to let the images get to her.
'You can't show weakness,' she said. 'That's exactly what they're looking for.'
That said the former adult actress conceded having 'moments of doubt' saying, 'I really try and just make it look like it rolls off, but I'll admit, it gets to you after a while,'.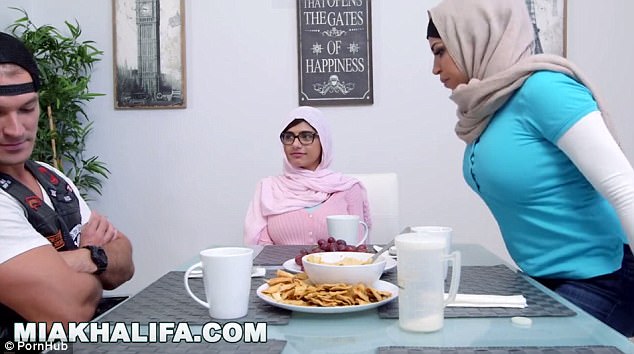 Khalifa's controversial performances during a three-month stint in the porn industry catapulted her into the limelight, with Khalifa stoking discontent when she chose to wear the hijab in scenes.
Wrote twitter user Frunc at the time, 'Hijab is something holy, and beautiful, having sex on camera with it is degrading its meaning.'
Responded Khalifa at the time: 'Doesn't the Middle East have more important things to worry about besides me?'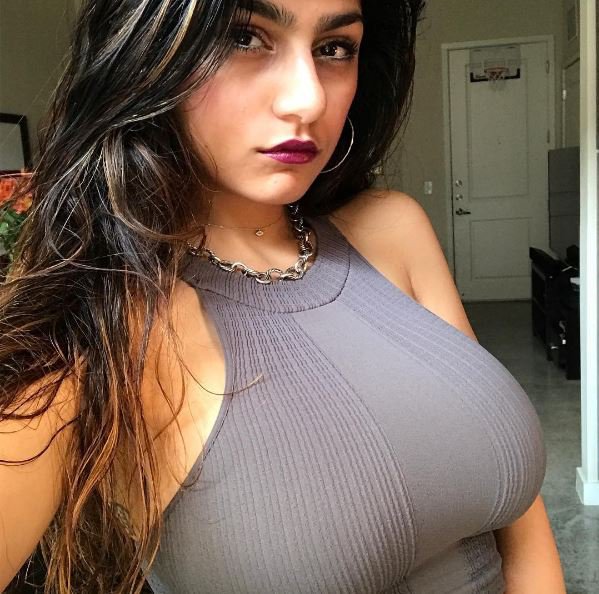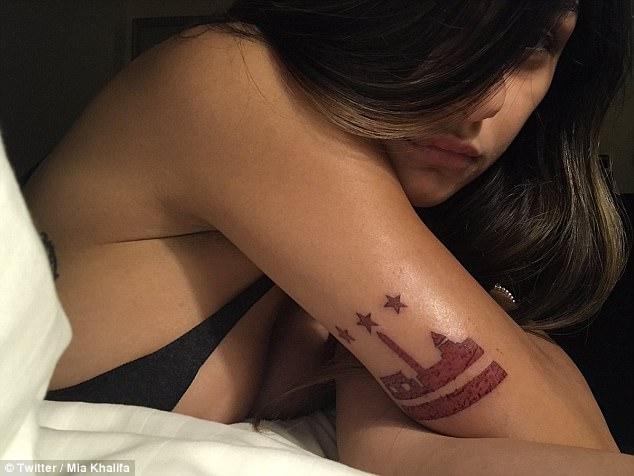 The issue likely lead to her being one of the most searched for performers on the adult website, with many users taking exception with the Christian born Lebanese actress who they accused of betraying her heritage when she chose to wear the hijab.
Taunting her dissenters (who one presumes are secretly her ardent fans) Khalifa responded by posting an image of her being led to the gallows, courtesy of ISIS henchman, with the post, 'Congratulations, Middle East. What the threats have resorted to.'
Post porn, Khalifa lives in Austin, Texas, where she has become a social media personality (did anyone imagine otherwise?) and cam girl with millions of followers on Instagram and Twitter. Presumably after this weekend's ISIS news alert the wanton performer will have added a few extra thousand social media followers with the latest intrigue….
congratulations, Middle East. What the threats have resorted to: "@UsainAnnan: @miakhalifa coming soon
بإذن الله pic.twitter.com/OiXWy9eCaI"

— Mia Khalifa (@miakhalifa) January 5, 2015