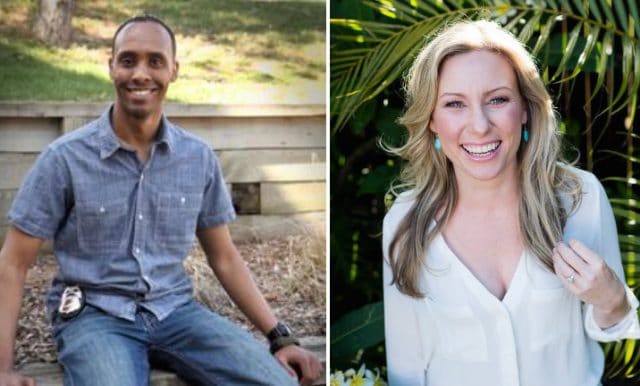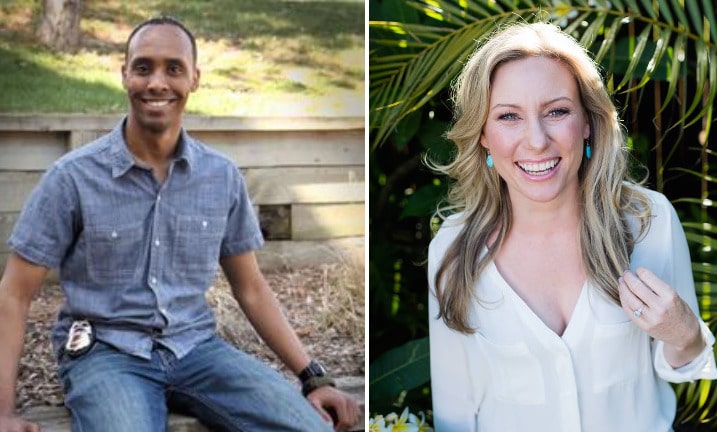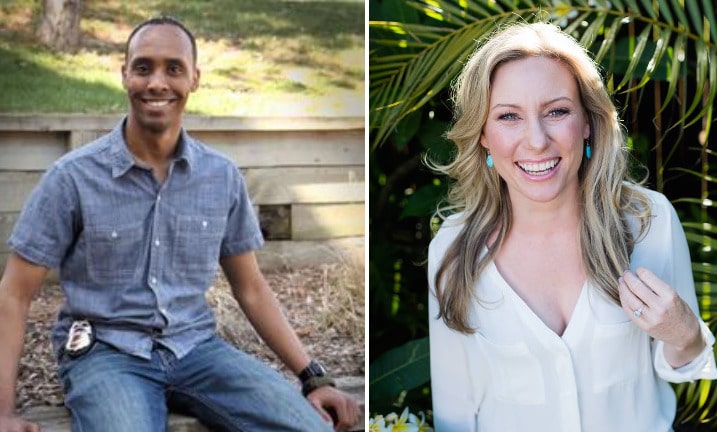 Mohamed Noor ambushed: How a Minneapolis cop shot Justine Damond cause he perceived her as a threat to his and his partner's life. But does it add up?
Mohamed Noor the 31 year old Minneapolis police officer who shot dead 40 year old Australian woman, Justine Ruszczyk has publicly spoken explaining what led to him 'accidentally' shooting the woman who also went by her future husband's surname, Justine Damond.
In an account as gleaned from an un-named friend, the dailymail reports Noor saying he had been startled by the sudden rushing of Damond to the squad car on the evening of the shooting, Saturday, July 15 in what he believed to be a possible ambush in progress.
After having responded to a 911 call from Damond about a possible sexual assault taking place in a back alley near her home, the officer was on high alert and found himself 'spooked' when an unidentified figure emerged from the dark and ran towards the vehicle.
This despite the claim from Noor's partner, Matthew Harrity, 26, that he was already conversing with the woman who had come out to greet police officers in her pajamas while holding her cell-phone.
From there, the friend said Noor told him that he wasn't sure whether the person approaching the squad car was carrying a gun and proceeded to open gunfire through his driver-partner's open window.
It was confirmed that Justine's cell phone was found alongside her during the tragedy.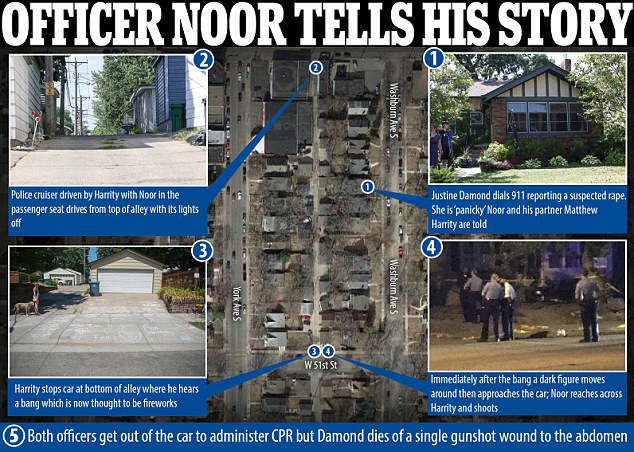 Noor told associates it was dark and the situation was already tense as the caller had been 'panicking' when making the 911 call.
The squad car, driven by Noor's partner Harrity traveled hastily down the unlit alley between Washburn and Xerxes avenues south from West 50th Street toward West 51st Street. 
Of critical note, the vehicle did not have its lights on and this may have been so as not to give any suspect notice that police had arrived and buy precious time to apprehend the target. That the car was unlit was disclosed by Harrity to the Minnesota Bureau of Criminal Apprehension (BCA).
Both Noor and the BCA's version of events agree on the car's lights being off. 
According to Noor's version when they reached the end of the alley, they came across a waiting, panicking figure. 
It was dark, and the figure was moving around and approached their vehicle.
Moments before as the officers drove into the alley, they noticed a young man ride past on a bicycle.
As the officers watched the cyclist ride past on the passenger side of the vehicle, they were startled by a pounding on the driver's side, the source revealed via KSTP.
The sound led the officers to believe they were 'caught in an ambush' the source told, with Noor firing his gun, which was in his lap at the time.
The bullet fired past Harrity in the driver's seat, through the open driver's side window and struck Justine Damond in the abdomen.
Noor said he did not know whether the figure who rushed towards their vehicle was the 911 caller or even if it was a man or woman. At the time, Noor had perceived the approaching figure who Hannity was already speaking to as a threat. 
Both he and Harrity gave CPR to the victim before help and back up arrived, with Damond pronounced dead at the scene shortly after.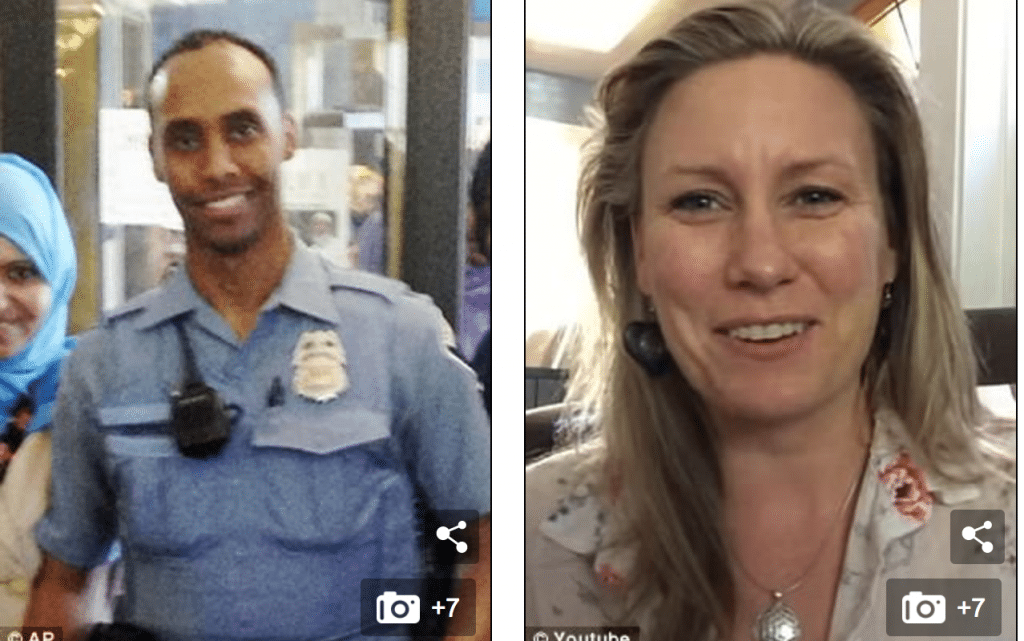 Why? Justine Ruszczyk aka Justine Diamond shot dead by Minneapolis cop after calling 911
Why? Mohamed Noor i'd as Minneapolis cop who shot Justine Damond dead
Don Damond: Justine Damond's death was murder!
Justine Damond autopsy: Was her cell-phone confused for gun?
While Noor had declined to be interviewed by the BCA, Harrity had agreed to talk to the police unit and give his version of events.
The Minneapolis Star Tribune cited Fred Bruno, Harrity's lawyer, saying Noor may have been startled by a 'loud noise' before Damond approached the police car.
Of note, on the evening of the shooting, fireworks had been going off in the vicinity.
The nature of the 911 call, the sudden noise and the figure running towards them in the darkness gave the officers the impression that they were being set up for an ambush insisted the lawyer.
'It's certainly reasonable to assume that any police officer would be concerned about a possible ambush under these circumstances,' Bruno said. 'It was only a few weeks ago when a female NYPD cop and mother of twins was executed in her car in a very similar scenario.'
That said, despite the claim of feeling an ambush was in play, Hannity conceded being "stunned" when his colleague opened fire on Justine Damond, a source told via KARE 11 on Tuesday. Intimating that Hannity may have never felt threatened, particularly now that he was addressing Damond as she approached him on the driver's side.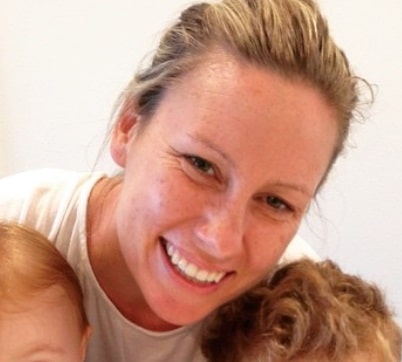 Reiterated the un-named friend via the dailymail: 'Mohamed believes he acted to protect himself and his colleague, but accepts since that she was not armed.'
'It was over in seconds and it was a very tense moment. He is sorry for the woman and her family. 
'But he would never have opened fire without genuinely feeling in danger.'
Noor, who has since been suspended form the Minneapolis P.D., believed he'd been 'thrown under the bus' by his Minneapolis police colleagues, the friend said.
'He is aware that they normally come together at times like this and support each other with slogans like "Blue Lives Matter".
'But in this situation he has realized he is probably alone with his legal team and Somali police colleagues.
'He feels like he is being thrown under the bus and his colleagues are accusing him of not showing proper police conduct on Saturday night.
'His feeling is 'I am an immigrant, a Muslim and not white… but that is OK as I know the Somalian community and friends will support me.'
Asked why Noor had declined to be interviewed by the state Bureau of Criminal Apprehension, the friend said he'd been given legal advice not to.
Of note, neither Noor or Harrity, who had three years police service between them, had activated their body cams.
Noor claimed they were not yet out of their vehicles and had only been at the scene for a short time.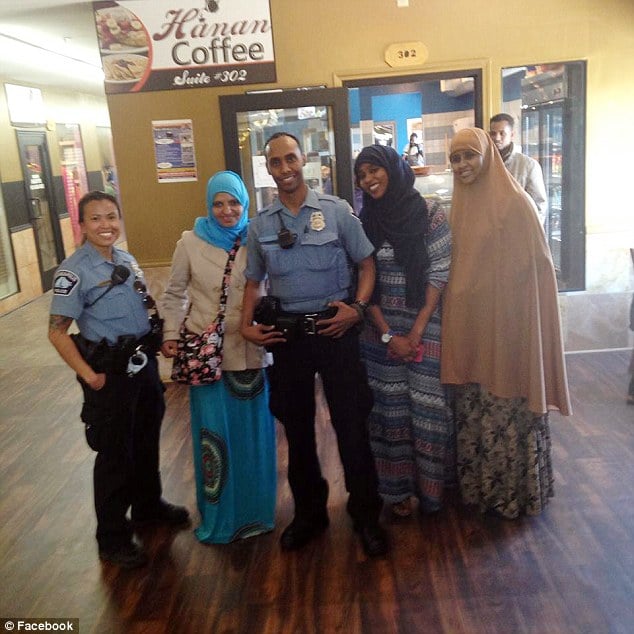 But Noor was in breach of his own police department's strict bodycam rules and now faces severe punishment, even if exonerated and could lose his job for not following the guidelines.
The officer knew he was compelled to switch on his body camera and record his interactions when answering a 911 call to reports of a sexual assault.
Department policy says it should be switched on for 'any search', and crucially, 'prior to any use of force'.
Meanwhile, the anonymous source told KSTP that the mystery cyclist who was on the scene filmed the aftermath of the shooting — which would be a crucial piece of evidence if it exists.
However, the Bureau of Criminal Apprehension, which is investigating the killing, maintains that its investigators are not aware of any video or audio of the incident.
To date, Noor's attorney, Thomas Plunkett, declined to respond to media comment in light of the new revelations.