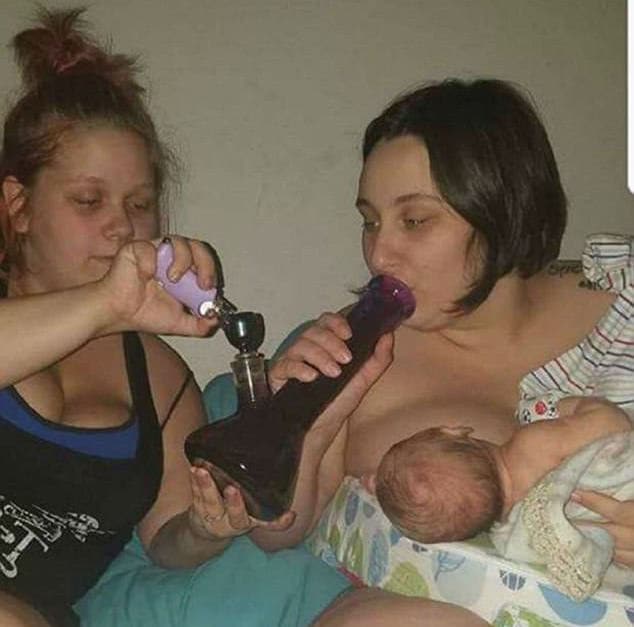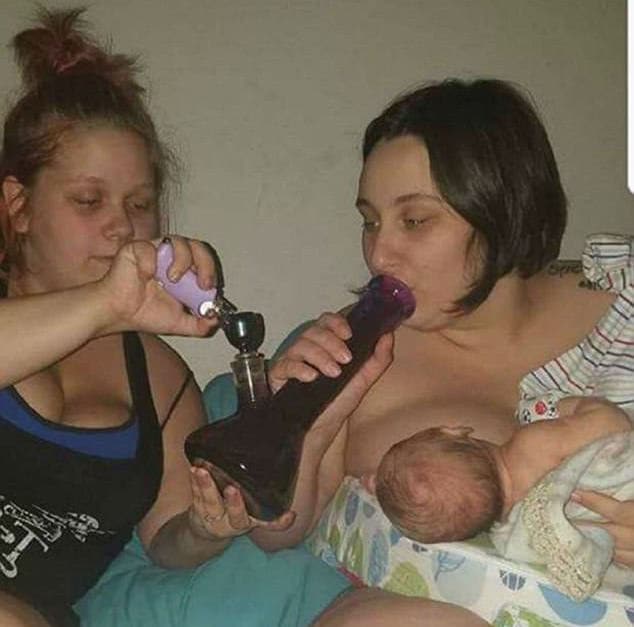 Kayla Marlow a Portland, Oregon mother breastfeeding while smoking a bong causes disarray after posting image on Facebook gloating over 'beautiful picture'. 
Kayla Marlow a young Portland, Oregon mother has caused disconcert after sharing photos of herself breastfeeding and smoking from a bong. At the same time.
The images, led to commentators on Facebook reacting viscerally, with many taking the woman to task.
In the photo, Marlow is seen cradling her baby infant who is drinking from her right breast as her friend simultaneously lights a bong for her to smoke.
The friend is identified as Krystal Rose Shillingford-Holm, who has no qualms about lighting the purple bong that Marlowe is leaning over to inhale, her child nearby.
Wrote Marlow underneath the image, 'Needed a safe place to share this beautiful picture,' she'd posted on the page of a cannabis parenting support group group called CannaParentingSupport.V.420.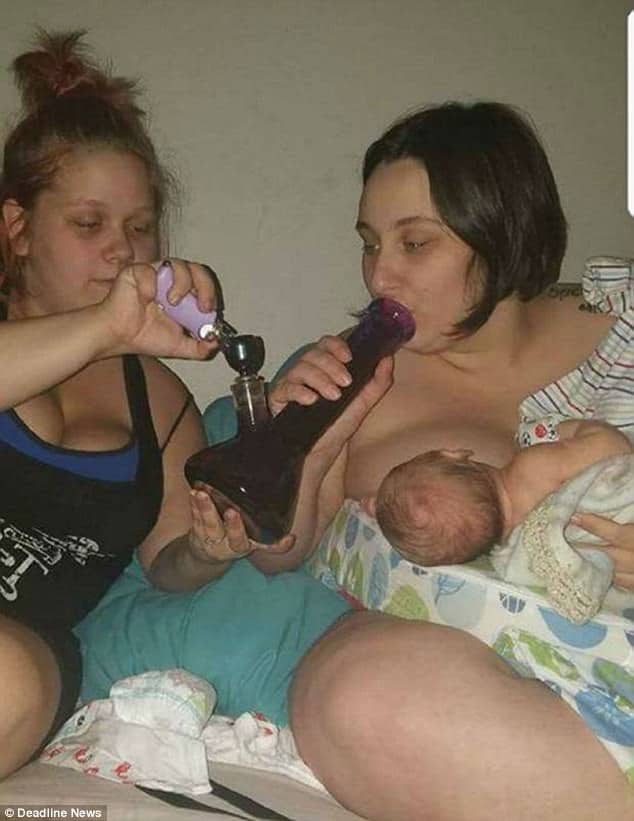 Needless to say, the act of smoking marijuana will lead to the effect of the drug going directly into the mother's bloodstream and into the baby as well. A point that Marlow may have been aware of or ought to be. And if so, why did the mother insist, given the consequences and risks attributable to that of a baby?
Not surprisingly, the image didn't go down too well with social media users, with one man comparing Kayla's actions to someone drinking beer while feeding their kid.
Others questioned the mother's parenting skills and how the were damaging the child's health.
Wrote one user, 'Nursing while getting stoned, you are trailer park rejects. Pure trash'.
Another, 'If you are going to smoke it do it away from the baby! Staged or not you're main concern should be feeding your baby, not posting pictures on Facebook.'
While another wrote: 'Never mind second hand infant smoke inhalation….it's just cannabis……f** idiots.'
While another user wrote, 'I'm more liberal than conservative, and I support responsible legalization, but this is f***ing ridiculous! If you want to smoke, do so when kids aren't in your care. For f***'s sake, what a dumb c***'.
While another user, Robert, said, 'I'm no doctor but I'm pretty sure a newborn child breathing anything besides air is probably bad,' who added that he isn't anti-marijuana but thinks people would have much more negative things to say about a mother smoking a cigarette while breastfeeding.'
That said, some parents conceded emulating the same form as Kayla.

Wrote one woman, Sierra Cox: 'Love it!! My boyfriend would do this for me when I breastfed and of course you have to do the lean-over so you don't bump their head or light their little hairs on fire.'
That said, those against the actions of Marlowe and her friend far outweighed any support she may have received, with the dailymail reporting that both women have since deleted their profiles.
While smoking and consuming marijuana is legal in Oregon, where Kayla lives, most experts agree that children should not be exposed to the drug. That plus common-sense.
If present in the room while someone smokes marijuana, the child can also inhale the smoke, which can give them a contact high. Studies have also suggested that inhaling secondhand marijuana smoke can damage a person's heart and blood vessels. Never mind the effect that any drug can have on a young child. 
According to the American Congress of Obstetricians and Gynecologists a baby can also ingest THC through its mother's breast milk. Though insufficient studies have been completed on the effects of marijuana through breastfeeding.
The Colorado Department of Public Health and Environment also discourages the practice, writing in a guide: 'THC in marijuana gets into breast milk and may affect your baby. Because THC is stored in body fat, it stays in your body for a long time. A baby's brain and body are made with a lot of fat. 
'Since your baby's brain and body may store THC for a long time, you should not use marijuana while you are pregnant or breastfeeding.'
The American Academy of Pediatrics also agrees that breastfeeding mothers should not use marijuana.
Some commentators have since called to have child services take Kayla Marlow's child from her….