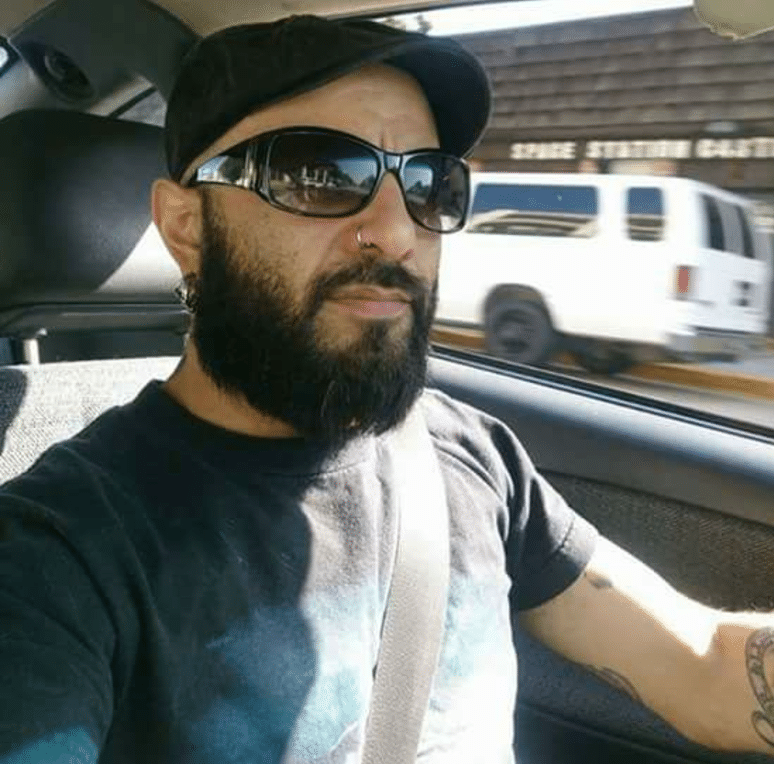 How Carlos Hakas an Argentinian man harassing a Los Angeles based, Mexican street vendor became the most hated man on social media. 
Carlos A. Hakas an Argentinian emigre living in Los Angeles has become social media's most hated man after video showed him pushing over a local Mexican street vendor's food cart went viral.
Matters came to the fore Monday, when Hakas and his partner Holly Covella were making their way along Hollywood with their dog when they came across Mexican street food vendor, Benjamin Ramirez.
In video caught by Ramirez (see below), Hakas speaking in Spanish, demands that Ramirez, move his food cart, accusing him of blocking the sidewalk.
Refusing to abide by Hakas' demands, countering that the food cart is legally positioned (according to a permit), while citing that there is more than enough room for Hakas and his girlfriend to pass, the two men exchange angry words.
Extols Ramirez, 'You have a path'.
Retorts Hakas, 'If you're not going to move the cart, I'll do it myself'.
Eventually things boil over when a recalcitrant Hakas throws the Mexican street vendor's cart over, with Ramirez fearing for his life throwing chilli powder at the approaching man.
But it doesn't end there.
As Hakas moves forward, he takes out a pink stun gun, with Ramirez now taking out a metal bar kept inside the cart fearing Hakas will wreak more havoc only to be told by Holly, 'Don't you fxcking try it!'
Yes the irony….
From there, Ramirez calls Hakas a racist, which infuriates the musician/sound engineer, retorting, 'I am not a racist you idiot!'
Adding, 'I am Argentinian you retard.'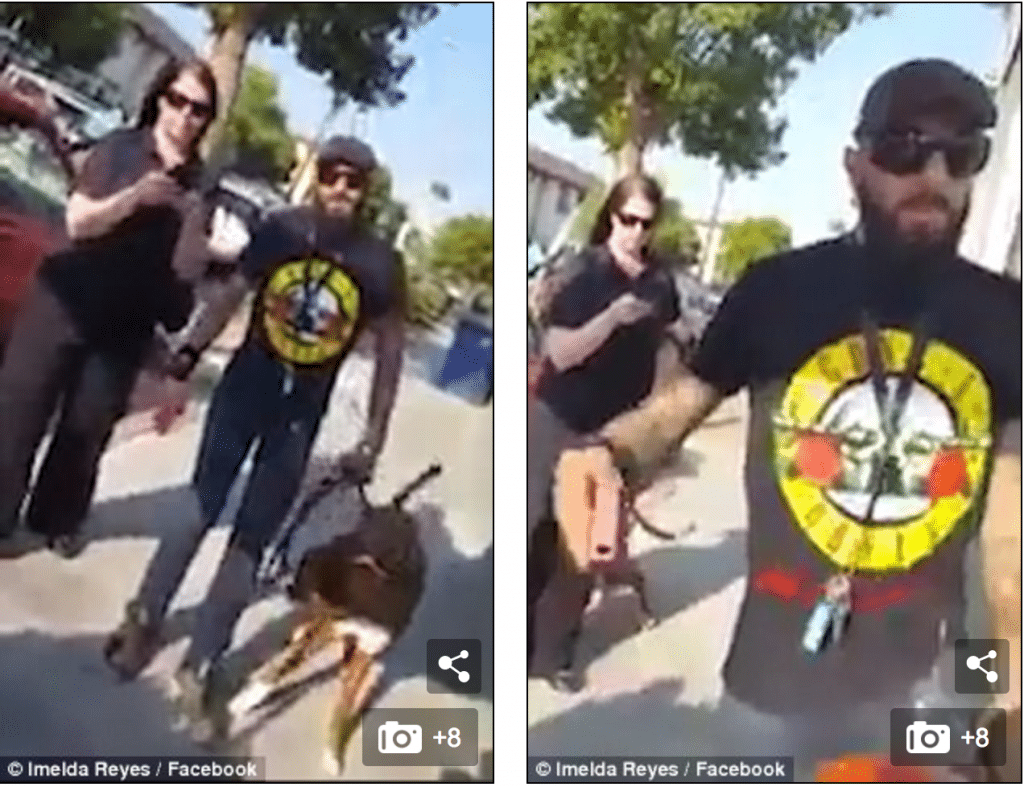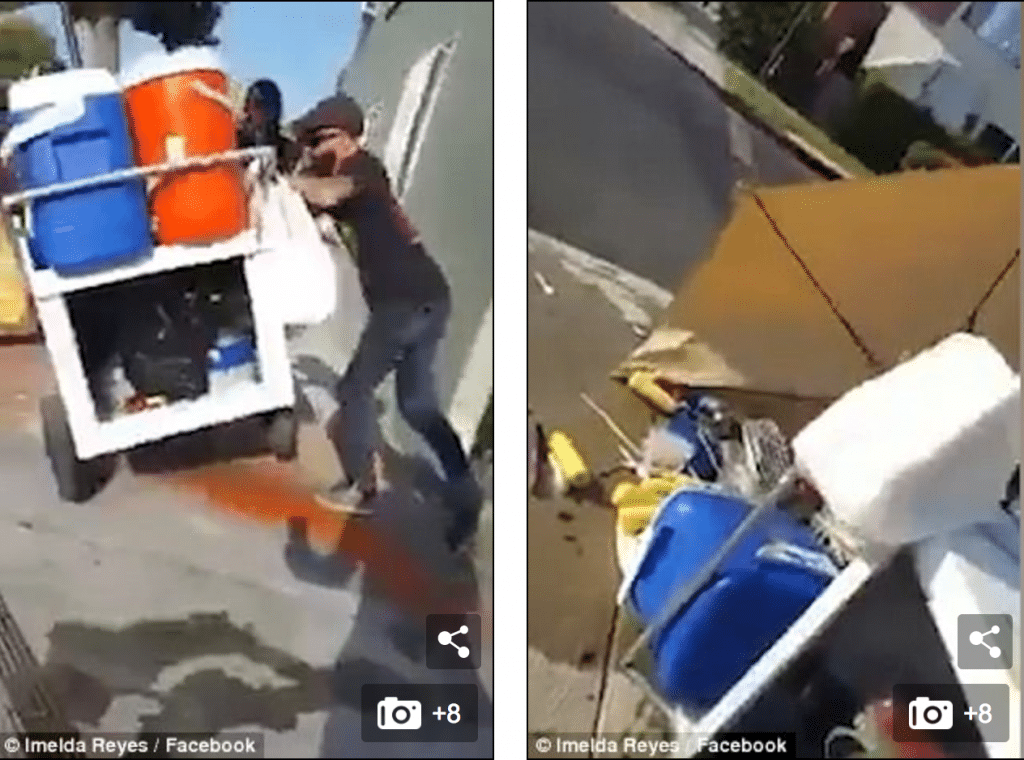 Social media reveals Hakas arriving in the US in 2000 where he has pursued a music career.
Users on social media have doxxed Carlos while virally sharing the video. 
Of note, it is not the first time the men have encountered each other, with Benjamin's father, Alex, telling ABC7 that Carlos had been harassed a total of four times by Hakas. 
Responding police declined to arrest either men.
This #asshole is not #remorseful at all. He seems to think it's a big joke. This was on his #Facebook page. #CarlosAHakas #GetHim #Coconut pic.twitter.com/84cFsOKMJE

— Jaye Batista (@Jaye_Batista) July 26, 2017
Commentators on social media have since condemned Hakas' behavior, with man expressing indignation that he would treat a fellow immigrant in the callous way he did.
Then there were these reactions on the web that caught this author's attention, see what you think? (many comments that Hakas has gladly posted on his Facebook page as a perverse badge of honor).
'A decent person would have apologized for his behaviour. Instead you try to profit from it. Rather try to share your side of the story you just look at this as a way to become famous. There is something seriously wrong with you and it's sick how you have no remorse or shame.'
'A bullying racist. I've seen your video, and I am a Native of America, and my ancestors include the first illegal immigrants from Spain. I am ashamed of this person's humanity, and his Art is negligent if it does not speak to humanity. A FAILED HUMAN BEING, AND A FAILED ARTIST.'
'Damn bro you're a piece of crap messing with the ones of your own community for people like you is that this country is the way it is. You should be helping people like him who work hard everyday and work hard to put the food on their families table this should be a lesson to you so you don't do more harm and karma is gonna get you back in the worse way possible you ***hole!!!!!!!'
'So called washed out "Artist" is nothing more than a coward! Wish I was there to help the poor vendor! He wasn't asking for your money or bugging you but you think your so f'in tuff.. POS!!!'
'Axxhole, you're a disgrace for the Argentinians!!'