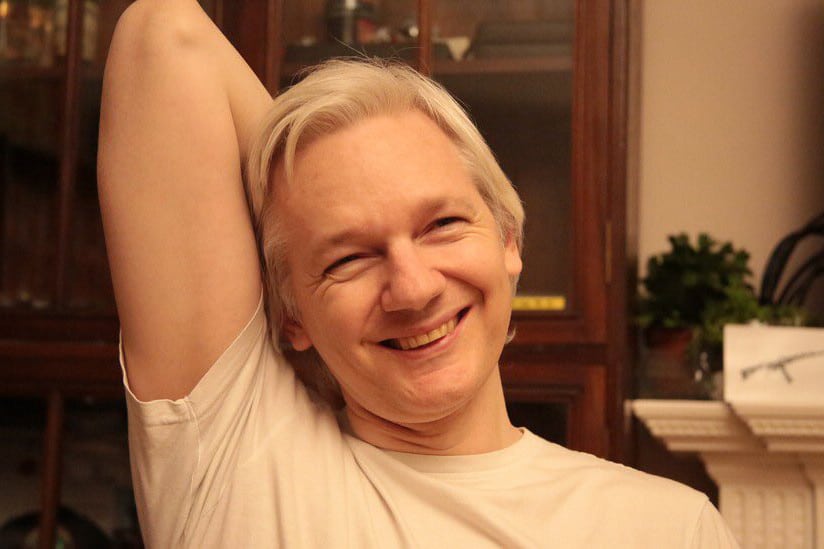 Sweden drops Julian Assange investigation: But will anything necessarily change as the UK government insists it will still arrest the Wikileaks chief?
It seems Wikileaks founder, Julian Assange, is a free man after Sweden made a surprise announcement on Friday that it has decided to drop its investigation in to rape allegation against the holed up Australian.
The announcement was revealed by Sweden's Director of Public Prosecution, Marianne Ny, who said the probe had been 'discontinued'.
The 45 year old underground journalist who'd rattled the US government with the release of a wide cache of incriminating leaks had denied the 2010 rape claims and had been living inside the Ecuadorian Embassy in London for almost five years after having been granted political asylum.
The measure came after the Wikileaks chief feared that he would be extradited to the US should he leave the confines of the embassy where he would almost face life long jail for alleged espionage acts against the US government.
Even if he Assange had agreed to be escorted to Sweden to face allegations against him, he had always risked then being handed over to US authorities as Sweden has a reciprocal extradition treaty with the Us government.
That said the move to drop the investigation against Assange wasn't necessarily done on grounds of compassion or concerns for ethical and legal violations as the Swedish government has been accused by the UN, but rather because of 'technical reasons.'
Under Swedish law, today was the deadline for the Swedish authorities to decide whether they should renew or drop the arrest warrant for Assange originally issued in August 2010. But Swedish prosecutors said that if Assange visits Sweden before the statue of limitations expires in August of 2020, he could still be subject to arrest.
That said, while Sweden has now called off (for the delightfully coined technical reasons) what many construed an effective 'witch hunt' by proxy against Assange, it still wasn't entirely clear what measures Assange could take to ensure his potential new freedom, having effectively been forced to live a kind of jail sentence since his self imposed dominion at the Ecuadorian Embassy.
— Julian Assange (@JulianAssange) May 19, 2017
Nevertheless there was hope with a beaming Assange sharing an image of his happy self with followers with the release of the new news, which had also been shared and retweeted with his rumored love interest, US actress, Pamela Anderson. The celebrity/actress has since become a familiar face at the embassy he'd been cooped up in over recent months (such are the fringe benefits of being a 'freedom fighter' it seems…).
Focus will now move to the governments of the UK and the US and whether Assange will attempt to fly to Ecuador to avoid extradition to the US for trial over the leaking of thousands of secret military and diplomatic documents.
Throwing a potential spanner in Assange's next step is the report that London's Met Police confirming there was a warrant for his arrest for not appearing in court in 2012 and that it was technically 'obliged' to execute the warrant if he leaves the embassy.
That said, the offense is 'much less serious' than the original sex crimes claims, and police 'will provide a level of resourcing which is proportionate to that offense,' the force said.
Adding, 'The priority for the MPS must continue to be arresting those who are currently wanted in the Capital in connection with serious violent or sexual offences for the protection of Londoners.' 
Nevertheless it remained an open question while no longer under investigation in Sweden, whether Assange would be arrested should he try to leave his embassy hide-out.
The announcement on behalf of the Met comes as the entity had spend millions standing outside the Knightsbridge building over the last five years, ever ready to arrest Assange should he had ever attempted to leave the confines of the Ecuador embassy. In essence deprived of natural sunlight for almost 5 years and the perceived lap-dog of the US government. 
Responding to the new chess piece move, Wikileaks said the ball was now in Britain's court.
'UK refuses to confirm or deny whether it has already received a US extradition warrant for Julian Assange. Focus now moves to UK,' it said in a tweet.
Nevertheless shortly after Wikileaks went on to post that the UK government stated 'it will arrest Assange regardless & refuses to confirm or deny whether it has already received an extradition request from the US.'
Sexual assault claim investigation into Wikileaks founder Julian Assange dropped; more news on @CBSThisMorning https://t.co/UDy9mL90Xp pic.twitter.com/kokfuBkte5

— CBS News (@CBSNews) May 19, 2017
UK refuses to confirm or deny whether it has already received a US extradition warrant for Julian Assange. Focus now moves to UK.

— WikiLeaks (@wikileaks) May 19, 2017
UK states it will arrest Assange regardless & refuses to confirm or deny whether it has already received an extradition request from the US.

— WikiLeaks (@wikileaks) May 19, 2017
Perhaps not coincidentally, Sweden's bowing out of the political stalemate came as Assange's Swedish lawyer last month filed a new motion demanding that the arrest warrant against the Wikileaks chief be lifted after US Attorney General Jeff Sessions said in April that arresting Assange would be 'a priority'.
'This implies that we can now demonstrate that the US has a will to take action… this is why we ask for the arrest warrant to be cancelled so that Julian Assange can fly to Ecuador and enjoy his political asylum,' lawyer Per Samuelsson told at the time.
The accusation against Assange dated from August 2010 when the alleged victim, who says she met him at a WikiLeaks conference in Stockholm a few days earlier, filed a complaint.
She accused him of having sex with her as she slept without using a condom despite repeatedly having denied him unprotected sex. 
'I am entirely innocent,' Assange wrote in a 19-page testimony released in December 2016.
He argues that the sex was consensual and has denounced the accusations as 'politically motived'.
The investigation had suffered from multiple procedural complications since it began.
The statute of limitations on the rape allegation expires in August 2020.
Assange detention: UN found both UK and Sweden in violation of international law https://t.co/8VYRWrQ8Nehttps://t.co/Mb6gXlhwsi

— WikiLeaks (@wikileaks) May 19, 2017
In a letter sent to the Swedish government on May 8, Ecuador condemned 'the obvious lack of progress' in the investigation despite Assange's questioning in the presence of the Swedish prosecutor at the embassy in November 2016.
'It is extremely worrying that six months after the hearing at the Embassy of Ecuador in the United Kingdom, the Swedish prosecutor's office has not yet decided on the judicial situation of Julian Assange,' the Ecuadoran Foreign Ministry said in the letter seen by AFP.
Swedish judges have refused to take into account the opinion of the UN Working Group on Arbitrary Detention, which in February 2016 said Assange was effectively 'arbitrarily detained' by Sweden and Britain and called for the arrest warrant to be annulled.
Previously, Assange promised to leave the embassy if US whistle blower, Chelsea Manning was granted clemency. Manning had her sentence commuted by President Obama on his way out of office and was released on Wednesday, but Assange reneged on his promise. Assange insisted that the only reason Obama released Manning was to make Assange look like a liar. Does one suppose….?
Despite the latest developments, general consensus remains that nothing much will change for Assange as the UK government will continue to remain vigilant on behalf of it's unilateral partner, the US, notwithstanding the no man's land (aka psychological warfare…) tenure of whether or not known  US authorities are actively seeking (does one suppose …?) Assange's arrest for his role at the head of WikiLeaks, which has published tens of thousands of leaked classified US documents. Developments tempered by the fact that there may be a sealed indictment against Assange which US authorities have 'politely' declined to divulge whether it exists or not…
Deplorable that rape charges against @JulianAssange will never be resolved. At least it is evident what he is: coward & puppet of Putin.

— Edward Andersson (@ed_andersson) May 19, 2017
What will change after Assange sex charges dropped? My bet: exactly nothing

— David Leigh (@davidleigh3) May 19, 2017
@lgmaterna Julian Assange is doing actual reporting which makes him dangerous. #NYT & #WAPO are just propaganda for dupes

— J.D. SALINGER (@JDSALINGER1) May 19, 2017
The Difference Between Julian Assange & Mark Zuckerberg pic.twitter.com/XEZZJaSCPJ

— paint it black (@CollinsMikeyc) May 19, 2017