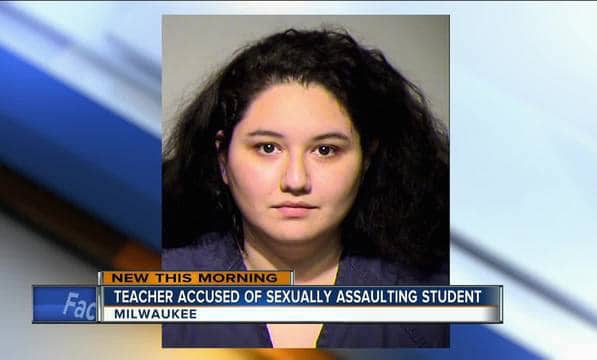 Katherine Gonzalez Milwaukee teacher sexually assaults 11 year old male student who she wanted to make happy and makes promise to keep things a secret. 
Katherine Gonzalez a 24 year old Milwaukee school teacher has been arrested after sexually assaulting one of her 11 year old male students.
At the time of her arrest, Sunday afternoon, the elementary teacher told police that she wanted to make the boy 'happy'.
A report via WISN tells of the woman being charged with one count of first degree sexual assault of a child under the age of 13.
A criminal complaint cited by the media outlet told of the fifth grade teacher at Atlas Preparatory Academy, having contact with her victim in her car and at her home.
Prosecutors stated that the two touched each other's 'private parts through their clothing'.
The teacher allegedly told the student not to tell anyone about their relationship because she could lose her job and go to jail. 
Gonzalez told authorities that the victim is 'chronically depressed' and admitted to saying things to make the 11-year-old boy happy. 
During police interviews, the teacher said she wanted the child to see 'that someone cared'. 
Appearing before a judge, a cash bond was set at $15,000, with the teacher ordered to have no contact with the victim. 
Gonzalez was further prohibited from using social media, a cell phone or a computer. 
Katherine Gonzalez's arrest comes after school officials sent a letter home to parents on March 3 announcing that one of the teacher's had been placed on administrative leave. 
The letter, which was signed by Atlas Preparatory Academy executive director Michelle Lukacs, stated that the Milwaukee Police Department is investigating a report that accuses a teacher at the school of having inappropriate conduct with an underage student outside of school grounds.  
Reflected an Atlas Preparatory mother of four: 'I couldn't believe it,'
'You don't want to think that your kids go to a school where stuff like that is happening. You want to think you can trust the teachers that are around your students, no matter who they are, what age they are.'
At present the victim's present state of mind has yet to be described as Gonzalez maintains that she simply chose to make the boy happy. Or did she….?