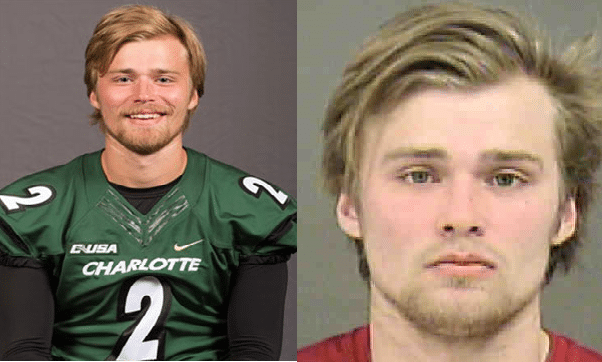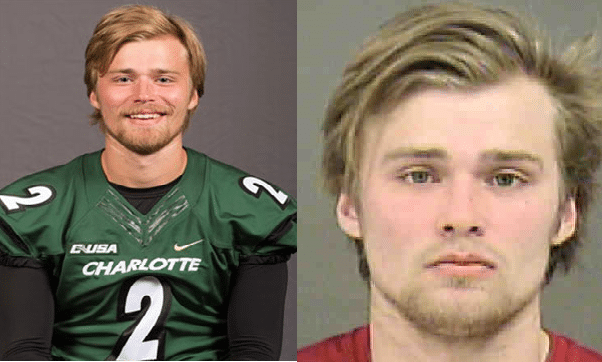 Kevin Olsen Charlotte quarterback arrested on rape and cyberstalking charges as the once promising football star squanders chance after chance.
It continues to go from bad to worse. UNC Charlotte quarterback Kevin Olsen has been arrested on rape and cyberstalking charges after allegedly targeting his NFL brother, Greg Olsen's girlfriend.
A report via The Charlotte Observer told of 22-year-old football player being booked into the Charlotte Mecklenburg Jail late Sunday afternoon on charges of second-degree forcible rape, cyberstalking and assault on a female and second-degree forced sex.
In a statement, the university said the allegations against Olsen 'appear to involve sexual assault within an existing relationship.' Fox 46 in Charlotte reported Olsen and the alleged victim had been in a relationship for one year. The woman allegedly has a bruised eye and other injuries.
Olsen reportedly was granted $103,000 bond Monday morning.
During Olsen's court appearance Monday morning, prosecutors claimed that Olsen threatened to kill the woman in a text message. They said when Olsen was with her, he punched her in the face, sexually assaulted her and also threatened to kill himself by wrapping a phone charger around his neck.
Assistant District Attorney Kristen Northrup told of Olsen and his 23-year-old victim having gone out drinking Saturday night only to have gotten separated. During their time apart, Olsen sent the woman a text message threatening to kill her.
Eventually, the pair reunited and used Uber to get back to Olsen's apartment early Sunday morning. There, Northrup said, Olsen remained upset about the evening 'and some events in his life.' He grabbed a phone charger and wrapped it around his neck, threatening to kill himself, the prosecutor said.
The victim, according to Northrup, calmed Olsen down. But the argument flared up again. Olsen first struck her with a pillow, then punched her in the face. Soon after Olsen allegedly assaulted the woman three times.
Upon Olsen falling asleep, his victim slipped out of the apartment and called a friend, Northrup said. Police reached her at Carolinas HealthCare System University, where she was found to have vaginal injuries and bruising around one of her eyes.
Reacting to Olsen's arrest, Charlotte coach Brad Lambert said the junior had been suspended from the team.
Read a school statement: 'The University administration has been in close communication with the Charlotte-Mecklenburg Police Department regarding its arrest of student-athlete Kevin Olsen Sunday afternoon,'
'The allegations in this incident, which took place off campus, appear to involve sexual assault within an existing relationship. This incident occurred a week after a separate, unrelated case of alleged on-campus sexual assault involving acquaintances.'
Olsen, a native of Wayne, NJ, is the brother of 32-year-old Carolina Panthers tight end Greg Olsen, who was one of three finalists this month for the NFL Man of the Year Award.
Told Carolina Panthers' Steven Drummond: 'Greg has no comment, and asks that people respect his privacy'.
The incident comes as the former four-star recruit was redshirted at Miami in 2013, only to be dismissed the following year following multiple suspensions, including a DUI arrest during the season. He then transferred to Towson University in Maryland.
Olsen was kicked off the team in 2015 for violating team rules before being picked up by UNC Charlotte with head coach Brad Lambert giving the troubled football player another chance. 
He started six games for the 49ers in 2016 and threw for 842 yards, six touchdowns and three interceptions while completing just 49.7 percent of his passes. He was benched in October.