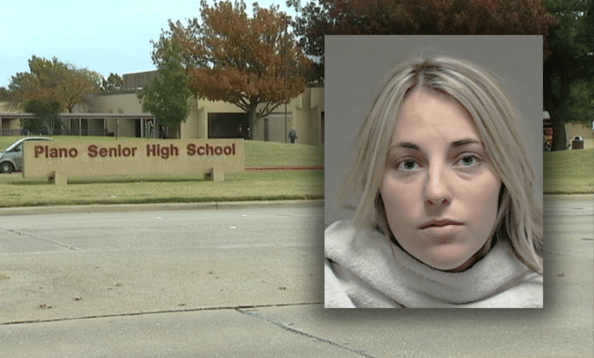 What led to Alaina Ferguson a Plano, Texas school teacher sexually preying on a 16 year old teen victim and jeopardizing her upcoming marriage and career?
Alaina Ferguson a 23 year old Plano, Texas high school teacher has been arrested after having an illicit physical tryst with a 16 year old student.
The teacher's arrest comes after a Snapchat flirtation escalated to beer pong, nude selfies, al fresco sex and the woman canceling her upcoming wedding.
According to an arrest affidavit cited by Fox 4, Alaina Danielle Ferguson allegedly contacted her victim after the boy left his Snapchat username on a test paper in September after having started gainful employment at Plano Senior High School.
Shortly there after the math teacher began seeing the boy, with the pair having sex on a park bench in Lewisville.
The pair continued their illicit affair both on and off-line, with Ferguson sending nude selfies to the teen along with providing alcohol for games of beer pong that would turn into sex sessions.
At one point, the algebra teacher allegedly had sex with her victim in her McKinney apartment while her fiancé was out of town.
The pair had sex 'several' more times in the apartment said police.
While Ferguson conceded 'it was not the right thing to do,' the woman nevertheless told investigators, 'it felt right at the time,' according to the officer who wrote the arrest warrant. 
The arrest warrant also included Ferguson saying that 'she was going to break it off with her fiancé because she didn't feel anything with him.'
Come October, Alaina Danielle Ferguson resigned her post at school after rumors of inappropriate conduct began making the rounds.
Despite leaving her teaching post, Ferguson went on having sex with the teen at least one more time, in November, in the back of the teen's pickup after a football game, police said.
Despite the teacher's departure, her teen lover 'kept talking' about their illicit tryst, which eventually led to a subsequent investigation.
'I heard the kid was just talking about it to his friends and I guess a teacher or a student over heard it,' Plano Senior High Student, Andy Flores told CBS. 
'She's kind of good looking… so she's attractive,' he added.
Subsequent to the teacher being arrested on Wednesday where she was charged with sexual assault, Flores was released after posting $100,000 bail with the math teacher now required to having to wear an electronic monitoring device, deactivate all of her social media accounts and stop using the web.