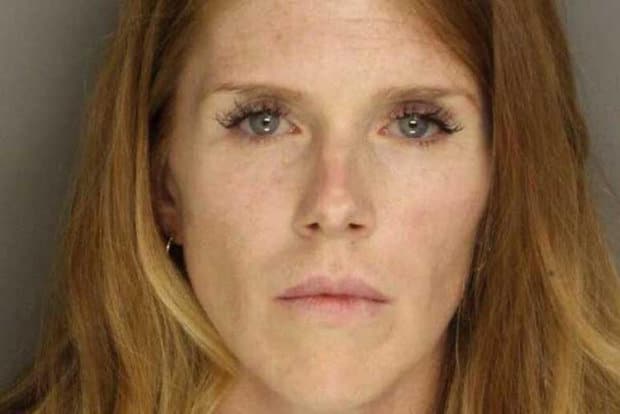 What led to Sheri Maufort a married substitute teacher's aide sexually abusing two students in two separate incidents over the summer? 
Sheri Maufort a married substitute high school teacher's aide has been arrested after having sex with two of her male students in separate incidents.
The 42 year old mother of two was arrested on Wednesday in Chester County, Pennsylvania after her alleged trysts sparked an investigation according to CBSPhilly.com.
Upon her arrest, the married teacher was arraigned on several charges including institutional sexual assault, corruption of minors and endangering the welfare of a child. 
The two victims are reportedly students at Unionville High School, where Maufort had worked occasionally since 2015. 
According to police, the first abuse happened on August 20, when Maufort drove to the first victim's house and texted him to come outside.  
Maufort then gave the teen, who is a minor, alcohol and drove him to a restaurant where she parked her car. 
She led him to a field near the restaurant where they kissed and she performed oral sex on the teen. 
However, the teen told her to stop when she started performing oral sex, because he feared they would get caught. 
From there, for reasons yet to be necessarily understood, Maufort's husband drove the boy home after the tryst. Police have not explained how or why the man showed up at the restaurant.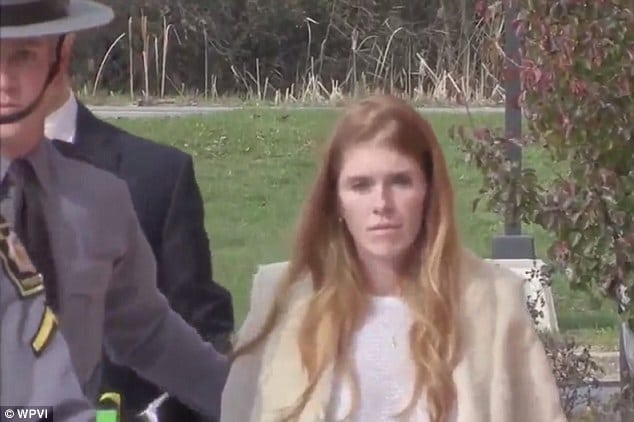 Told Chester County District Attorney Tom Hogan during a press conference: 'We're not quite sure how this happened, but the defendant's husband showed up at the restaurant and at the end of the day, ended up giving the victim a ride home.'
Prior to the husband driving the victim home Sheri Maufort told the teen not to tell anyone what happened and to call her when he turned 18. 
The second incident involved a different teen three weeks later, after a high school football game on September 16. 
Police say Maufort picked the second teen (who is 18) up from a house party after the game, drove him to a second location and kissed him and touched his private parts. After the meeting, Maufort drove the teen back to the house party. 
Both incidents weren't reported to police until November 11, with Pennsylvania State Police arresting the woman after carrying out an investigation.
The teacher notes a report via 6abc came in contact with the students after an agency that supplies substitute teachers, teacher's aides and administrative support staff to schools placed her at her the school.
Prior to her arrest, Maufort had worked occasionally at Unionville High School since 2015. 
Pursuant to the teacher's aide arrest, Unionville-Chadds Ford School District Superintendent John Sanville said he was thankful for law enforcement's quick response to the allegations. 
'We will now begin the difficult task of addressing this incident with our students, parents, and teachers,' he said.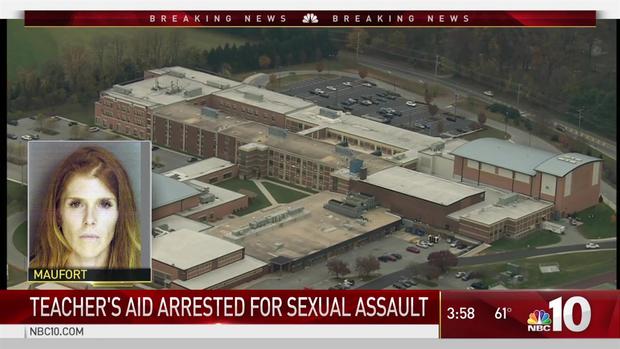 Maufort was initially unable to make bail on Wednesday. It's unclear if she has since posted bond. She is due back in court on November 28 while a judge ordered the teacher not to have contact with her two alleged victims. 
Of note, Maufort has a criminal history including an arrest for theft as a juvenile and a driving under the influence charge as a 25 year old. 
Charges that the teacher's attorney Lloyd Long III dismissed.
Told the woman's lawyer: 'My client, like a great number of people, has had issues with the law as a juvenile and a very young woman. She has lived a law abiding life and raised a decent family.'
Long told NBC 10 that Maufort is a loving mother-of-two and that he intended to 'vigorously' defend her against the accusations. 
Authorities have since told that they now plan to review every school that the substitute teacher aide has worked at in the event there are other victims.
Anyone with information on the case is being asked to call Trooper Jason Pennington at 610-268-2022.