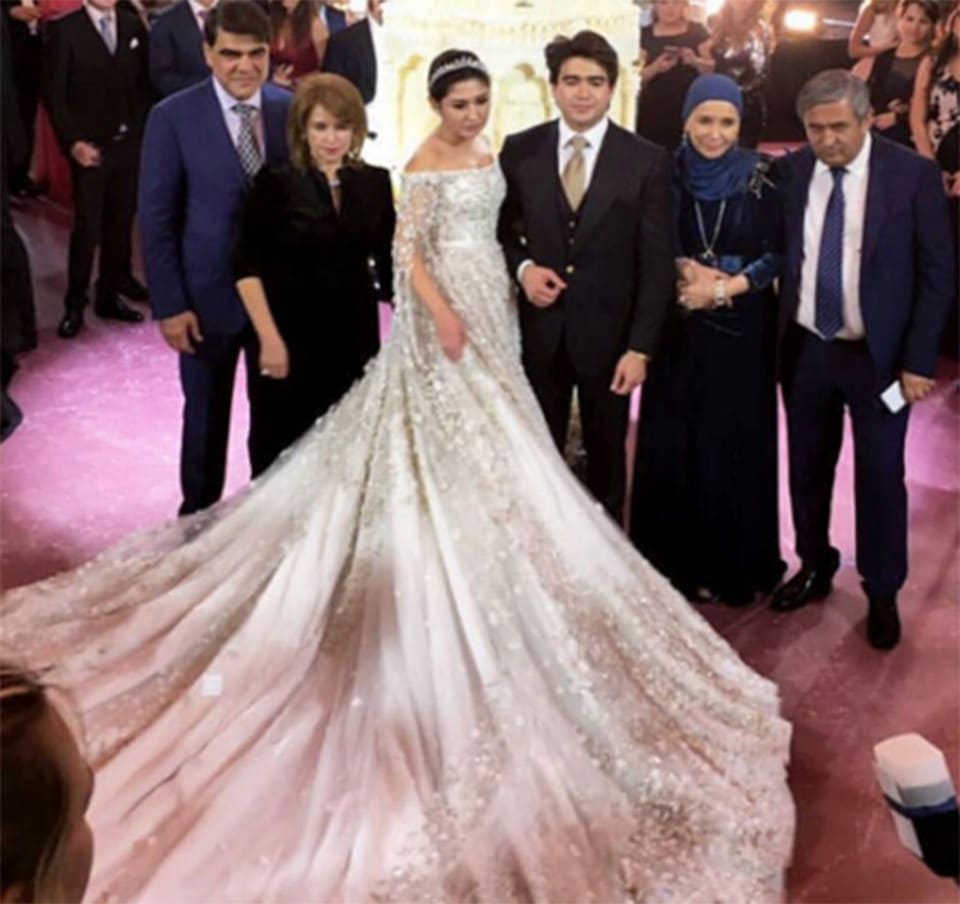 How Madina Shokirova, the daughter of a Russian oligarch got to have a very lavish wedding which is rumored to have seen her marry into high stakes political circles.
It seems for some, splashing out on a wedding is all in a day's work, case in point, Russian oil tycoon daughter, Madina Shokirova whose oil baron father, Ilkhom Shokirov was all too happy to spare no amenities and how …
Tying the knot to the groom, only identified as Sador the bride's father held little back as he set about ensuring that his daughter, her new husband and their 900 guests enjoyed an evening that they won't be forgetting anytime too soon.
Of intrigue are rumors that the bride's father offered up his daughter in marriage to a relative of the acting president of Uzbekistan, Shavkat Mirziyoyev.
The wedding follows that of Ilkhom Shokirov's son, who in 2010 is said to have married the daughter of the Deputy Prime Minister of Uzbekistan Rustam Azimov.
With the bride said to be wearing a wedding gown to the cost of 40 million rubles ( $630 000 USD) as made by British designers, Ralph & Russo, guests were lavished upon as they attended the couple's recent nuptials at Moscow's luxury Radisson Royal Congress Park hotel.
According to local media reports the bride chose the less prominent brand, dismissing a wedding gown from one of the leading haute couture houses of Zuhair Murad.
The layered lacy gown was decorated with silver embroidery, organza petals, and hundreds of pearls and Swarovski crystals. Just in case any of the guests ever had any doubts who they had come to celebrate.
The wedding organizers also wowed attendees with a nine tier cake standing at around 10ft tall made by celebrity cake maker and former boxer Renat Agzamov.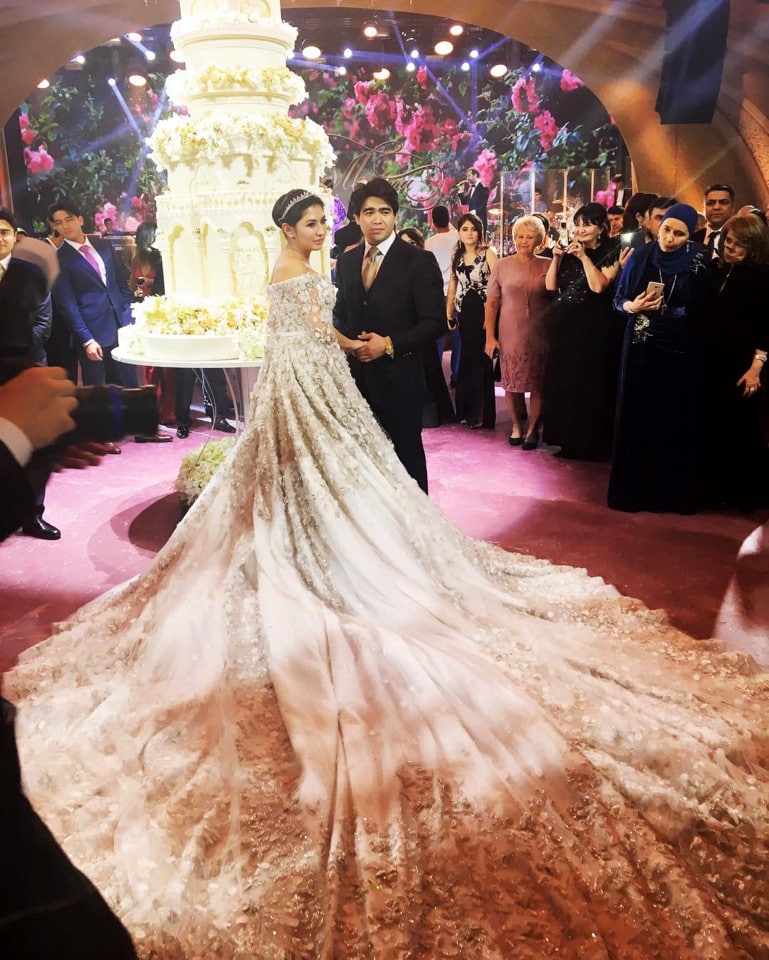 Prior the wedding, a report via the UK's sun tells of Madina spending her hen party at the Spanish resort town of Marbella, where she flew in with her girlfriends on a private jet. Naturally.
She is then said to have had a second hen party in a high end restaurant on the eve of their wedding in Russia.
According to news site Life! it is said that 30 million rubles ($472 000 USD) was spent on entertainment for the evening alone which featured Maroon 5 entertaining guests.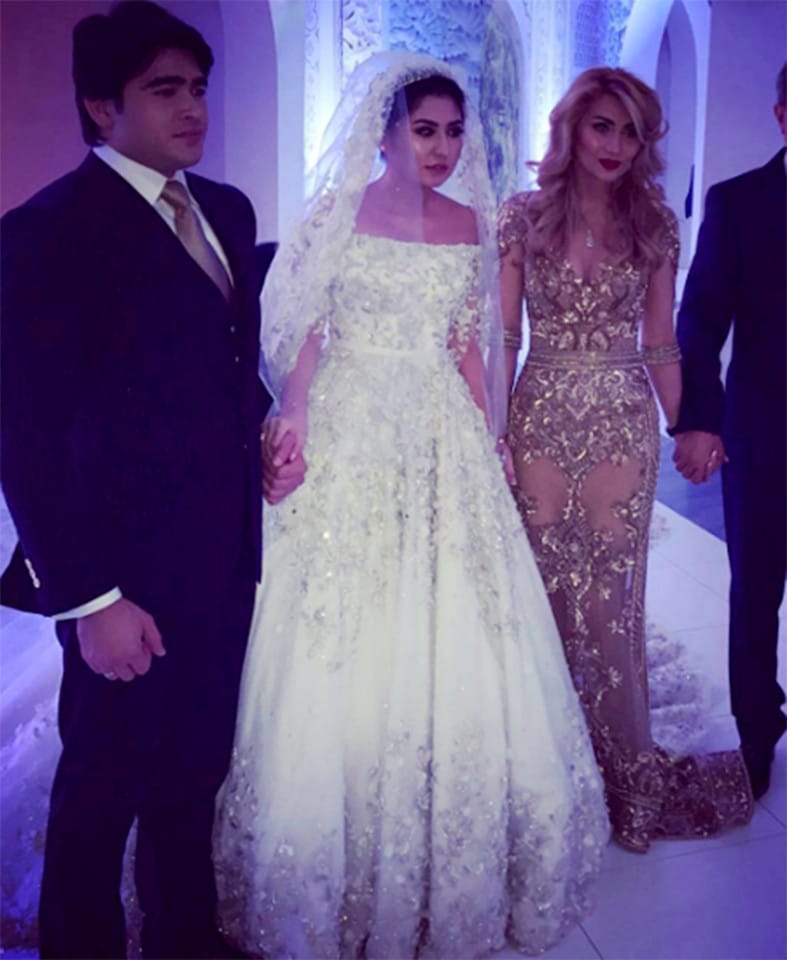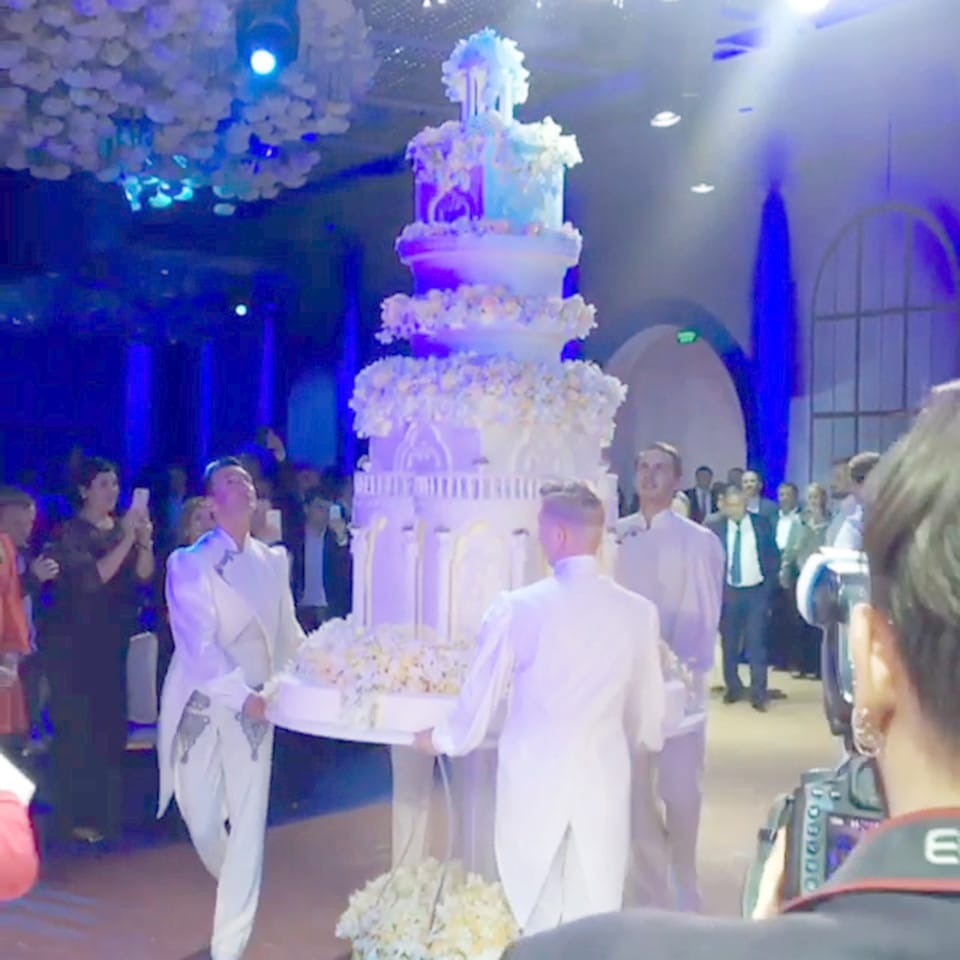 Despite the bride's family trying to stay out of the media spotlight, it was reported that Ilkhom Shokirov is the owner of the most luxurious hotel located in the capital city of Tashkent in north-eastern Uzbekistan.
In addition, he owns 65 percent of the shares in one of the largest shopping centers called Demir in Uzbekistan and a couple of hotels in western Russia's Moscow region according to a report via the dailymail.
How the father managed to amass such a wild fortune remains a tightly wrapped secret as he happily celebrated Madina Shokirova's very big day. Indeed.