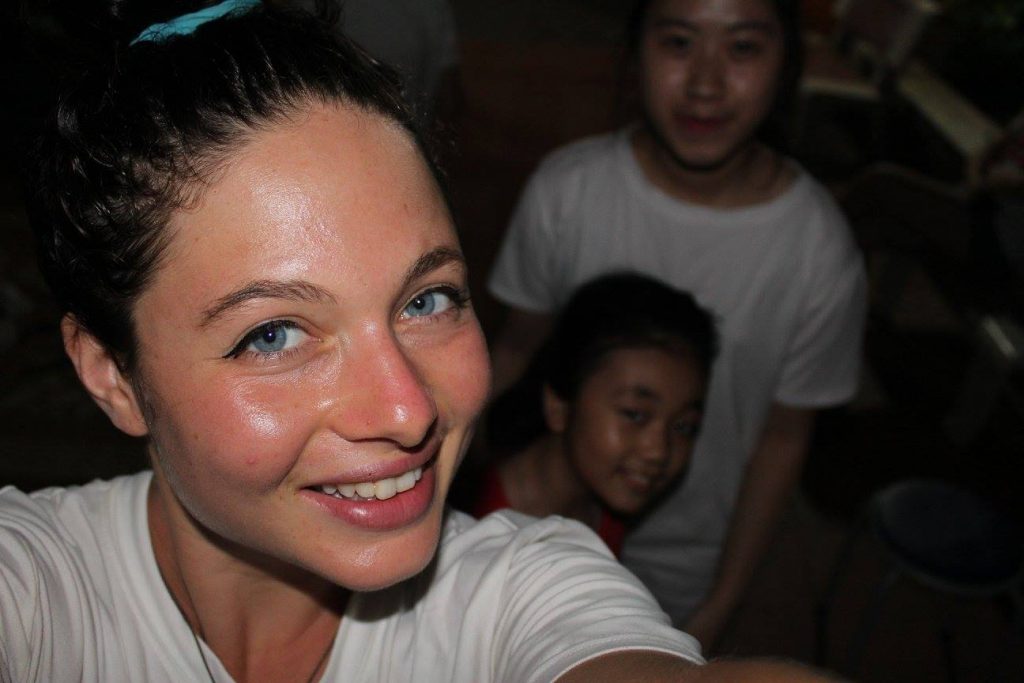 Hannah Gavios a NY school teacher traveling through Thailand has told of breaking her back after been sexually accosted by a local worker after getting lost.
Hannah Gavios a 23 year old school teacher has been identified as the American tourist who broke her back after fleeing a local man near her Krabi, Thai resort get away after fearing she was the victim of an imminent sex attack.
According to local reports, the NYC woman had been backpacking along Railay Beach when she got lost.
At the time a local worker, Apai Ruengvorn, 28, offered the Bayside, NY woman help getting back to the her hotel when instead the man led her into the jungle and tried to rip her clothes off.
A report via the dailymail tells of Hannah Gavios running off the cliff edge in the darkness as she tried escaping where he fell 150 feet and broke her back.
Told the tourist via the mirror who had only arrived in Thailand just the day before: 'I really thought I was going to die.'
Adding: 'It was dark around 11pm and the only way to get back to my accommodation was by crossing the cliffs.
'I went inside a tourist shop and asked for help back to my hotel. They said it was dangerous to do at night so they told me to follow one of their workers.'
'I didn't get the best feeling about him but I was tired and wanted to get home. I'd been traveling for 16 hours so I guess I wasn't feeling myself.'
The teacher who teaches at NY's Globe Education Link (GEL) recalled following the worker up a trail while asking 'is this the right way?'. 
Reiterated the teacher: 'While we were walking he grabbed me and was holding me down and trying to take off my clothes,'
'I started punching him in the face and beating him up and biting off his ear. I was biting his ear so hard it almost came off. His ear was half torn off,' 
'He was in pain and asked me to stop, so we shook hands and he stopped but I was still nervous and he was still trying to harass me so there was no choice but to run.
'I started walking back to where I came from. Once there was distance between us I started running.'
Unwittingly Gavios wound up running off the edge of a cliff edge in the darkness.
'It was pitch black and before I knew it I was in mid air falling off a cliff. I was honestly thinking I wouldn't survive,' she said.
'I hit my head a few times and landed with a big bump. I was screaming in pain. It was the most painful thing ever.
'I felt like a total vegetable. I felt completely vulnerable. I couldn't move anything.'
The incident led to Hannah Gavios fracturing her spine and smashing her head on the way down before she landed crippled at the bottom of the cliff.
But it gets better.
Her would be assailant scrambled after her only to sexually molest her as she lay helpless.
Told the shocked school teacher: 'He heard me screaming and moaning and he came down and climbed down the mountain and starting crying and praying.
'He was feeling very guilty. I was begging him to call for help. He got on the phone and started calling and I thought somebody was coming but nobody came.
'I was stuck with this crazy person. I was in the woods in the bushes with wild snakes crawling on me while he was still continuing to harass me.
'He got on top of me. He took of his pants and masturbated on me.
'He didn't rape me but he did everything else. I really thought I was going to die.
'I honestly didn't know what to do. I just had to remain calm. whenever I screamed he was choking me so I had to try to keep cool and stay friendly with him.
'As soon as it got lighter I started calling for help. He kept saying "no police no police".
After a couple of hours, Gavios' attacker left but then returned later with other people who raised the alarm with the school teacher taken to hospital.
Hannah Gavios is now being treated at Bangkok Hospital in Phuket with the teacher's parents haven flown from their New York home to be at her bedside.
Ruengvorn has admitted to last Thursday's attack and is now facing several years behind bars.
Upon his arrest the man was observed covered scratches and bruises on his face and body.
Reiterated Hannah Gavios: 'I'm taking one day at a time. But I'm really glad my legs aren't broken. I want to stay in Asia and return to teaching in Vietnam.
'The police have told me that the man will stay in prison for between five and ten years.'
Pictures in local media show Ruengvorn staging a crime re-enactment pointing to the spot where the teacher fell.
The man has since been charged with committing obscene behavior toward another person and causing serious injury.
Offered Lt Songpol Bunchai: 'The suspect admitted that he became aroused and tried to molest the woman.
'She was frightened and ran away to escape him. She fell down the cliffs.' 
Of question is how serious are Hannah Gavios' injuries?
While the phuketgazette told of the teacher having a spine operation, doctors told of the woman still not having sensation in her lower body.
Reiterated Bangkok Hospital Phuket surgeon Dr Narote Trinarong: 'The operation went well. At the moment she can move her hands but not her legs. She needs more recovery time and may have to stay in hospital for another week. Otherwise she is doing fine and is mentally resilient.'
Not necessarily understood is if there have been similar attacks on tourists in the area and what actions local authorities intend to take to stem future attacks on tourists…
Images via facebook.