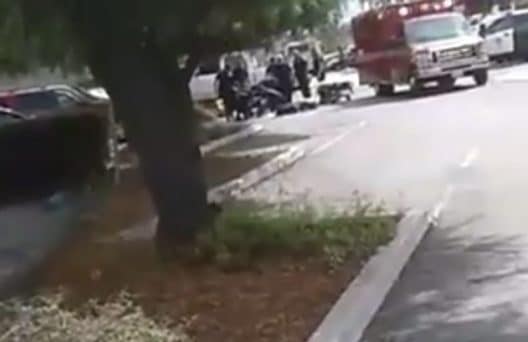 El Cajon Police shooting: Were police justified in shooting an unarmed black man who was reported to have been behaving erratically? Protests erupt.
El Cajon San Diego area police have shot an unarmed black man after reports of the man acting 'erratically.'
Gunfire rang out just on 2pm at a parking lot at the Broadway Village Shopping Center in El Cajon, California. At the time three separate calls had gone out regarding an incident at Broadway and N. Mollison Avenue.
According to KNSD-TV the man's sister pleaded with officers, saying her brother was mentally challenged and confused by police orders.
Despite the relative's protests, witnesses told of El Cajon police officers shooting at the unarmed man, striking and wounding him. The man was later transported to hospital, his condition at the time listed as critical.
Not immediately clear was whether more than one officer opened fire.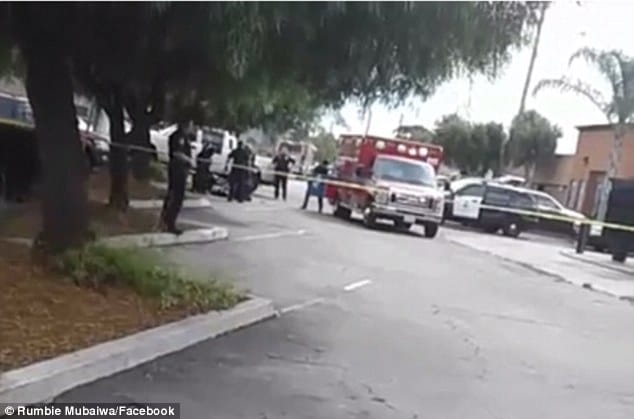 Told a notice via El Cajon police via Twitter: 'Officers responded to an erratic subject that ended with an officer involved shooting. We will post updates here as they are available.'
Reiterated El Cajon police spokesman Rob Ransweiler, 'the  man wounded by officers didn't follow their orders when they arrived at the scene.'
Adding: 'I have the information, I'm just not…It's an ongoing investigation, so I'm not releasing details of the investigation.' 
'I hope the community of El Cajon allows for the details of the investigation to be released,' 
'I'm confident that the community will support the decision made by the officer.' 
People pushing up on crime scene tape, yelling at police officers. #ElCajon #NBC7 pic.twitter.com/DWID04NuQy

— Ashley Matthews (@ashleyNBC7) September 28, 2016
Protesters storm police tape of officer-involved shooting in #ElCajon. #NBC7 pic.twitter.com/X8KY1wyznU

— Ashley Matthews (@ashleyNBC7) September 28, 2016
Yet soon after the shooting, an angry crowd gathered at the scene, outraged of the news of 'yet another unarmed black man' being shot at by police.
One witness rebuffed El Cajon police claims the unarmed black man failed to yield to orders, saying that he heard police fire at the man without any commands being said.
'I didn't hear any command 'Halt', 'Stop' or 'I'll shoot,' George, a witness, told NBC San Diego.
'I didn't hear any command or yelling. I didn't hear the man say anything. Next thing I see 'Pow, pow, pow, pow, pow' – five shots.'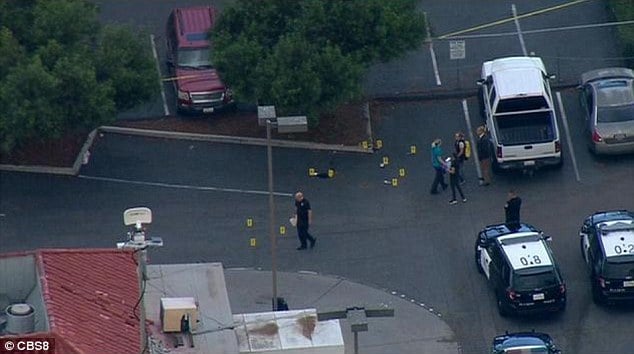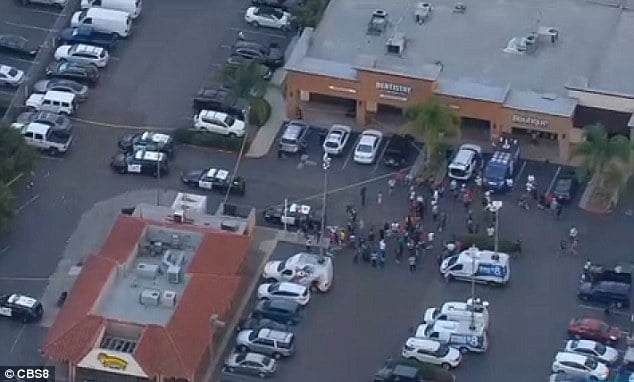 A report via KGTV told of an employee at a nearby restaurant saying her colleague voluntarily turned over a cell phone with video of the shooting to police.
Others meanwhile told of police entering the outlet and confiscating everyone's cell phone after the shooting. It's unclear how many phones were confiscated by police.

An employee working at a hair salon inside the shopping center told 10News that they heard the gunfire and went outside to see what had occurred.
'I heard three gunshots – there was a black man on the ground and two officers standing around him,' the witness said.
Was Keith Lamont Scott shot dead because he was black?
Why? Terence Crutcher Tulsa black man shot dead by cop while raising hands
A Facebook user, Rumbie Mubaiwa described a woman wearing a nurse's uniform in a Facebook Live broadcast from the scene having called police.
'OK, so the police did it again, y'all,' the user said. 'They shot another unarmed black person, as usual. And the lady is saying she called them for help, not to kill her brother, and they shot her brother.'
In the video shot by Rumbie Mubaiwa, a woman, identified as the victim's sister, can be seen crying hysterically in the parking lot after witnessing her brother being shot.
She can be heard saying: 'I called you to help me but you killed my brother.
'Why couldn't you guys tase him? Why why why why?'
Police officers can be seen approaching the woman in the video to question her.
'I called so many times to help him,' she said.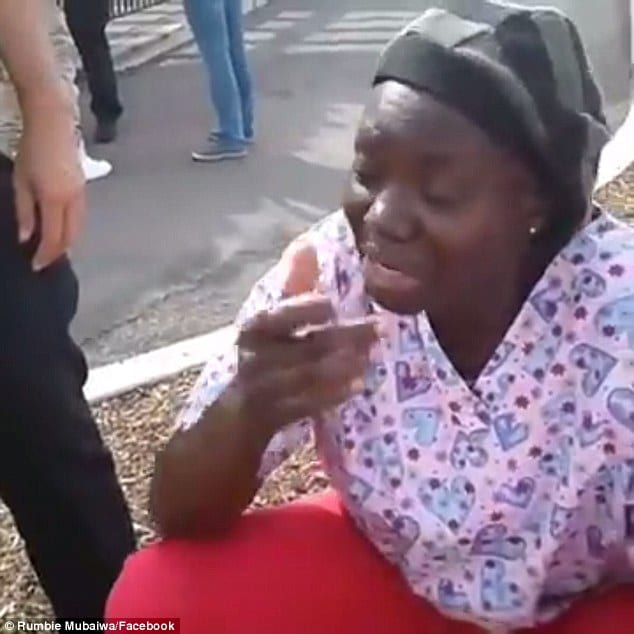 Witnesses told of seeing the shooting victim's arms outstretched as officers surrounded him with guns drawn.
'The black male was up with his hands up like this, scared to death, not knowing which way he was gonna go,' said one man who stretched his arms wide. 'And that's the honest truth.'
The police shooting in El Cajon comes just three days after the video showing the September 20 police shooting of Keith Lamont Scott in Charlotte, North Carolina was released. That video, but not all body cam video shot at the time was shown after widespread demands despite police reticence.
A police officer in Tulsa, Oklahoma shot and killed 40-year-old Terence Crutcher six days after Scott's shooting.
Crutcher's and Scott's deaths have sparked protests across the country, as people question whether law enforcement officers' 'heavy handed' actions are justified or simply racially motivated?