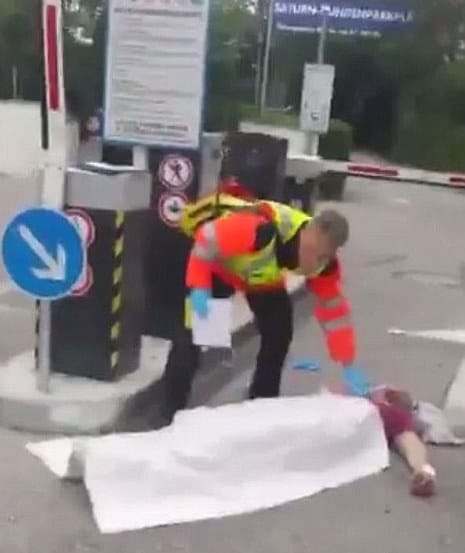 What motivated a Munich Iranian gunman to going on a shooting spree? No known terrorist links as police investigate fake McDonald's ad luring children to murder spot.
German police have told that an 18 year old Iranian gunman is solely responsible for the Munich shooting which claimed the lives of ten people including that of the gunman after turning the gun on himself after a Friday evening shooting rampage.
Along with those killed, 16 persons have been injured, three critically, after the 18 year old German national of Iranian descent entered a McDonald's outlet at the Olympia Shopping center in the district of Moosach.
Having exited a men's bathroom the shooter was heard exclaiming, 'I'm German' and 'Allahu Akbar' ('God is great') before point blank executing children and then continuing his killing spree along an adjacent outside mall.
Upon wreaking havoc the teen Iranian gunman fled the scene on the city U-bahn subway underground before his body was found less than a mile away after shooting himself in the head.
Ali David Sonboly: 'How I studied mass shootings for my revenge'
Ali Sonboly classmates: 'Psycho said he'd kill us'
Why did Ali David Sonboly Munich shooter create fake McDonald's page?
'Fxck foreigners' Three Munich shooters on the loose, eight dead and rising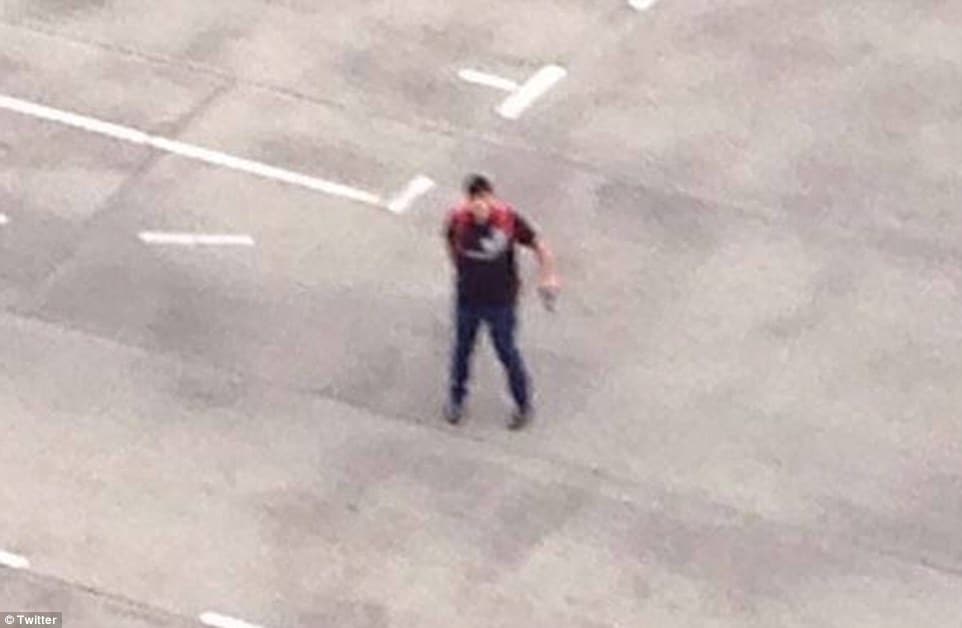 During an early Saturday morning press conference, Munich Police President Hubertus Andrae told of the Munich gunman being an 18 year old German national of Iranian descent who spoke the language without an accent, who had been living in the city for two years. The name of the suspect has yet to be released.
Not necessarily understood is what motivated the man and why he chose the Olympia-Einkaufszentrum mall outlet to carry out his rampage?
Answering press queries, Andrae told of the perpetrator having previously been not known to police, with no known links to terrorist organizations.
He added: 'The question of terrorism or a rampage is tied to motive, and we don't know the motive.
'We can't question the suspect so this is all a little more difficult.'
According to a witness, the attacker loaded his gun in the McDonald's men's room, while heard shouting 'Allahu Akbar' — Arabic for 'God is great' — as the killings began.
'Boom, boom, boom, I heard, and then I saw all the injured,' a female witness told CNN. 'I only saw him shoot directly into the faces of children. The children were sitting to eat. They can't run.'
Disconcerting reports also tell of Munich police investigating a fake Facebook advert which offered free food at the McDonald's where the Iranian gunman killed the first of his nine victims. Questions are abound whether the 18 year old gunman had issued the ad and if so why did he seek to specifically murder children?
MOMENT Munich Shooting Shopping Mall Several Body Dead Killed- McDonald … https://t.co/rA6ZQngvDU via @YouTube

— ●ᐯ● (@Vagabond4ev) July 22, 2016
9th body found in #Munich. It's believed it may be that of a gunman. @benlewismedia #sun7 https://t.co/0rQi69nFFP

— 7 News Sydney (@7NewsSydney) July 22, 2016
RAW VIDEO: Bodies of 2 victims are covered in sheets after shooting near Munich shopping mall. https://t.co/MN8UtcDXuq

— The Associated Press (@AP) July 22, 2016
Authorities initially believed up to three individuals were involved in the Munich shooting, later telling that suspect was a lone individual. Not necessarily understood is what or who the teen may have been affiliated with and whether he had acted out on behalf a terrorist organization?
Since the shooting an unconfirmed video (see directly below) has emerged showing the individual post shooting running amok on top of a garage rooftop where he shouted, 'Ich bin Deutscher' ('I am German'). In the video bystanders can be heard hurling insults at the man.
A transcript of the video appeared on reddit where the Iranian gunman tells of being bullied for seven years and was forced to buy a gun to shoot along with what appears to be references to medical facilities.
An individual heard hurling expletives at the shooter begins insulting the shooter, using derogatory language against individuals of Middle Eastern descent.
The shooter is then heard responding, 'I am German,' and 'I was born here,' continuing, 'I grew up here in the Hartz 4 (unemployment benefits in Germany) area, in the [unintelligible] region here in Hasenbergl.'
A report via The Sun says German police have not yet linked the shooting spree to Islamic fundamentalism. However, Munich police later said they had determined that the dead gunman had acted alone.
To date, authorities have not told what type of weapon was used or how many shots were fired and that the shooter's motive remained 'fully unclear.'
No group claimed responsibility for the attack. But twisted supporters of the Islamic State terrorist group were celebrating the slaughter on social media.
'Please let (the killer) be one of our brothers,' wrote one cyber-jihadi.