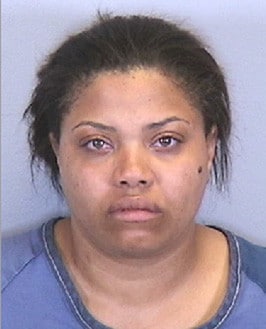 Rosaire Francois seeking to assault her live in boyfriend when she sought to dislodge the man's testicles?
Rosaire Francois a 28 year old Florida woman has been arrested after confessing to cops she'd recently 'tried to rip' her live in boyfriend's balls off during a confrontation at the couple's Ellenton home.
Indeed…
According to a police report cited by the smokinggun, the victim told investigators that he initially got into a 'verbal altercation' with his girlfriend, Rosaire Francois, 28, as they traveled in a car en route to their apartment.
When the arguing couple arrived home, the man told police, he attempted to take a shower. However, according to a filed police report, he was interrupted by Rosarie Francois, who 'kicked in the bathroom door and grabbed the victim by his testicles.'
Indeed.
The altercation, police say, 'then moved to the kitchen, where the offender grabbed the victim by the testicles and scratched the victim's face.'
When cops arrived at the home, Francois betrayed little contrition as she boldly told of her intentions during the domestic altercation.
Told the belligerent girlfriend: 'I tried to rip his balls off.'
Upon her arrest, our collective hero was booked on a misdemeanor domestic battery charge. She is being held at the Manatee County jail.
Of question is what injury the boyfriend may have come to sustain during the attack and what other instances of domestic violence against him the man may have been subjected to?
At present, it is not necessarily if the couple continue to live with each other and why Rosaire Francois had sought to emasculate her partner?
Ionel Popa Romanian husband's testicles ripped off by wife after refusing to help with housework
Victoria Reid: Why I shot my cheating husband in the balls
Woman bites off boyfriend's testicles.