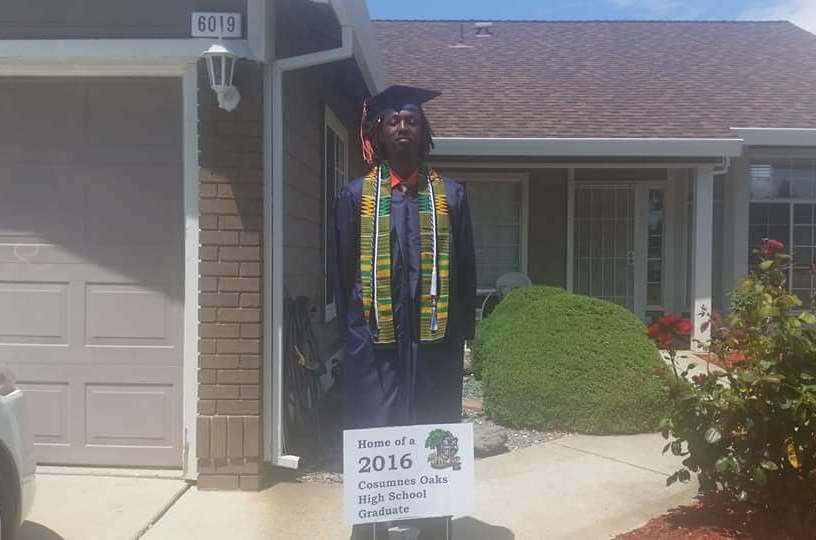 Should Nyree Holmes have followed the rules during school graduation and dressed according to protocol or was he right to articulate his cultural heritage?
Nyree Holmes a black merit scholar has caused disconcert after being escorted by deputies during his Californian school graduation after refusing to remove a traditional African kente cloth.
The 18 year old Cosumnes Oaks High school senior's ouster came as he resisted school overtures not to wear the clothing, having been met by deputies as he walked on stage on Tuesday at Sleep Train Arena in Sacramento.
Warned he risked being escorted off stage if he wore the traditional African stole, the teen nevertheless defied school authorities, insisting he had the right to celebrate his heritage.
Told Nyree Holmes in a twitter post following the incident: 'I go through shaking all the hands and smiling feeling as if I won,'
Adding: 'Then when I get to the stairs I see three sheriffs at the bottom of the stairs. They tell me to leave with them and I said, 'sure guys let's go."
After being booted from the school ceremony, Nyree Holmes said he and his father tried to retrieve the teen's diploma, with school officials refused to give it up.
Nevertheless the teen posted he was eventually able to claim his diploma with the help of a black security guard, after being able to get 'through the exit.'
Holmes felt the need to wear the kente cloth because as a 'descendant of slaves, I have no firm connection to my roots in Africa," he told the ABS.
Added the teen: 'I wanted to wear my kente cloth as a representation of my pride in my ancestors, to display my cultural and religious heritage,'
'As my particular cloth was made by Christians in Ghana, where the kente cloth has been worn by royalty and during important ceremonies for hundreds if not thousands of years.'
In the days after the incident, Holmes has told of being heartened by the support he has since received.
Told the teen: 'I have received a lot of support and outrage from fellow minorities as well as white people, who see the infringement upon my freedom of expression as appalling and shocking,'
'I have also heard of some rumblings within the school of objection as to how I responded on Twitter, especially my tweet that reached over ten-thousand people, explicitly stating 'f— Cosumnes Oaks High School." Holmes would remove the tweet.
Nyree Holmes plans to study at California State University 'to achieve my dream of becoming an impactful film director.'
If other students are in a similar situation this graduation season, the future filmmaker advises them to stand up for their beliefs and be true to themselves.
'I would also tell them to look upon the horrific experiences of those involved in the Civil Rights Movement in the '60s for inspiration and the fact that we cannot stop seeking equality,' he says. 'If we are forced to wear the European cap and gowns [then] we should be able to wear the African Kente Cloth.'
Since the ouster, Elk Grove Unified School District issued a news release telling 'that there was no intent to discriminate against the student, as the same rules apply to every graduate'.
And then there were these comments on the web that made me wonder, see what you think?
Why does this kid think he is special? He is not African. Who knows how many generations removed from Africa he is. In any case why should he be wearing a kente that royalty wears? There is a dress code for graduation and he disrupted the ceremony by trying to be special and draw attention to himself or maybe he wanted to disrupt the ceremony so he could say they were culturally insensitive and get more attention on social media. If a white kid showed up wearing a kilt I'm sure they would have prevented him from wearing that to receive his diploma. If an American Indian showed up in a headress, I'm sure he would have been stopped too. Why are people always thinking they are too good to follow the rules?
Graduation, is exactly that: For many people, this is the highest they will go in the educational ladder, they will go on to marry, have children, and this is their "Last Hurrah". LET THEM HAVE THEIR DAY. It is their graduation, NOT YOUR'S!!!!
The cap and gown is standard uniform and is to be the same for each student in the graduating class. If one student is allowed to break uniformity then where do you draw the line?