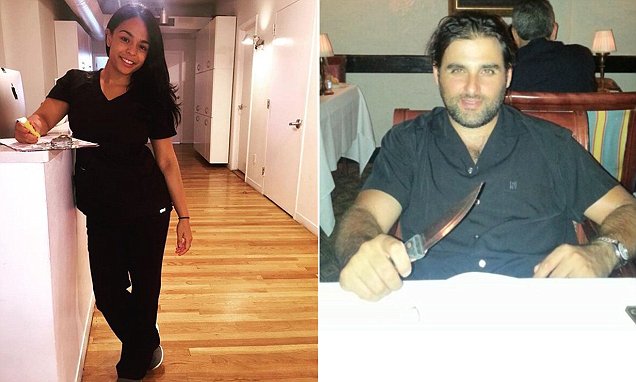 What exactly went on between Sunny Barkats a NYC attorney and a former receptionist employee Denisse Villalta? A she said he said as the woman filed a sexual harassment suit.
New York City lawyer Sunny Barkats, 42,  is alleged to have once told a then 19 year old teen job applicant, Denisse Villalta, 'You belong to me' after the teen allegedly succumbed to the man's sexual overtures during a job interview. Claims that the lawyer adamantly denies, going so far to argue that no job interview ever even took place.
Since sued for sexual harassment by the now 21 year old former receptionist, the founding partner at JSBarkats PLLC has told he is now 'considering' countersuing Villalta in a bid to clear his name.
Told Sunny Barkats via the New York Daily News: 'I cannot let this claim go unchallenged,
'I do not know why this young woman chose to lie, but I believe in God and justice and I have done nothing to warrant this action.'
That said the high profile Jewish lawyer does concede meeting Villalta but insists she was interviewed by the head of human resources for the post.
Of note, the lawyer declined to comment about whether the pair had any sexual contact, raising the question what exactly went on between Sunny Barkats and Denisse Villalta who 21/2 years later has now filed suit?
According to a lawsuit filed by the former employee on Wednesday, Sunny Barkats is alleged to have told the then new employee that 'she now belonged to him and that she would be required to have a threesome with him and his wife.'
Offered Villalta of the pairs alleged October 2014 meeting: 'I was very confused as to why the interview was going in the direction it was going,'
Despite allegations of impropriety Denisse Villalta said she took the job because she was broke and needed the money.
And this is where it gets very interesting…
In her suit, Villalta claims the next day when the Brooklyn native returned to the law offices to start her new midtown job, Sunny Barkats allegedly made his 'new receptionist' have sex with him again while at the same time 'forcefully choking and threatening her.'
Sunny Barkats is alleged to have told his new employee, 'If I catch you with someone else, I will kill you. You belong to me.'
In her suit, Villalta claims that he promised her gifts, promotions and a Manhattan apartment, but only if she continued to be 'obedient.' 
Barkats, who claims to be a 'top corporate and securities attorney', allegedly told her on the second day that she needed to get tested for sexually transmitted diseases in order to keep her job. 
She left the firm's office to follow his instructions, but decided to not return. 
When she didn't return to the office in the afternoon, Barkats allegedly sent her threatening text messages including one where he held up a steak knife, the lawsuit claims. 
Barkats, who was sued by former client Lil' Kim in 2013, claims that Villalta is his brother-in-law's ex-girlfriend.
The plaintiff's lawyers, Alexander Coleman and Pooja Bhutani of Borrelli & Associates, PLLC said that she had never heard of Barkats prior to the interview for the receptionist position. 
They are seeking unspecified damages. 
Of note, the attorney's CV states he was educated in France and that he is a native speaker of French and Hebrew. In recent weeks, Barkats urged friends and followers on Facebook to donate money for the defense of an Israel Defense Forces soldier facing manslaughter charges for killing an unarmed Palestinian terrorist in Hebron last month.
Images via facebook