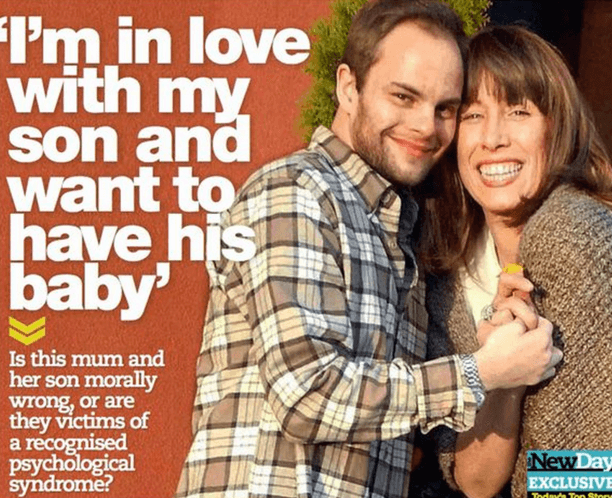 Kim West UK mom to marry son: A case of incest or genetic sexual attraction which occurs between family members deprived of emotional bonds during initial rearing?
Entering the dizzy terrain of tabloid sphere is the sordid tale of British mother Kim West, 52 and her US raised son Ben Ford, 32 who are now lovers and who also plan to have a child together.
Confused? Don't be, it's just a story of love, lust, incest, babies given away for adoption and chance fancies between mom and son that blossom and then some …
The madcap first found momentum when the abandoned son, Ben Ford in 2014 made contact with his natural mother, interior designer, Kim West, whom she gave up a week after her son was born.
At the time the son had been living with his then wife, Victoria, in Colorado and was curious to know more about his birth parents.
As fate would have it (well I'm curious what a psychologist would have to say…) the pair found themselves sexually attracted to each other (naturally …) and shared their first kiss over a bottle of champagne before having sex in a hotel according to a report via the UK's New Day.
Three days after having sex with mom, Ben Ford promptly announced to his wife Vicoria that he no longer loved her (naturally, cause you know why …) and wanted out of the relationship.
Told the husband to his then wife: 'Everytime I have had sex with you since I met her, I imagine its her I am kissing, otherwise I can't perform.'
Kim West, who grew up in Islington, London, according to the dailymail became pregnant while studying in California and after giving birth to her son aged 19, gave him up for adoption.
After Ford was adopted a week after he was born, she came back to the UK, where she soon lost contact with her son.
Yet things would change when in December 2013, the mother receive a letter from her son, who was looking to track down his biological parents.
Upon reuniting a month later, the mother and son realized that they were attracted to each other, and very much unable to give each other up.
Two years on, the lucky Kim West and lucky Ben Ford find themselves blissfuly living in Michigan in what they describe as 'Genetic Sexual Attraction'.
Again I wonder what a psychologist would make of all of the above?
Chalena Moody guilty of incest after bearing two kids with dad.
Brother and sister admit incest after arrested for meth possession.
Australian children of cult incest found. Brothers and sisters had sex with each other.
Father and daughter re united after 20 years apart only to now face charges of incest after starting secret sexual relationship.
But it gets better.
The pair have also now announced their intention of getting married (to each other) and of their intention of having a baby together.
Told Kim West: 'This is not incest, it is GSA. We are like peas in a pod and are meant to be together.
'I know people will say we're disgusting, that we should be able to control our feelings, but when you're hit by a love so consuming you are willing to give up everything for it, you have to fight for it.' 
Of note, incest is illegal in the couple's home state of Michigan and judges in the state are able to give out life sentences to those found guilty of the offense. 
That said, it is unclear if a case against mother and son would be pursued and the couple say they would move if that were the case. 
The couple have told of planning a special wedding and while they have spoken about the possibility of having a baby together are open to the idea of surrogacy, if they are unable to have a biological child on account of Kim's age.
The couple's relationship has drawn in debate whether their relationship is incest based or what researchers have termed, genetic sexual attraction, which occurs between adoptees and their long-lost parents.
It describes feelings of intense intimacy between two relatives who have been separated during the critical years of development and bonding, and then meet for the first time as adults.
When an adult-child and their biological parent finally meet, the brain struggles to associate each other as family.
Instead, they become captivated with one another, sharing similar physical features, likes and dislikes, which is coupled with complex feelings of intimacy. This can lead both parties to express their emotions sexually.
According to the dailymail, the phenomenon was first written about in the 1980's by author Barbara Gonyo in a book,  I'm His Mother, But He's Not My Son, which recounted her personal story of reuniting with the son she placed for adoption at 16. 
Theory has it that those who miss out on the emotive bonding that happens between mother and child during rearing, can if deprived over time develop powerful, obsessive feelings for their parents or even siblings in adulthood.
However, GSA is rare between people raised together in early childhood due to a reverse sexual imprinting known as the Westermarck effect, which desensitizes them sexual attraction.
Experts believe that this effect evolved to prevent inbreeding. 
Here's tomorrow's front page… pic.twitter.com/WGg5bgKHT8

— the New Day (@thenewdayuk) April 7, 2016