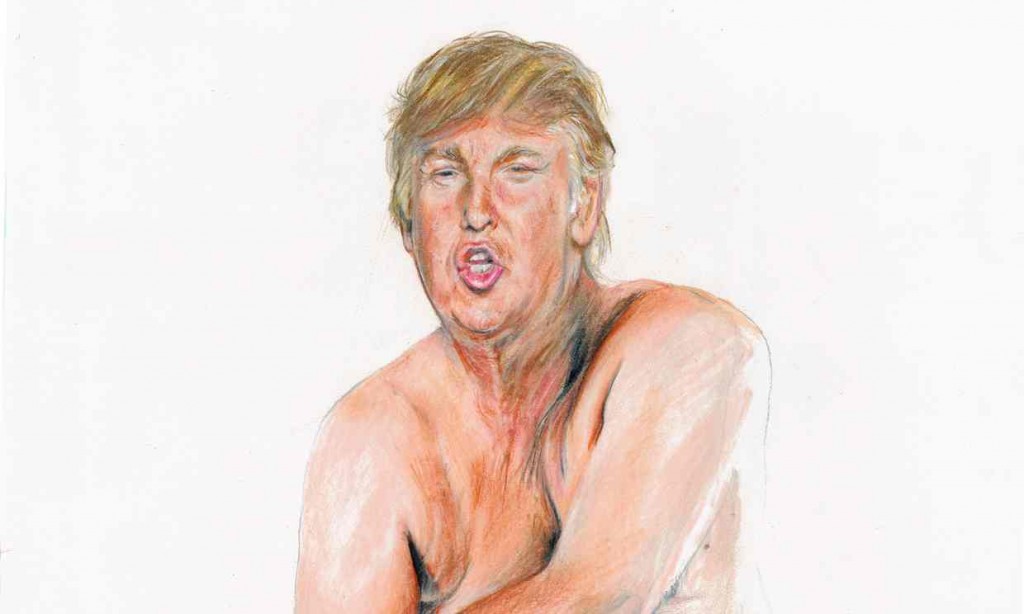 How has Illma Gore Donald Trump painting offended supporters and the GOP Presidential hopeful himself? What's in the power of appearances and does size really define one's power, gender, status or masculinity?
Los Angeles artist Illma Gore has told she intends to stand her ground after receiving notice from Donald Trump's legal team threatening her with a lawsuit if she makes good on her intent to sell her portrait of the GOP Presidential frontrunner in the buff.
The painting which was first unveiled in February and has since gone viral, shows the unabashed real estate billionaire with wide open pursed lips (presumably delivering yet another one of his politically incorrect viewpoints), his arms languidly crossed over a bent protruding right knee, a sagging gut, his blonde quiff masking the top half of his ever always tanned head along with what appears to be a micro penis.
Reflects the artist of the artwork on her website: "Make America Great Again' was created to evoke a reaction from its audience, good or bad, about the significance we place on our physical selves. One should not feel emasculated by their penis size or vagina, as it does not define who you are. Your genitals do not define your gender, your power, or your status.'
To date Illma Gore's 'Make America Great Again' (Trump's battle cry) has been shared more than 260 000 times since the Los Angeles based artist first posted the picture on social media.
Yet while many have taken delight in the picture, Gore has told of having been deluged with thousands of death and rape threats, along with stalkers turning up at her home.
But it hasn't stopped there, a report via the independent has told of Illma Gore having received not one but two calls from an anonymous number portending to be Trump's legal team threatening her with a lawsuit should she sell the painting.
Then again who wouldn't want to walk home with $1 million, the current asking price of her painting currently on display at the Maddox Gallery in London.
A report via the guardian has told of the gallery having received bids for more than $140 000 for the painting.
Told the artist via the independent: 'People put so much power into what genitals should be or look like. If you take away this man's face for example, you get a painting of a typical body figure you will learn in any fine arts course,'
'But once you put Donald Trumps face on the body, it leaves a specific connotation to it all, dependent on whether you like him or not. It really shouldn't matter. Basically you can be a massive p***k despite what is in your pants!'
The move to show the painting overseas comes after museums in the US came under threat from supporters of the GOP Presidential hopeful.
Threats aside, from whomever they may be, has hardly fazed Illma Gore who told she still plans to sell the artwork and donate a portion of the proceeds to Sage Place for Youth, a charity supporting homeless young people.
Offered Gore: 'It is my art and I stand by it,'
'Plus anyone who is afraid of a fictional penis is not scary to me.'
Easier said than done. Complicating matters is the fact that Facebook and eBay have banned the photo and have threatened to sue the artist for copyright violation under the Digital Millennium Copyright Act.
Unfazed, Illma Gore told via the nydailynews that she now plans to unveil a new painting inspired by the presidential campaign next week. Presumably that artwork will stoke offense and curiosity as well.