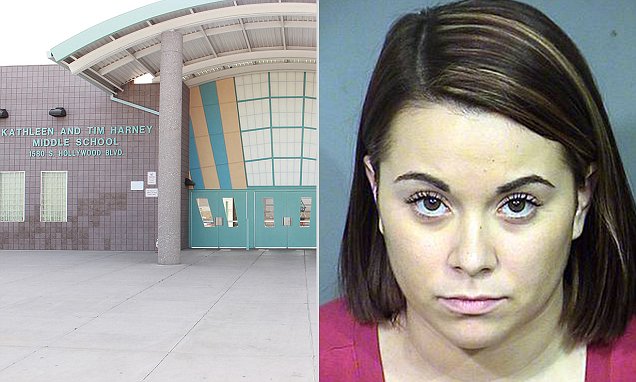 Robyn Gentile teacher: 'I wanted to get even after I discovered my fiance flirting.'
Robyn Gentile a Las Vegas substitute math teacher was arrested on Wednesday on charges of sexual misconduct after allegedly performing a sex act with a 17 year old male student.
The teacher's arrest comes after an investigation into the 23 year old began in December.
Matters came to the fore after the parents of the teen victim noticed suspicious communications between their son and the teacher and reported them to authorities.
Prior from departing from the school last month, Robyn Gentile was a longtime substitute math teacher at Harney Middle School in East Las Vegas.
She had been with the school district since 2013, according to the Las Vegas Sun. 
Most recently the woman taught seventh grade math classes. 
Detectives told that the 17-year-old student involved in the investigation does not currently attend the middle school.
Gentile's cellphone was seized by police at about the same time she stopped teaching, an acquaintance told KSNV. A regard of the woman's cellphone revealed no less than 800 back and forth text messages between the teacher and her victim.
A report via lasvegasnow notes the teen victim telling investigators that Robyn Gentile would often give the teen rides to the Hip-Hop practice.
The student told police the two shared kisses that he initially felt awkward about, but he felt obligated so he could feel comfortable while in the Hip-Hop club.
The teacher has since conceded texting the boy, telling authorities she kissed the student because she felt revenge when she learned her fiance was texting other women.
Gentile pleading not guilty during Friday's court arraignment faces two counts of sex acts with a student and is being held at Clark County Detention Center pending a $10,000 bail.
Officials said that Gentile is now banned from teaching at any schools in the Clark County School District.