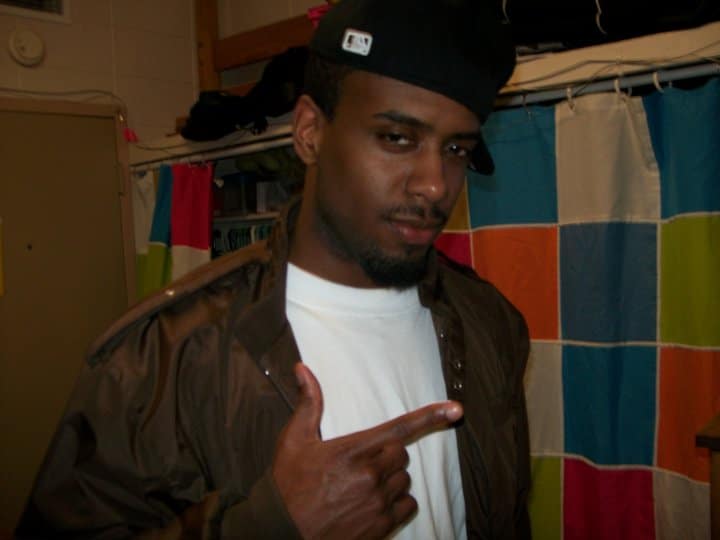 Was Officer Jacai Colson just the hapless random victim of an ambush attack at the hands of brothers, Malik and Michael Ford?
Officer Jacai Colson, 28, a four year veteran with Washington D.C's Prince George's County police department has been shot and killed in what authorities deemed an 'unprovoked' attack late Sunday afternoon.
Tweeted Prince George's Police Chief Henry Stawinski: 'One of your defenders lost his life in defense of this community today. This was an unprovoked attack.'
Prince George's County State's Attorney Angela Alsobrooks in turn called the shooting an 'act of cowardice' and an 'horrific act of evil.'
Despite the narcotics officer being rushed to hospital at the time of the shooting, Colson who would have turned 29 this upcoming Thursday died.
Michael DeAndre Ford, Malik and Elijah Ford: 'It was a game'
Malik and Michael Ford botched suicide by cop. 3rd brother filmed ambush
Since the attack, which took place circa 4.30 pm Sunday afternoon, near a police station in Layover, Maryland, less than 10 miles from Washington D.C, two suspects, brothers, Malik and Michael Ford, 23 and 24 being taken into custody.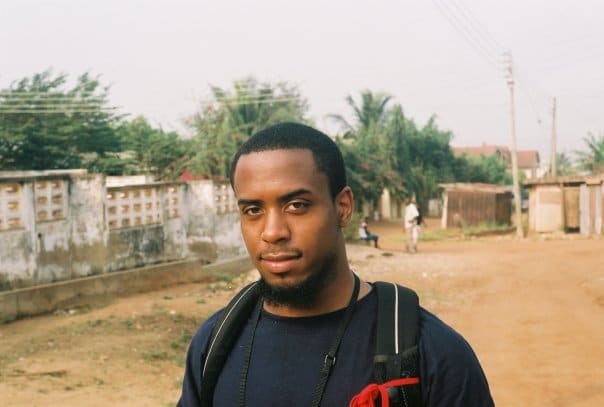 Reacting to the shooting, Maryland governor Larry Hogan offered his condolences.
Told Hogan through Facebook, Sunday evening: 'I am shocked & saddened by the news of the death of Prince George's County police officer Jacai Colson,'
'It is my hope that his proud legacy of commitment and passion for law enforcement and serving others will provide some comfort in the difficult days that lie ahead.'
With a manhunt mounted shortly after Officer Jacai Colson's shooting death, a report via NBC Washington told of the first suspect being apprehended just on 6pm, close to fast food vendor, Popeyes near the police station.
In the aftermath of the shooting, police now believe the shooting was an ambush set up, with brothers Malik and Michael Ford conspiring to take down one of the police station's targeted officers on patrol.
Told Chief Henry Stawinski: 'Our officers were going about their business and were attacked,'
'Those officers did not shrink. They bravely advanced and engaged this individual who was threatening not just the police officers and the police facility that he was opening fire upon but numerous members of the community in the area.'
Told witness, Lascelles Grant via the Washington Post after observing a gunman dressed in black firing off a handgun: 'He fired one shot, and then he started pacing back and forth, then fired another shot,'
'Who would shoot a police station on Sunday evening? This is insane.'
Scene. pic.twitter.com/1GewatLXPr

— Van Applegate (@VBagate) March 13, 2016
Non-stop sound of police sirens on Landover Rd after an Officer is shot and active shooter(s) on the loose @wusa9 pic.twitter.com/LyaOHdTdOm

— Stephanie Gailhard (@stephitv) March 13, 2016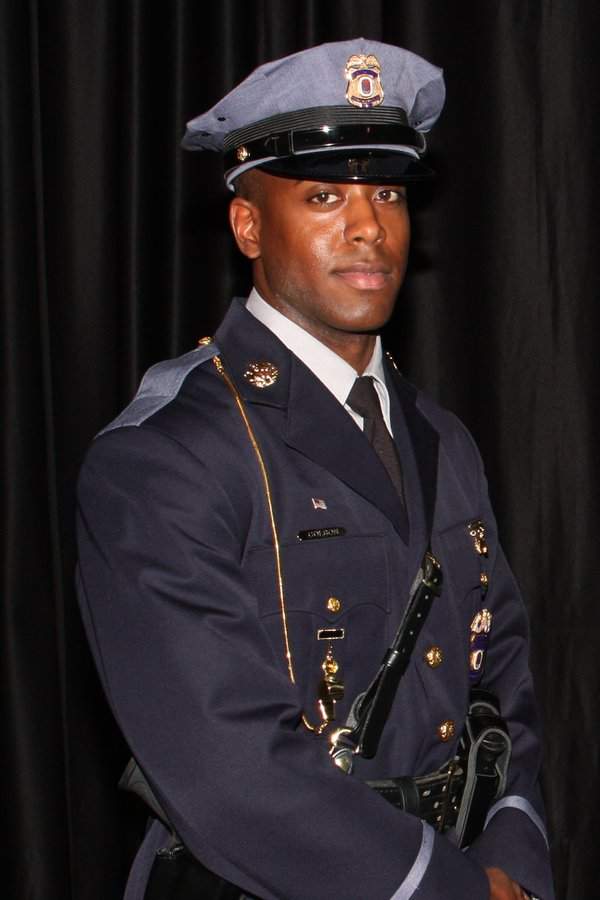 Witnesses told that the suspects were not engaged with Officer Jacai Colson, with the policeman being the likely target of the first police officer the shooters saw as he stepped out of the station.
After gunshots rang out, Grant described officers pouring out of the station.
'Just looking outside, I'm like, 'Oh my God, look at all these police officers running out, putting their lives really in danger," Grant told the Post.
Officer Jacai Colson's facebook page identified him as a native of Boothwyn, Pennsylvania.
A post via the Delaware County Times described Colson's grandfather, Sergeant James G. Colson Jr as a retired Delaware County, Pennsylvania, police officer, who'd been an officer in Upper Chichester for more than 40 years.
Reacting to the shooting and news of the injuring of one of the suspects, Erica Thomas, the aunt of Malik and Michael Ford told the washingtonpost: 'What we wanna know is why did all of this happen? What caused this? That's what we wanna know,'
'I apologize if that's the case, but all lives matter. Where is my nephew?'
Deirde Ramos, the brothers' 60-year-old grandmother, went so far as to claim her grandsons 'weren't involved', accusing police of having arrested the wrong people.
A report via foxnews has told of neither brother to date having being charged.
Since the shooting, one of the brothers, Michael Ford, has been taken to hospital after being struck by retaliating police fire, whilst brother, Malik was taken into custody as officers now set about trying to understand what allegedly motivated brothers, Malik and Michael Ford in choosing to murder Officer Jacai Colson.
Erica Thomas says her nephews Michael and Malik Ford shot the officer. Shes looking for wounded nephew pic.twitter.com/faSKm34muO

— Dick Uliano (@DickUliano) March 14, 2016
Officers line up to pay respect to their fallen brother, Officer Jacai Colson #3693. #LODD pic.twitter.com/44o1iGu6cI

— PGPDNEWS (@PGPDNews) March 14, 2016
Officers salute fallen Officer Jacai Colson #3693. #LODD pic.twitter.com/VUOeiAL3M7

— PGPDNEWS (@PGPDNews) March 14, 2016