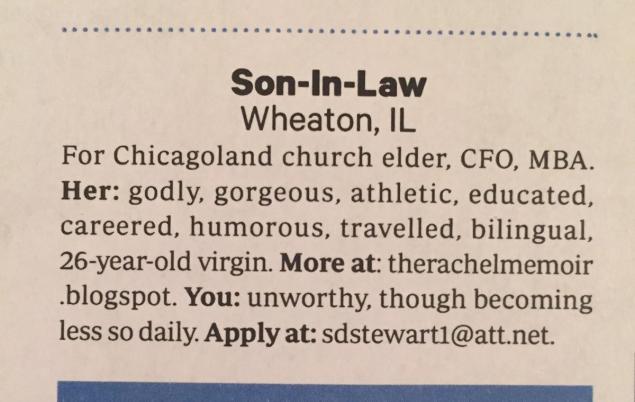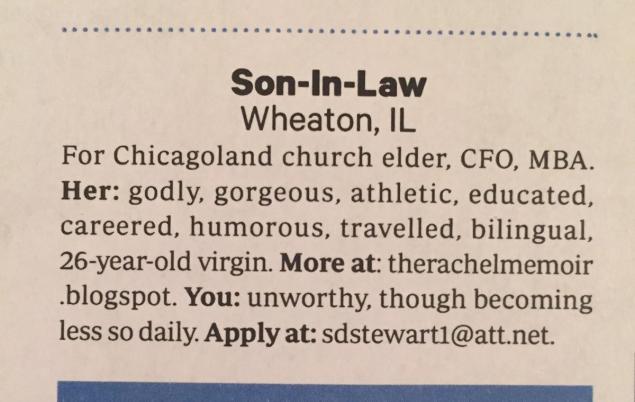 Dad places marriage ad in Christian magazine: How did evangelical journal, Christianity ad come to run one particular ad?
Are you in the market for a 'pious godly athletic virgin for a prospective wife?' That's what one Wheaton, Illinois father, Stephen Stewart wanted to know when he placed an advertisement in the Evangelical Christian magazine Christianity Today for his daughter Rachel Stewart.
Read the ad, since removed: Son-In'Law, Wheaton, IL
'For Chicagoland church elder, CFO, MBA.'
'Her: godly, gorgeous, athletic, educated, careered, humorous, travelled, bilingual, 2 year old virgin.
You: unworthy though becoming less so daily.'
Not surprisingly the evangelical mag has since issued an apology after running the ad on behalf of one local Illinois father, who according to the dailybeast once sought to 'subtly' bribe a potential suit he referred to as 'El Grande' or 'The Big One.'
Responded Editor-in-Chief Mark Galli in a tweet on Friday, who conceded the ad was 'rightfully seen as demeaning' and 'in poor taste.'
Adding: 'We have taken a hard look at our ad review process, made some changes, and we can assure our readers that no ad like this will appear again.'
CT would like to apologize to readers for an ad that appeared in our March issue pic.twitter.com/0Hrpt9puvn

— Christianity Today (@CTmagazine) March 4, 2016
Interestingly the daughter in question, Rachel Steward told the dailybeast that she had no idea her father had posted the ad until strangers started leaving comments about it on her personal blog (also since deleted).
Wrote one commentator: 'Hey, Rachel! Great blog… now check out the March issue of Christianity Today (advertisement section in back of magazine).'
Responded the seemingly non plussed daughter (whose probably used to being on the receiving end…): 'Oh my goodness! He is so BUSTED. Ha.'
Soon after Rachel told of confronting her father, in which the daughter posted: 'His response was revelatory, 'One second. Let me close my door,'
'Then came his unapologetic admonition about the entire thing that concluded with him reading it to me. Impressed, but not surprised, I laughed and then hung up.'
Joked the daughter: 'I'm just nervous if this doesn't work out, next I'll find my face plastered on a billboard.'
'Oh gosh, now I'm giving him ideas.'
One commenter opined 'it seems like he's trying to sell a cattle,' while Rachel told she didn't see it that way.
Responded the daughter: 'This has nothing to do with money and everything to do with encouraging singles to seek first the kingdom of God.'
Rachel Stewart said she hoped the ad 'would be a platform upon which God is glorified and others are drawn toward a personal relationship with His Son, Jesus Christ.'
Even though Rachel was okay with it, Christianity Today was not. That though doesn't mean there wont be another similar ad in the future. Or will there?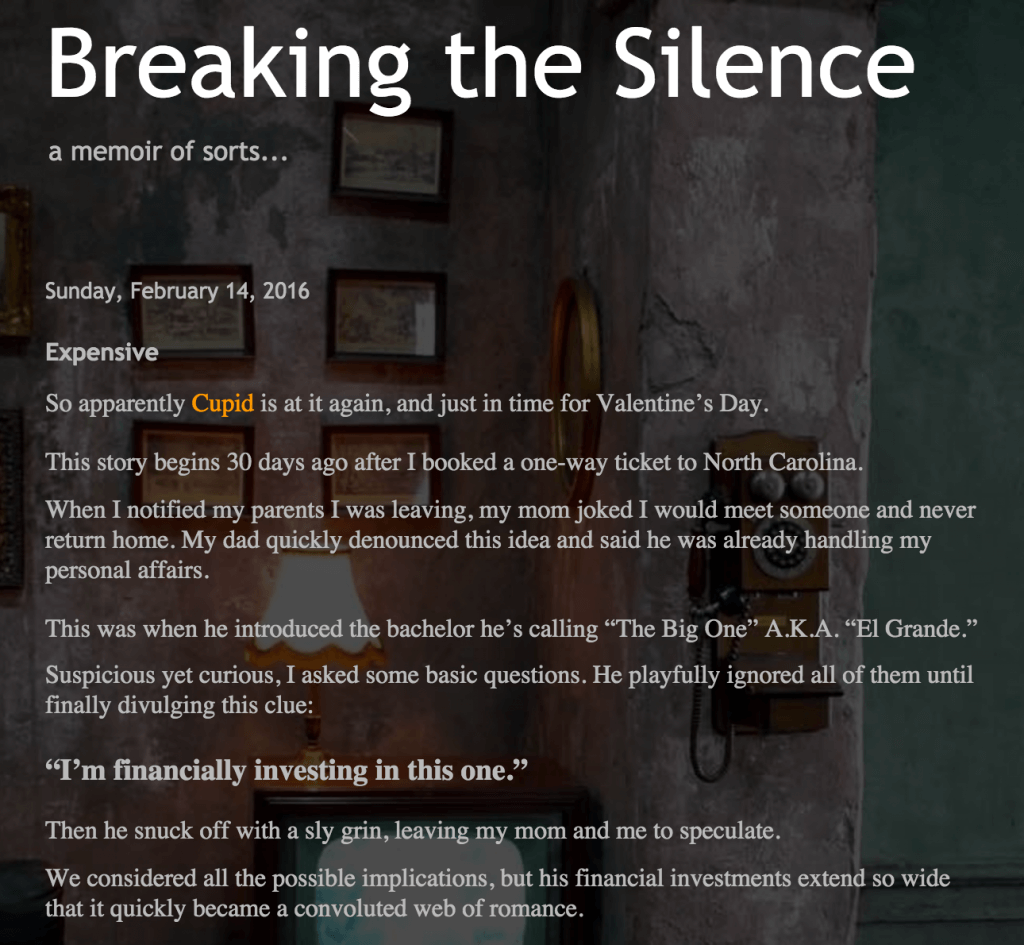 A dad placed this "job" listing in March @CTmagazine. Daughter's not mad: https://t.co/cZsMUKFrY4 h/t @prestonyancey pic.twitter.com/tXFiHteqcI

— Jeff Chu (@jeffchu) March 3, 2016