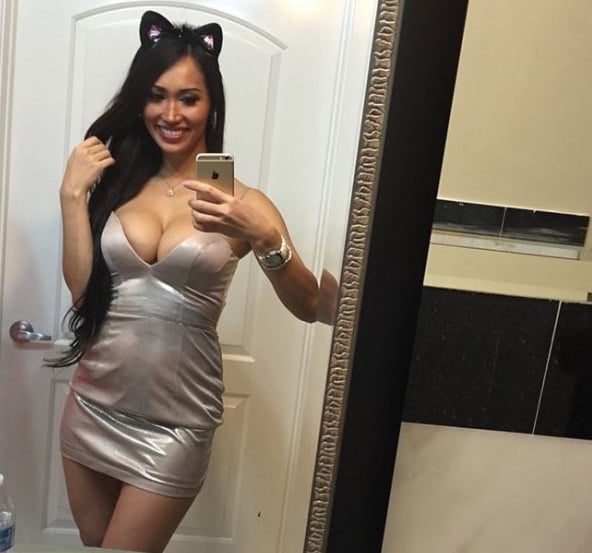 Former Vietnamese Playboy playmate Angie Vu, 32 has told of 'finding God' during her incarceration in a NY jail as she fights extradition to France, where she faces charges of child abduction.
Locked up since November after attempting to flee the US with her 9 year old daughter, 'Asia's sexiest DJ' as she is known has described how the bible has helped her ward off lesbian impulses. 
Vu's troubles began when she tried defying an agreement which saw her daughter's father retaining custody in France with Vu being offered time to spend time with her child. Things would go awry when the woman failed to return to Paris with her estranged partner's daughter by August 29, 2015.
Vu was eventually arrested November 4 last year when she attempted to board a plane at JFK airport bound for China with her daughter.
In an exclusive with the nydailynews, the former playmate told of spending the last 3 months behind bars fighting temptations (in a dormitory where she shares the company of 100 female inmates at a Brooklyn, Metropolitan Detention center) along with learning to spend her time productively.
Told Angie Vu: 'A lot of lesbians around here and a few blondies are hitting on me,'
'But I prefer to read my Bible for now.' 
Speaking of the dangers of being an incarcerated 'celebrity', the stunner told: 'I tried my best not to get in any fight,'
'I thought prison could be much worse, though. Only saw prison on TV, I was ready for gang rape, getting beaten up and vowed to protect my face at all cost. So my social skill became handy.' 
That said, life is not completely untenable for the celebrity, admitting during her detention she has been able to 'get back in shape', eat food that is 'edible' and listen to music.
Reiterated the former model: 'I realized how tough I am. I thought I couldn't last for two days and it's now three months,' she said. 'I came to God and got saved so I spent time to pray and read the Bible, too.'
The woman's case has led to sensation in France where Vu stands accused of parental abduction charges, and calls by the father to have his former partner jailed. The father has held that during the first seven years of their daughter's life, Vu was absent, whilst Vu allegedly worked as an adult actress. 
In the interim, a NY judge has denied the playmate bail, determining Vu to be a flight risk, with her next hearing Wednesday week. Her daughter has since been returned to France where she is now living with her father, Richard Froger.