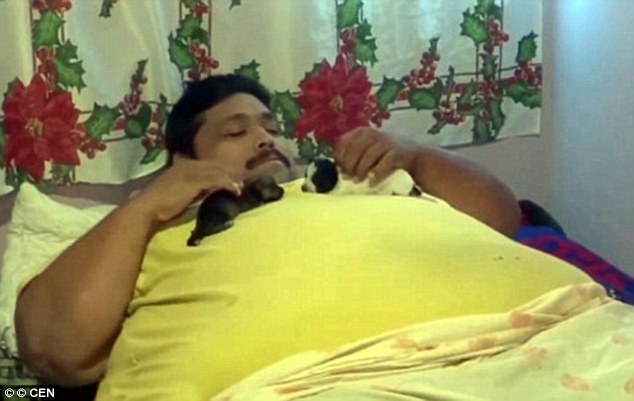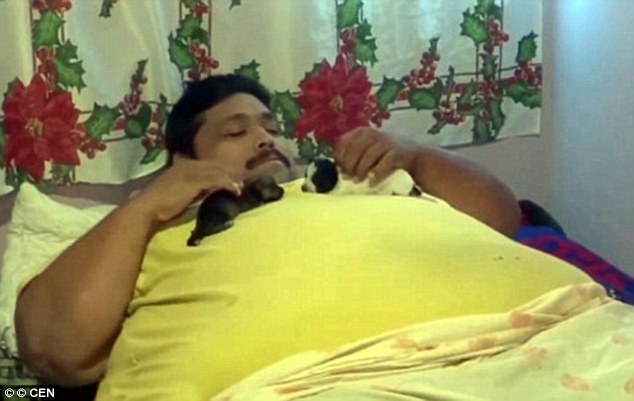 A report has told that Andres Moreno, at one point, the world's fattest man at 70 stones (980 pounds) died as a result of relapsing, going back to a habit of downing more than 6 energy drinks a day.
The admission comes just over a month when the Mexican man from Ciudad, Obregon in Sonora, Mexico died on Christmas Day, 2015, the result of a heart attack, after a much publicized battle to bring his weight under control and save his life.
700 lbs, Andres Moreno world's fattest man dies Xmas day
The shocking revelation came after Andres Moreno had undertaken a much publicized gastric bypass surgery which miraculously allowed the morbidly obese man to shed weight. At the time doctors told Moreno it was too dangerous to go under the knife unless he lost a whopping 200 pounds first.
In the end the man lost close to 266 pounds which put him in firm contention to now move forward with his goal of getting down to his overall goal of 175lbs, which at the time required Moreno having to lose a further 57 stone (800 pounds) in weight which would allow him to start a family with his partner.
Yet it may have been his bid to start a family that ironically which was the man's undoing.
Offered Doctor Jorge Ojeda, who had been treating the man post operation: 'He drank more than six energy drinks a day according to his family and we believe it could be a lot more than six.
'As an obese man, although he was losing weight and was starting to move, exposing yourself to a stimulant can cause an irregular heartbeat, and that or a heart attack can lead to death.' 
According to local reports, in the days prior to his death, the doctor told of Moreno having 'had a problem with his wife and this generated some emotional stress'. 
Gastric Bypass Mexico, which organised his stomach bypass op, said diabetic Moreno's consumption of energy drinks was the equivalent of a person with no health problems consuming 42 cans of Coke in three days.
Ironically, Andres Moreno's death came just two months after he received extreme weight loss surgery.
The surgery involved removing three quarters of his stomach and reshaping what was left into a tube to 'prevent him from eating too much'.
Prior to the surgery, the morbidly obese man had received a signed Real Madrid shirt from football superstar Cristiano Ronaldo, encouraging him to lose weight and get healthy.  
A report via the dailymail notes, the previous record for the world's fattest man was also held by another Mexican, Manuel Uribe, from Monterrey, who weighed 88 stone.
He died in 2014 aged 48. 
Mexico has one of the world's fattest populations, with 70 per cent of people overweight and a third of them are obese, causing a range of serious health problems.
The country also suffers one of the worst rates of diabetes which kills more than 80,000 Mexicans every year.