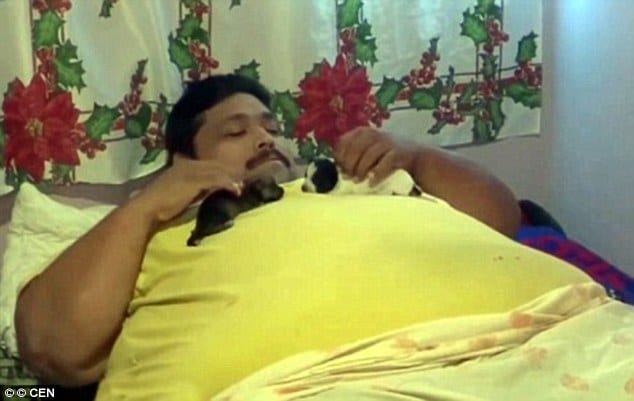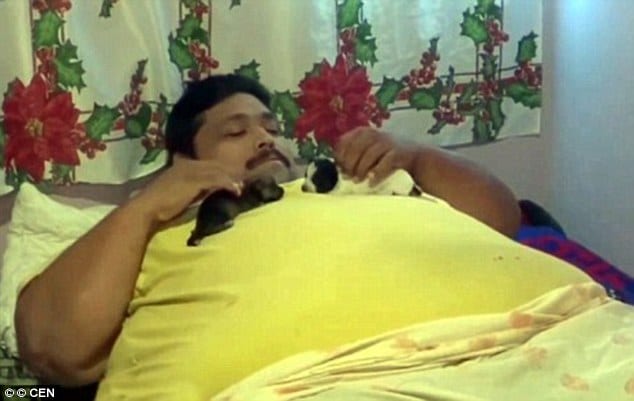 Andrew Moreno who weighed 980 pounds (70 stones/444kg) at his heaviest has passed away Christmas morning of a heart attack aged 38.
The obese man's death came despite efforts by paramedics to revive Moreno as they rushed him to hospital from his home in Ciudad Obregón in Sonora, Mexico.
Told a statement courtesy of Moreno's publicist, Carmen Palacios: 'Andres died at 8.30am on Christmas Day in an ambulance from a heart attack as he was taken from his house to San Jose Hospital,'
Speaking to Univision, Palacios added: 'We are dismayed by the news.'
Moreno, who weighed 700lbs (50 stones/318kg) at the time of his death, came ironically as he desperately sought to shed the encroaching pounds in recent months.
Encouraged by football superstar Cristiano Ronaldo just over a month ago, Moreno told of being reduced to tears after the soccer player sent him a signed Real Madrid shirt in a bid to encourage him to lose weight and get healthy.
Told Moreno at the time: 'I want to thank everyone, especially Ronaldo, for taking interest in my case.
'Sometimes you think that people live in another world way from the people, but that is not the case.
'I feel as if I had gotten a Christmas gift before Christmas.'
The signed jersey was sent to Moreno by Ronaldo shortly before the man underwent weight-loss surgery at a Mexico hospital after losing a whopping 266lbs naturally, according to Metro.
At the time it took a team of no less than seven staff members to hoist the obese man out of bed and onto a reinforced stretcher so he could be taken to the hospital. At the time, doctors ruled against operating Moreno unless he could bring his weight down to a range which would allow medics a chance to perform a successful gastric bypass operation.
Moreno had hoped to lose more than 800lbs in weight – to take him down to 175lbs – following the operation, allowing him to fulfill his dreams of finding a wife and starting a family. 
Before the surgery, he said he knew there was a risk, but that he would die if he did not have it.
He added that he hoped to set up an organization to help other obese people get back into shape.
'I want to show them that no matter how large they are, there is hope,' he said from his bed.
The operation involved removing the majority of his stomach, around 70 per cent, and re-routing a lengthy portion of his small intestine at the Mexico Gastric Bypass unit in the Arboledas Hospital.
The procedure is used to reduce meal quantities and the absorption of calories from food. 
The operation had come as a last ditch attempt to save Moreno's life after having suffered a previous heart attack scare.
The Mexican, who has always been large, was born weighing 13lbs and by the time he ten was already tipping the scales at 264.5 lbs. A healthy ten-year-old typically weighs anywhere between 57 to 100lbs.
In recent years, Andres Moreno had become bed bound due to his weight, with a number of serious illnesses. 
'I realized I was just getting fatter and fatter, going up in size like a snowball, but I couldn't stop, I lost my wife, who I lived with me for three years, who left me simply because I was so fat,' he said via a report courtesy of the dailymail.
'I looked so bad that when people came to see me I used to make them cry.'
The operation's success had led to Moreno managing to start washing himself again along with walking for the first time in three years, leaning on relatives for support.
Speaking after his feat on December 2, he said: 'My legs were trembling like a new-born foal's but thankfully I can stand up by myself and walk by myself.' 
Moreno, a former police officer, admitted to being dumped by his wife as his weight ballooned after he turned 20, saying: 'I lost my wife, who I lived with for three years and left me because I was fat.'
He added: 'I realized I was putting on more and more weight and getting bigger but it was like a snowball I couldn't stop. Friends and family would visit me and when they went I was left alone crying and sad because of my situation and begging God to put me back on the right path.
'I hit rock-bottom when I couldn't get out of bed and go to the toilet or wash myself.'
Surgeon Jose Antonio Castaneda, who performed Moreno's recent operation in Arboledas on October 28, said ahead of it that the patient would not have lasted another five years without it.
He described Moreno's death as 'unexpected'.
Mexico has one of the world's fattest populations.
Seventy per cent of people are overweight, while a third of them are obese, figures show.
The country also suffers one of the worst rates of diabetes, which kills more than 80,000 annually.