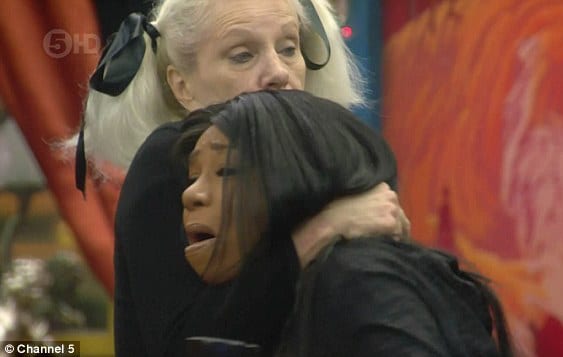 To many it seemed uproariously funny, to many others (including this author) the deliberate mistaking of music icon, David Bowie's death for that of David Gest at the hands of Angie Bowie on Celebrity Big Brother only proved how much lower and more deplorable reality tv could ever go.
In choosing to run with the death of David Bowie, Angie Bowie is first observed crying crocodile tears in the face of her former husband's death with whom she shares a child with, Duncan Jones, 44. A child who has refused to see his mother since he was 13 and a husband that Angie hasn't seen in nearly 40 years and who only had mean and disparaging things to say about.
That though all went out the window when the former wife who has been able to carve a kind of lucrative career for herself dissing the inside dirt on her ex went on to howl like a baby at news of his death.
While most rational individuals may have chosen to take the loss of a former love in stride, perhaps opt out of a reality show they were appearing or decline to discuss the news of it, Angie being the hedonist and opportunist that she is decided to play it up for clicks and bait.
But it only got better or worse.
After shedding crocodile tears (you can't hate someone for 40 years and then cry a river when they die…) Angie (presumably at the producer's knowing wink) decided to share the news of 'David's' death with fellow z grade celebrity housemate, Tiffany 'New York' Pollard.
Whimpers a manipulative Angie: 'You can't say a word, David is dead'
She pauses and waits for the news to sink in. Knowing full well that her fellow cast mate as part of the rules of the show is not allowed access to the outside world and therefore would not have (likely) heard of David Bowie's death, naturally presuming it was David Gest (formerly married to Liza Minnelli if you can believe it…) who had died.
From there, the crazed woman begins howling and baying (either legitimately or because she is ruthlessly as crafty as Angie) as Angie Bowie sits there with a straight face telling the woman, 'Would I just make this up?'
In fact yes and so did the producers who decided to take the death of an icon and turn it into a cheap joke.
In many ways the set up mirrors what's wrong with our current culture and ironically why the passing of David Bowie will be sorely missed- he never had to concoct diabolical 'reality' moments and actually lived from the guts and created a fusion of energy and creativity that rarely sees the light of day in today's carefully scripted dogma.
In a world that feeds off instant ratings, social media clout, marketing endorsements (and associations with clout that cynical marketers piggyback off in the hopes of payday and brand association) is it any wonder that Angie Bowie after 40 years of being a one night stand that ended up being a wild free for all has ended up retaining her staying power? Kim Kardashian you have a lot to learn from Angie.