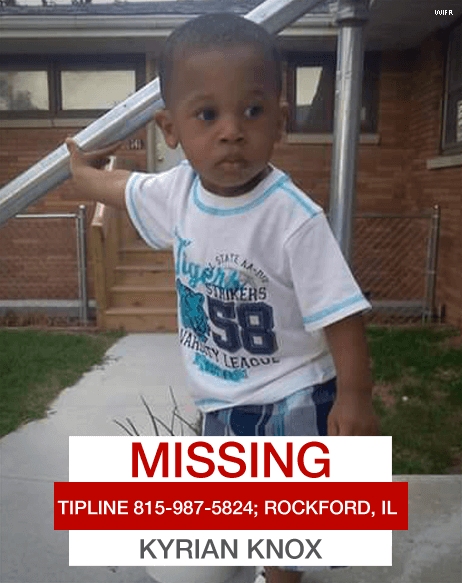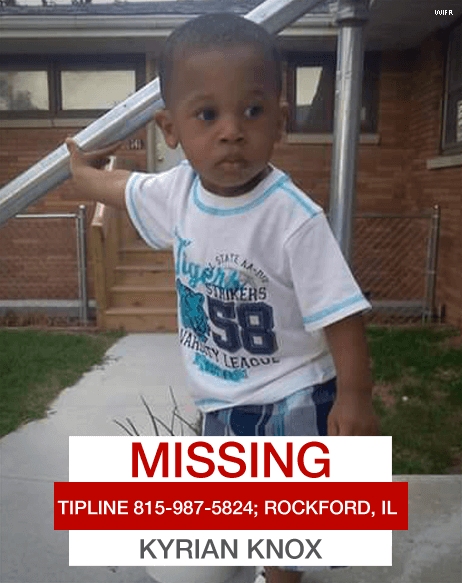 Kyrian Knox has been identified as the two year old dismembered toddler found in a Chicago lagoon back in September after DNA confirmed that the toddler found matched the DNA of that of a missing two year old northern Illinois boy reported missing at the same time.
Since the confirmation of the body parts found at Garfield Park lagoon, Chicago police spokesman Anthony Guglielmi confirmed that police continue to investigate how and why the boy came to be killed. To date the man confirmed no arrests had been made.
Speaking of their heartbreak upon Wednesday's positive match revelation, Kyrian's grandmother, Cameshia Harris, told the Chicago Tribune:'My heart is hurting right now,'
Adding: 'We're processing the information as a family that we were given today. The family is together and we are trying to wrap our minds over it.'
The woman's grandson was reported missing on September 17 by the child's mother, Lanisha Knox, who told of leaving her son with friends while she was moving to a new home when she was notified of her 2 year old son's disappearance by police.
In a report with NBC. the heartbroken mother tells how she had made numerous attempts to pick up her son from the family that was watching him yet they always gave her an excuse as to why it was not a good time. 
Told the mother: 'At this point, I don't trust anyone and I do feel like somebody knows something and they're not saying anything,
Authorities believe Kyrian first went missing mid August and it wasn't until mid September that Lanisha Knox reached out to authorities. A length of time that strikes this author too particularly long and not within the natural profile of a mother disconcerted with the whereabouts of her toddler child.
Kamel Harris, 40, of Rockford, who Lanisha Knox may be one of the last people to see Kyrian alive. His name was on a missing-person flyer distributed by the family who had 'cared' for the toddler as Lanisha Knox was in transit moving homes. A day or two after Kyrian was reported missing, Harris was arrested and jailed on a burglary charge.
Contacted at that time in the Winnebago County Jail, Harris told the Register Star that Lanisha Knox, a friend of his daughter, dropped Kyrian off at his Rockford home in August.
He said Lanisha dropped the child off with a pack of diapers and $30.
'What the hell am I supposed to do with $30 and a pack of diapers? I didn't even know her,' Harris said in a telephone interview from jail. 'She just dropped him off and left.'
Continues the report from the Register Star which poses troubling question of parental accountability:
Harris was fuzzy on dates. He said Kyrian arrived in early August and was picked up later in the month when people he didn't know arrived at his door.
"The little boy ran to him and was all happy," Harris said.
Harris said he spoke to Lanisha Knox before releasing the child to the visitors.
Harris' girlfriend, Danyelle Foggs, 34, said she was not present when Kyrian arrived and was not present when he left. However, she said she received a text message from Lanisha Knox on Sept. 17 saying she wanted to talk to her son.
"I said, 'What? I'm lost. What do you mean?'"
It wouldn't be until September 5 that the dismembered child was found by a park visitor after coming across what turned out to be a left foot floating in the lagoon.
Cops later found a decomposed right foot and a hand 25 yards away.
Over the next days, additional body parts were recovered which allowed cops to be able to launch an investigation as to the identity of the child after an artist's portrait of what the child may have looked like prior to its murder came to be circulated.
From there, authorities began culling missing person reports as they sought to identify the 2 year old victim.
Guglielmi refused to say who investigators are questioning in the boy's death, saying they have a long way to go in determining how he was killed. He said identifying the victim was a tremendous break in the case.