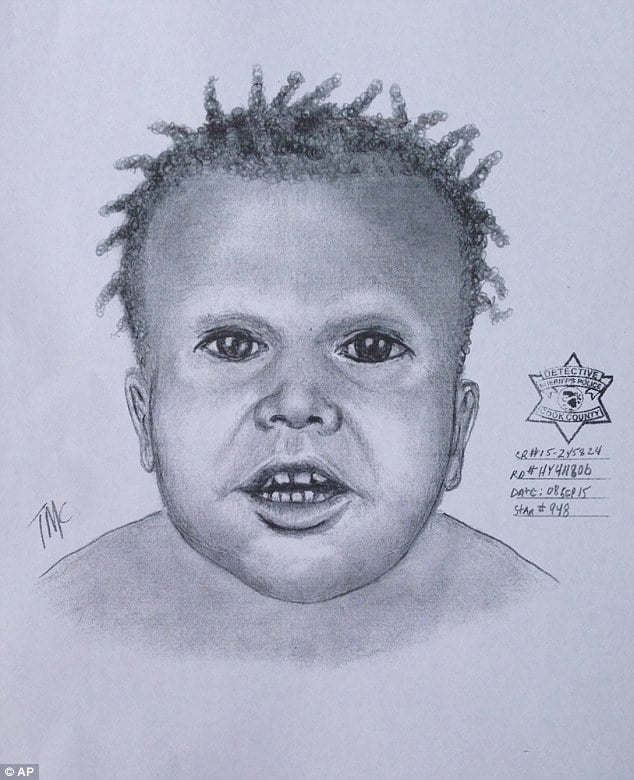 Chicago cops have released a sketch of what they believe to be of an African American or bi racial child after its dismembered remains were discovered at a lagoon in Garfield Park over the weekend.
The sketch comes in a bid help identify the child and presumably the child's parents as authorities continue to seek clues as to who or how the child came to end up at the lagoon.
Told Police Superintendent Garry McCarthy during a Thursday afternoon press conference: 'We still don't know what happened,'
'We're going to need help from the public. And people should be outraged.'
Detectives are hoping someone will recognize the toddler based on the sketch. Even before its release, about 150 calls with possible tips came in for police detectives. 
The child's remains were discovered over the weekend in the Garfield Park lagoon after someone reported seeing a foot floating in the water.
Further searches in the water turned up the child's head, hands and other foot. Authorities have since resorted to draining the lagoon to find the rest of the body and more evidence. 
Reiterated Chicago Police spokesperson Anthony Guglielmi: 'I don't have the words strong enough to describe how reprehensible this incident is,'
'The fact that somebody could do this to a child is frankly unimaginable. 
'There's somebody out there that knows what happened to this child. Do the right thing, turn yourselves in. We are going to find you.' 
The child's sketch according to forensic sketch artist Timothy McPhillips of the Cook County Sheriff's Office came after examining X-rays, coroner photographs and the remains themselves.
There are no piercings, so the child could have been male, but authorities aren't sure because the torso has not been recovered, McCarthy said.
Hampering matters, there have been no reports of any missing children in Chicago that match the case.
The child's DNA is being analyzed to see if there's a familial match with anyone whose DNA is stored various law enforcement databases.
Also unclear is whether the child was murdered, because the dismemberment occurred after the death, according to the medical examiner.
McCarthy said detectives would not stop until they solved what he called a 'heinous, senseless crime.'
'This could be a tragic case of somebody panicking and not knowing what to do,' McCarthy said. 'But it's certainly a depraved event that we're looking at here and it goes beyond human reason.'   
Investigators estimated the remains had been submerged in the lagoon for a week or two. 
Police also recovered a 20-pound weight and several plastic bags near the remains, but they have not said whether those items had been used to dump the child's body parts.
Residents described the park as a sanctuary for the lower-income community, with the lagoon that attracts urban fishermen and boaters, a swimming pool, baseball and football fields, as well as a vast, glass conservatory with palm trees and other exotic plants.
Garfield Park is well-patrolled and considered safe, said Ricky Smith, 54, who lives in the area.
'People come to this park because there are never shenanigans here,' he said.
Starks said he recalls a fisherman snagging a body in the lagoon about 15 years ago. But he said he doesn't recall corpses being discovered on its grounds since that incident.