Making tabloid headlines is the visage of UK model Catherine Byrne who has found herself in the hot seat after conceding taking on a student loan in order to pay for the breast implants she coveted.
Despite not even lasting a year at school, the Essex based model took out more student loans (£14,000/$21,570 USD) to pay for additional cosmetic procedures. Naturally. But here's where things get sticky. The fake psychology major now tells she never intended paying back the money in the first place.
Told the shameless model via the Sun: 'My boob job has done more for my career than any degree could.
'People who go to university usually don't get to use their degree.'
'Most of them can't get a job and end up working in a supermarket.'
According to Byrne, the idea to take advantage of school loans came after a friend first applied to the University of East London, where a then 22 year old Byrne naturally also soon found herself as a student.
Reiterated our collective heroine: 'Growing up I had always been embarrassed of my tiny B cup breasts.
'I'd hide when I got changed in front of friends and hated wearing a bikini on holiday. I desperately wanted to be a model but I knew if I wanted to succeed like Katie Price, I needed to have bigger boobs.
'There was no way I could save enough money to have a boob job. But when my friend went to uni and told me about her student loan, it gave me an idea.'
Which is to wonder why bother attempting to become a school teacher or an engineer when you can easily become a page 6 cover girl with a winking smile that says, 'I beat the system. What do you think of my breasts?'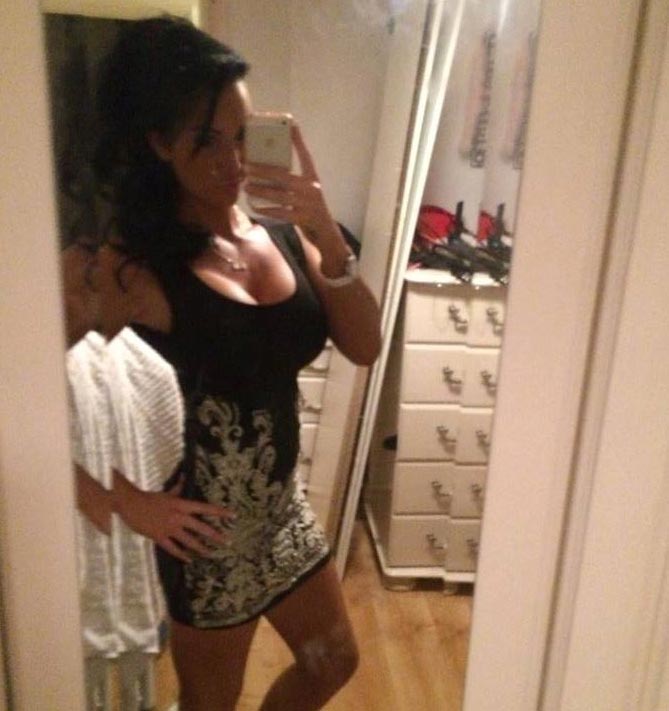 Adds the model who concedes she has absolutely no intention of studying or getting a degree:  'At first I was shocked when I got in. I quickly applied for a student loan and was over the moon when I got my loan letter in the post.
'I already knew exactly what I was going to spend the money on.'
While fellow students were buying books, Catherine was instead trying to figure out where to get her boob job.
Confesses the shameless model: 'As soon as the money hit my account I booked in to have a breast enlargement in London and I quit my course.
Reiterating: 'My new boobs made me feel a million times better about myself.
'I suddenly had loads more confidence and no longer felt insecure about the way I looked.
'It made me even more sure of my decision to use the money to invest in my body instead of my brain.
'I told my family and friends what I had done and they just laughed.
'They all know I'm always finding ways to get what I want — I don't think they were surprised.'
And brazen Catherine did not stop there.
Unsurprisingly, having not taken any exams or submitted any work, Catherine received a letter informing her she had failed her first year at university.
But rather than feel guilty, the sun reports Catherine came up with a rather clever idea. Yes that's right kids, re apply back to school and con the system out of more money for even bigger and better breasts.
Recalls the brazen model wannabe: 'The letter said I could apply to redo my first year and I knew exactly what that meant — more money'. I went to my tutor and told her a story about being overwhelmed in my first year.
Did the model ever feel a tinge of guilt of playing the system you wonder?
Explains the shameless hustler: 'I didn't feel guilty because it wasn't like I was stealing the money from anyone.
"They were giving it to me to better myself and that was exactly what I was going to do."
And with a further £7,000 ($10 760)  in the bank, Catherine was able to pay for more cosmetic procedures along with some much needed new clothes and of course a new car, without once having to set foot on campus.
Catherine's university loan has left her with a huge debt which, with interest, comes to £17,572.
As she took it out in 2008 she doesn't have to start paying it back until she earns more than £17,000 a year and in her case, after 25 years it will be written off.
But never mind, Catherine isn't particularly bothered about having to ever pay back the debt.
Explains the model wannabe: 'Modeling isn't very well paid and I only take a few jobs a month, so I don't see myself earning enough to pay it back.
'You always hear about people who leave university and can't get jobs. They end up on benefits after all that work.
'That just seems stupid to me. That loan was to invest in my future and that is what I did.
'I'm probably happier than most of the people who enrolled on that course at the same time as me.'
What do you think? Will you be applying at your local college in the hopes of also furthering your career aspirations at the expense of society or did Catherine just do what she had to do in a vicious winner take all or be left in the gutter society…?
Images via twitter
— catherine byrne (@byrne_catherine) August 16, 2015
Much appreciated!!? pic.twitter.com/iEixCNKVmW

— catherine byrne (@byrne_catherine) November 2, 2015
— catherine byrne (@byrne_catherine) August 16, 2015
— catherine byrne (@byrne_catherine) August 16, 2015
@Kickboxing_Kez pic.twitter.com/rKmx5CDHdn

— catherine byrne (@byrne_catherine) August 16, 2015
— catherine byrne (@byrne_catherine) April 8, 2013
— catherine byrne (@byrne_catherine) April 12, 2013