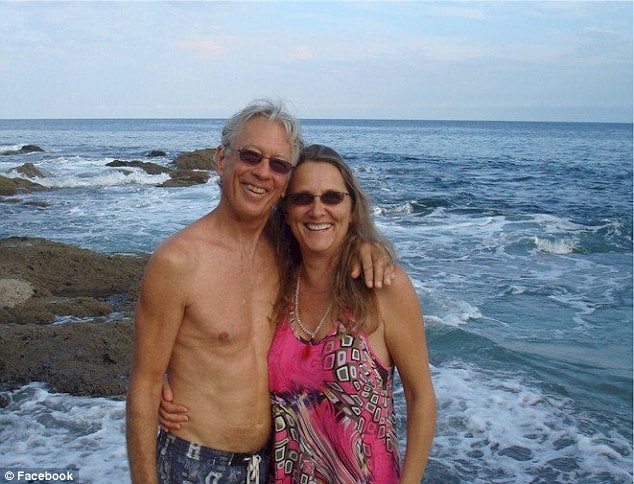 Investigators have sought to uncover how Steve Carter an esteemed tantric sex and massage therapist came to be shot dead along a popular San Francisco hiking trail Monday evening, with his wounded dog lying beside him, still on the leash attached to his owner's hand.
The body of 67-year-old man was found by a hiker about 6pm on the Gunsight Fire Road on White's Hill, just west of Fairfax in the San Francisco Bay Area. Investigators tell of the man being shot multiple times.
The victim's Doberman was beside the body – and had suffering at least one gunshot wound but is expected to survive.
Told Marin County Sheriff's Office Spokesperson Doug Pittman via abcnews: 'Sadly the victim was still holding on to the leash of his brown Doberman Pinscher who had also been shot.'
Missing was the man's vehicle, a silver 2003 Volkswagen Jetta with the California license plate 6PPG662, with authorities seeking the whereabouts of the stolen vehicle in the hope it may lead them to the suspects, the San Francisco Chronicle reported. 
Reiterated Pittman: 'Right now we're considering anyone that might be connected with that vehicle at this point to be armed and dangerous.'
The spokesperson also told bullet casings were found next to the victim's body, but that no gun had been recovered in the area
Steve Carter and his wife Lokita are credited as being 'the most successful and consistent tantra teaching couple in the USA'.
They have released several DVDs on tantric massage, yoga for lovers and meditation. 
According to a report via the dailymail, the couple recently sold their home and business, the Ecstatic Living Institute, in Lake County, and relocating to Costa Rica, where they built their dream house.
But the pair returned to California when Mrs Carter was diagnosed with breast cancer.
The couple's site espoused their beliefs in monogamy and viewing themselves as 'equals'.
According to their website, they taught more than 16,000 students.
Speaking of his brother's death, Michael Carter of Fresno told: 'I've heard that he was murdered, but I haven't heard anything other than that.
'I can't imagine that it's anything other than a random thing. All of it seems very random and unbelievable. Nothing makes any sense.'
Read an insert on the couple's tantra workshop website: 'They delight in sharing with each other and through their workshops what they have learned over many years of tantric practice, relationship exploration, ecstatic living and the tantric way of life as a married couple,' 
'When they joined together their love and variety of talents, they emerged as a powerful, fun, dynamic and loving teaching team.
'Steve and Lokita accept and support everyone's way of being together, or being single – in their workshops, and in their lives at large.'
To date the victim's wife has declined on her husband's murder.
A motive for Carter's murder is not known at this time.
Anyone with information about the murder is asked to call the investigations unit at 415-473-7265 or the Crime Stoppers anonymous tip line at 800-222-TIPS.