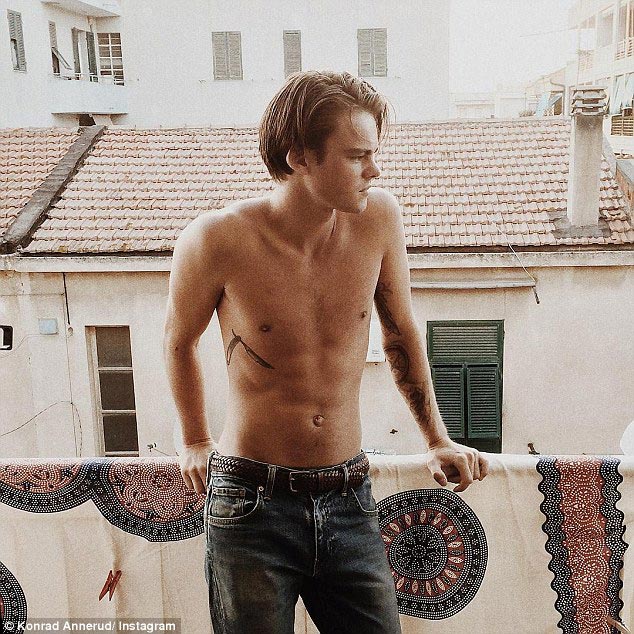 Trending on social media is doppelgänger Swedish Leonardo DiCaprio look alike, Konrad Annerud, whose likeness to the Hollywood actor/celebrity is sending the internet over the moon.
Yet there's a caveat. Unlike the current scraggly 40 year old Leonardo, the new heart throb at the age of 21 is mimicking the old look of former Leonardo DiCaprio years (think back to 1996/97 of Titanic fame) when the actor used to don floppy hair, perfect chiseled features (older Leonardo may have to lose some weight if he is to make Hollywood fans happy) and hanging cigarette.
To boot, Konrad Annerud's smoldering gaze has led to the Swedish heart throb gaining an impressive 64 000 instagram followers.
Told the new Leo by way of Swedish website Nyheter: 'It can become a bit hard sometimes when people call me Leo instead of my name,'
'I get to hear that I look like him quite often, especially since I work as a bartender in a nightclub,'
'But it's fun to be like him. He's handsome.'
Aneroid who these days works as a bartender, model and musician has built a plethora of images on instagram in which he rocks leather jackets, tight whit t shirts, tight jeans and boots.
And how has Konrad taken to the attention?
Not too easily confesses Konrad.
Told the throwback Leonardo DiCaprio look alike: 'It's much worse when I am abroad,'
'When I was in Italy last summer, I kind of felt like I wanted to shave off my hair. It was chaos. 
'People shouted 'Leo!' and wanted to take pictures all the time. It was the craziest thing I ever experienced.'
It's not yet known whether the real Leo has caught wind of his doppelganger, but the prospect has some people dreaming up movie roles for the pair.
And Konrad's rise on social media even has some people saying he's better looking than the movie icon. 
'Maybe even hotter than Leonardo himself,' wrote on Instagram follower, while another said: 'Oh my god. Jack is that you?' referring to Leo's character in Titanic, Jack Dawson. 
And here's the added plus for you ladies: Konrad Annerud is single. For now anyway.