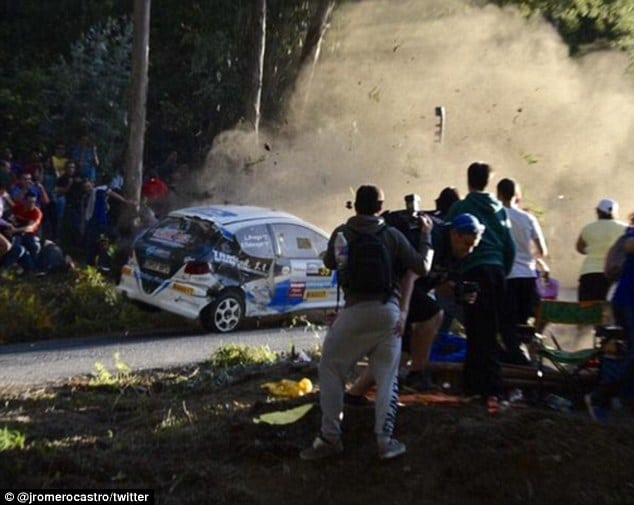 Spain's La Coruna car rally has led to six people being killed and at least ten others seriously injured after a racing car flew off the track and crashed into a clump of 20 spectators during the high speed rally.
Among those confirmed dead was a pregnant woman and an eight year old child along with three other children who had been standing on the edge of the road, with officials bracing for more deaths.
Spectators were stuck when one of the rally vehicle drivers lost control along a bend during the La Coruna Rally in the Spanish municipality of Carral in the north west.
Witnesses described seeing the racing car fly off the dirt track and into the crowd as it attempted to take a bend at high-speed. 
The car – a Peugeot 206 with the number 39 on its door – is believed to have smashed through a group of around 20 spectators.
Organizers immediately suspended the race – in which more than 100 participants were competing – in the wake of the incident.  
The cause of the accident is being investigated, with police and ambulance services still at the scene supporting the victims and their families.
The Rally de A Coruna is a part of the Galician Championship and draws thousands of fans to the streets of A Coruna every year. This year, over 130 cars participated in the event, which took place for the 20th time. Of question is whether officials may have erred in allowing spectators to stand so close to the side of roads and whether in fact that is part of the appeal of attending such rallies?
El coche que sembró la tragedia en el Rally de La Coruña http://t.co/3PKYLJMyer pic.twitter.com/6mptW0sAuj

— MARCA (@marca) September 5, 2015
Six dead in Spain car rally accident http://t.co/y1zpcqjn6h
— BBC News (World) (@BBCWorld) September 5, 2015