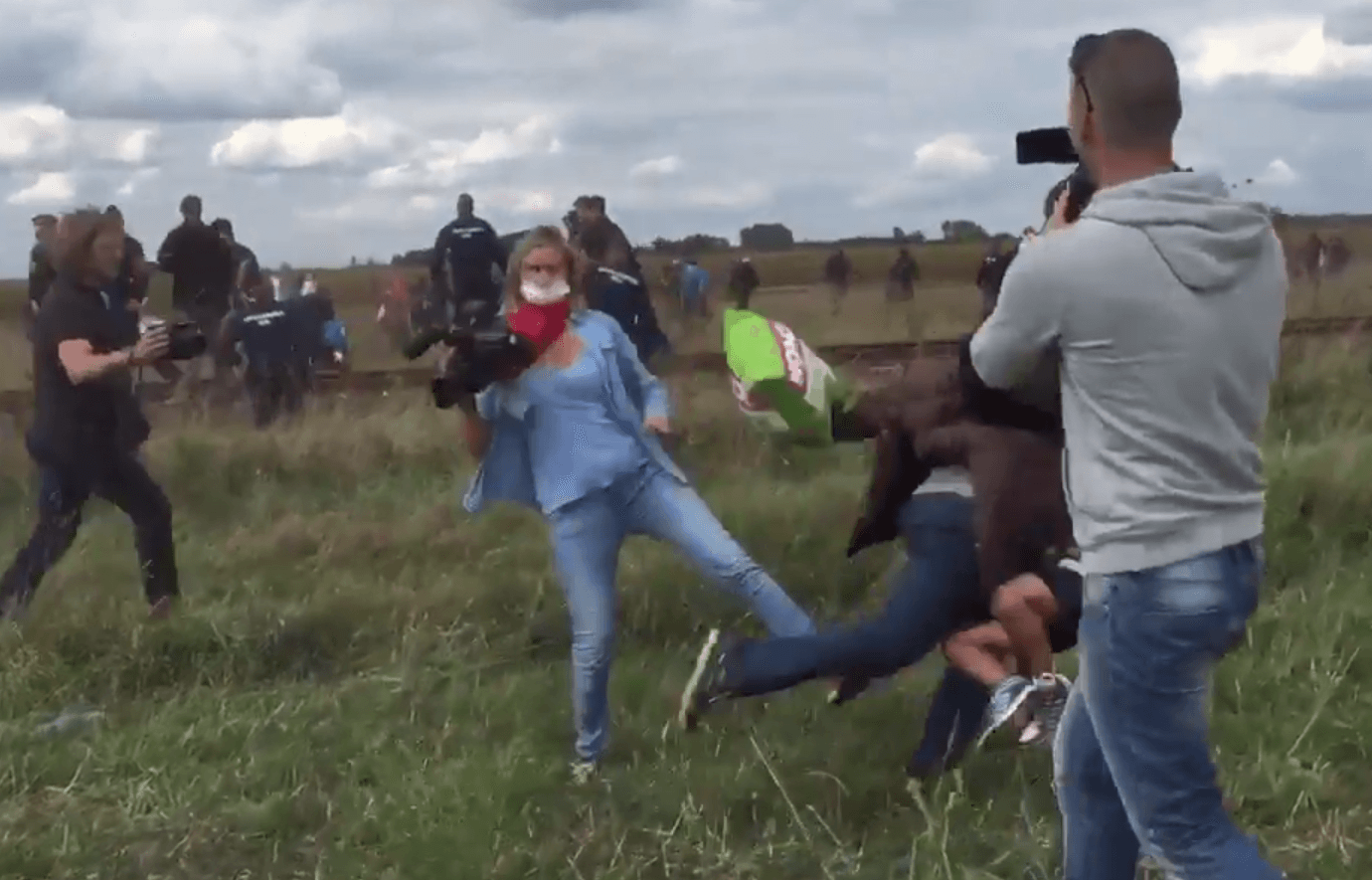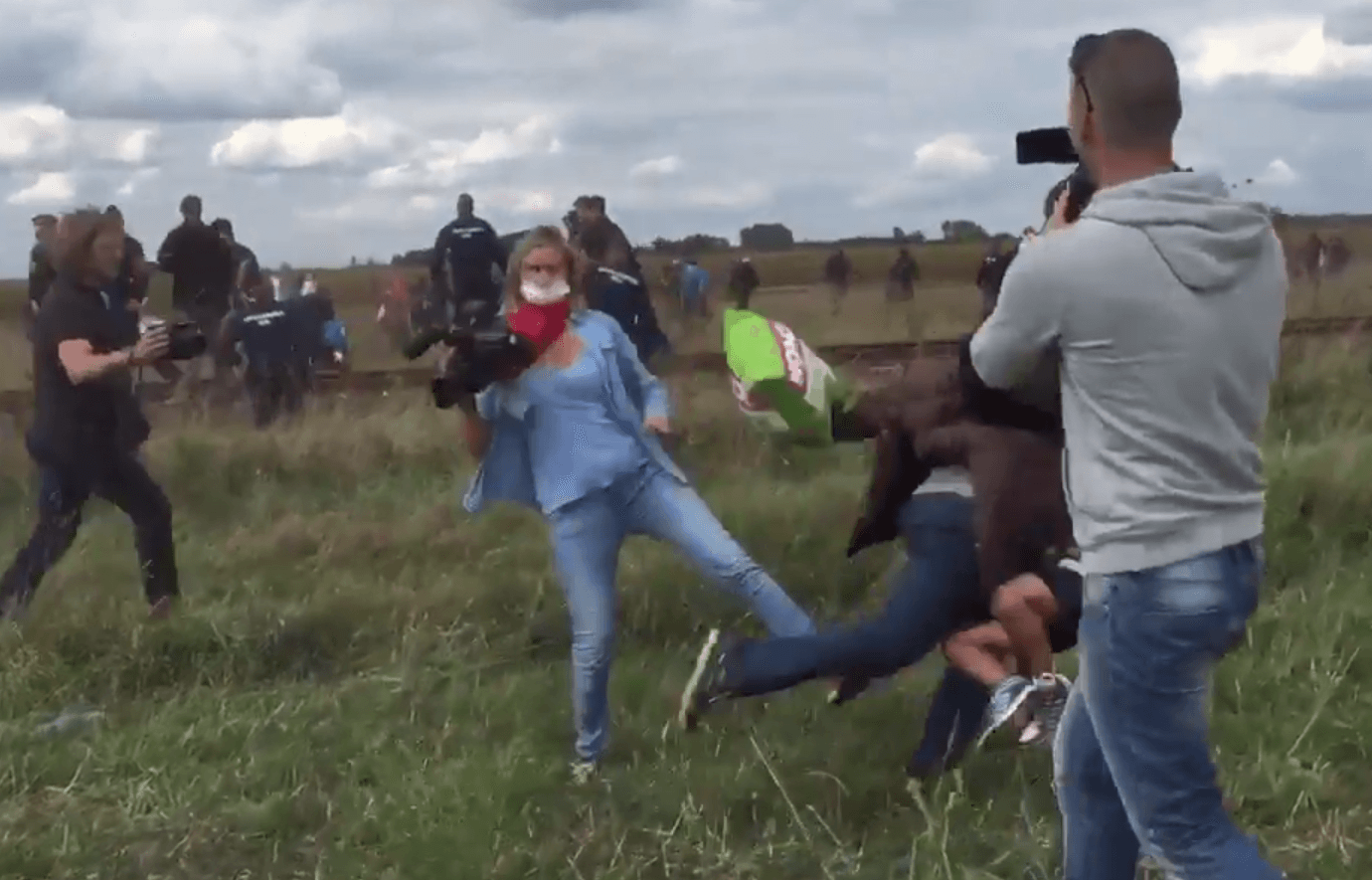 Petra László has been identified as the Hungarian reporter observed tripping a fleeing Syrian refugee carrying a child.
Video (see below) which has since gone viral, shows the moment the camera woman holding a video camera sticking her foot and tripping an older man carrying a small child in his arms. The man tumbles to the ground and lands on top of the child. In turn the man gets up and begins berating the woman as authorities move to apprehend the man in that nations's confusing and unsettled policy regarding refugee asylum.
Petra Laszlo Hungarian camerawoman: 'I do not deserve the political witch hunts against me'
The video tweeted out by Munich-area reporter Stephan Richter, was reportedly shot near the Hungarian town of Roszke, where refugees—mostly from Syria, Afghanistan, and Iraq—have been living in a holding camp along the Hungary-Serbia border.
Meet Petra Laszlo, this Hungarian journalist who loves to kick and abuse refugees who are trying to flee. #Ashamed pic.twitter.com/WTtygDYwDe

— rueban•s (@iamrueban) September 8, 2015
Making matters interesting, a report from the Telegraph tells that László is a 'reporter for the local TV station N1TV, which is run by the anti-immigration far-Right Jobbik party.'
As well as speeches made by the Jobbik leader Gábor Vona, the channel's website also contains articles with such headlines as "migrants have swarmed all over the shops" and "Guantanamo = Hungary?"
Hungarian media tells of an an earlier instance in which László was also captured in another video clip kicking a little girl. Why the reporter decided to take matters into her own hands, never mind the ethical dilemma as a representative of the media such actions present, isn't to date necessarily understood. Then again perhaps the assumption of impartial reporting in the ever polarized world of journalism is a wishful idea at best.
Since the viral showing of the video, the woman's employer issued the following statement, explaining how Laszlo has since been fired:
'The N1TV colleagues today behaved unacceptably in Roszke collection point. Our working relationship with the camerawoman has ended. The case was considered closed our part.'
Confusion continues to rein in Hungary, with many refugees loathe to seek refugee status in Hungary, both because it's deeply economically depressed and xenophobic, with many seeking status in Germany, yet unsure as to how to get there given Hungary's wavering policy on refugees.
Ultra right-wing Prime Minister Viktor Orban has displayed an unapologetic hostility towards the refugees, writing in a recent editorial, 'We do not want a large number of Muslims in our country. No one can force us to accept more than we want.'
The refugees seen fleeing from police had reportedly complained about the conditions in the camp and the lack of information provided by authorities. Desperate scenes captured in Roszke by international press show hundreds of tents inside of a cornfield surrounded by policemen in blue uniforms.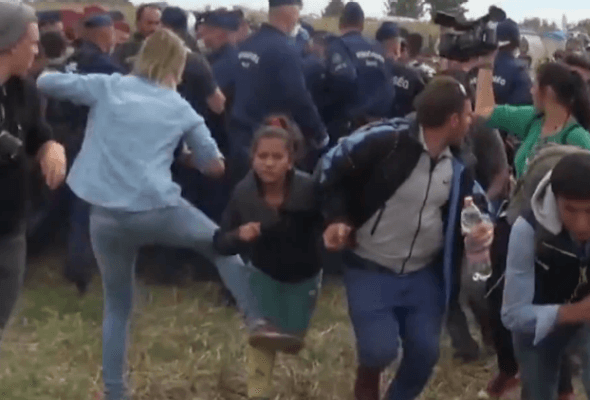 Lage in #Roeszke #Hungary weiter schlimm – Polizei überfordert – Flüchtlinge durchbrechen Polizeikette – Verletzte! pic.twitter.com/GlMGqGwABb

— Stephan Richter (@RichterSteph) September 8, 2015
A lot of question about my video with the camerawoman: no! I don't know her and no: she's not my colleague.

— Stephan Richter (@RichterSteph) September 8, 2015