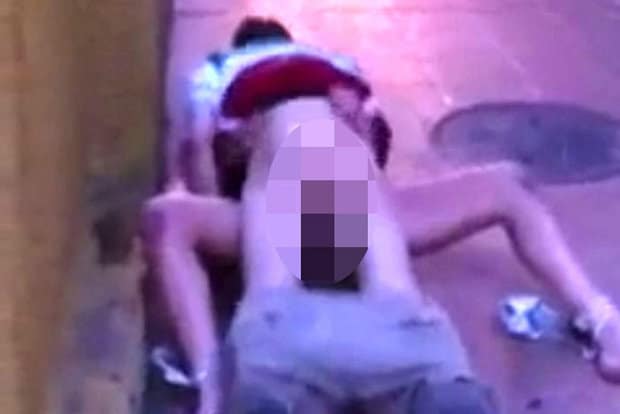 It seems the unwieldy pursuits of British holiday makers on Majorca's party resort town of Magaluf has reared its head again after a new video (see below) showing two tourists getting it on the streets.
Drawing ire and disbelief is a video of a shameless couple 'physically engaged' with each other next to a bin in an alleyway just yards from the busy main strip. Indeed.
Magaluf bar where sex video took place is closed down. What now?
Cerise Davey naked: I went to Magaluf for 25 orgasms a day
New Magaluf sex video: British couple filmed having sex in broad daylight 
Magaluf sex video slut shaming by the media
Emily Gaythwaite naked. Magaluf sex video girl pictures emerge. 
Magaluf sex video girl,Emily Gaythwaite goes into hiding. 
Pictures: Emily Gaythwaite is the girl at the center of the mamading scandal 
Magaluf sex video Irish girl identified. Conned she'd win holiday
Video of British tourist performing oral sex for free drinks on 24 men goes viral 
The video which has since gone viral is is reminiscent of last year's extremely shocking video in which a couple had full sex in a nightclub – in full view of hundreds of party-goers.
Just two weeks after that clip came to light another amorous couple in Magaluf were spotted having sex in broad daylight in between two cars.
In the most recent clip a man can been seen with his shorts round his ankles while a white handbag is next to him during their steamy session.
The camera-phone clip had already notched up over 170,000 views on a popular adult site.
Wrote one viewer: 'Would have been so funny to grab the handbag and watch him try and run after you with trousers around his ankles.'
Another posted: 'Classy girl.'
The latest bout of shameless public behavior comes after the Spanish resort earlier this year vowed to clean up its act by introducing new laws to try and curtail boozed up British holiday makers from running riot.
The tough new rules included slapping couples caught having sex with a $3100 fine while those seen urinating or exposing themselves would face a $550 on the spot penalty.
Yet it was last year's viral video of Irish girl Emily Gaythwaite performing an oral sex on 24 men in exchange for one free drink that infuriated town leaders. 
The Balearic Minister for Tourism Jaime Martinez said the new measures were set to mark 'the end of the Magaluf as we've known it for the past few years.'
But insiders say this latest clip is only another blow to their efforts.
One said: 'Magaluf has been trying really hard to brush up its act after 35 years of carnage but after this latest video, it looks as if it's truly back in business.
'Locals were fed up with Brits behavior already but this vile clip shows that holiday makers just don't give a s***.
'There is no doubt going to be more of this filth as the summer rolls on.'
Clubs continue to advertise outrageous nights, including 'unlimited free shots' on $50 booze cruises.
An ad online bragged: 'Don't believe the hype, the Magaluf street drinking ban isn't going to change anything.'
Images source