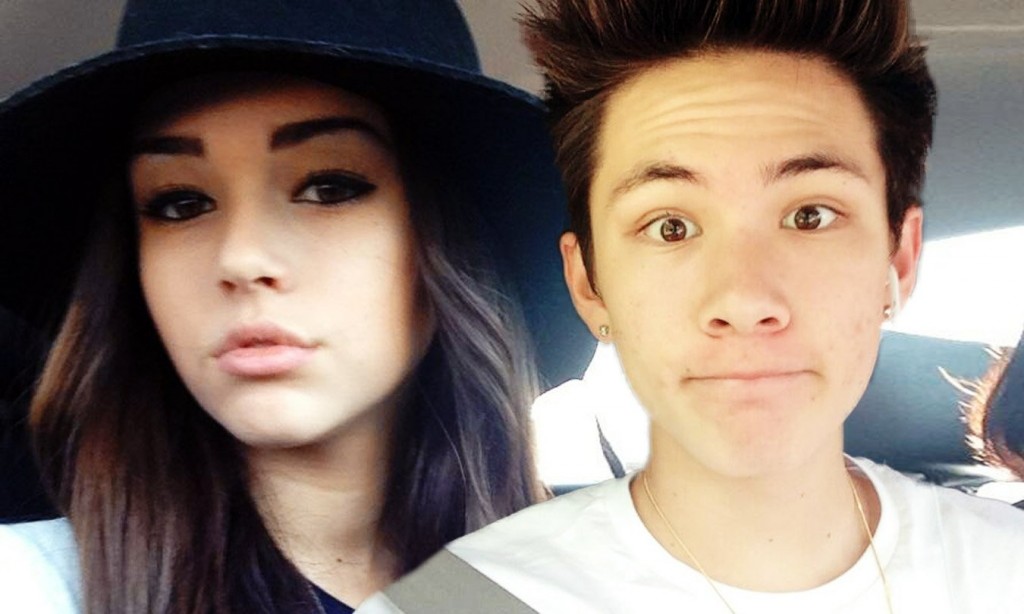 Carter Reynolds has this morning broken his silence to answer his detractors questions, after a video surfaced appearing to show the 19 year old Vine star pressure his 16 year old minor ex girlfriend, Maggie Lindemann into performing a certain kinky act on him.
Conceding that the video is indeed of him and Maggie, and that the leak the result of an iCloud hack, the social media star goes on to insist nonetheless that the video was filmed whilst the pair were still together.
Carter Reynolds video reaction: 'We slay the haters'
Carter Reynolds video: #WeLoveYouCarter fans pledge support, 'still our hero'
Carter Reynolds leaked video: Can I get a blow job from my ex?
In what appears to be script co written by a publicist and mindful of the hate towards him and a bid to reclaim good will, Reynolds sets about trying to prove that despite acting like a scumbag and 'fans not quite understanding him,' he is still worth loving. See what you think?
Tweeted Reynolds: Some of you guys have such a HUGE misunderstanding. First of all, Maggie and I were dating at the time. It's not like she was a random girl or fan.
Couples do stuff like this all the time… and no I'm not saying that it's the right thing to do but it's the truth. It was supposed to be a private video for no one to see and I had no intention on posting it at all.
I shouldn't of recorded anything to begin with and I should've just deleted it right after I took it.
This video was taken a long time ago and unfortunately someone illegally hacked into my iCloud recently and ended up leaking that specific video.
Yes, saying 'do it' a couple of time and 'come on' was wrong on so many levels.
I should've just stopped asking when she she said 'no' the first time… and for the that I'm very sorry to everyone that I offended and especially Maggie. After that night, Maggie and I were completely fine and just moved on with our relationship.
Some people are blowing things WAY out of proportion and making up all these false accusations about me saying that I raped her or forced her onto doing something that she didn't want to do.
well all of this is a lie.
You can believe whoever you want but at the end of the day I know that everything that I just told you are straight up facts.
This wasn't my statement by the way. I wish a lot of you guys knew everything  just said earlier but I just couldn't think of what to say because I was overwhelmed by all of the hate and negativity towards me. Thank you for what I have to say and once again I am very sorry about all of this.
Love you guys.
Carter (@carterreynols)
What do you think? Do you couples do stuff like this all the time? Pressure minors to get down and dirty and then film it to boot ….?
— Carter Reynolds (@carterreynolds) June 23, 2015
shoutout to the people who are so understanding and are not making false accusations and blowing things way out of proportion — Carter Reynolds (@carterreynolds) June 23, 2015
Apparently @carterreynolds is having trouble mentally grasping the definition of the words "no" and thats honestly not surprising at all.

— Orion Carloto (@orionnichole) June 22, 2015
@ all these teenage girls defending @carterreynolds…. Love yourselves and stop defending someone who took advantage of a minor. — jor (@maliagif) June 22, 2015
.@carterreynolds you need to flat out tell your young female followers what you did was disgusting and wrong. don't make excuses.

— alexis isabel (@lexi4prez) June 22, 2015