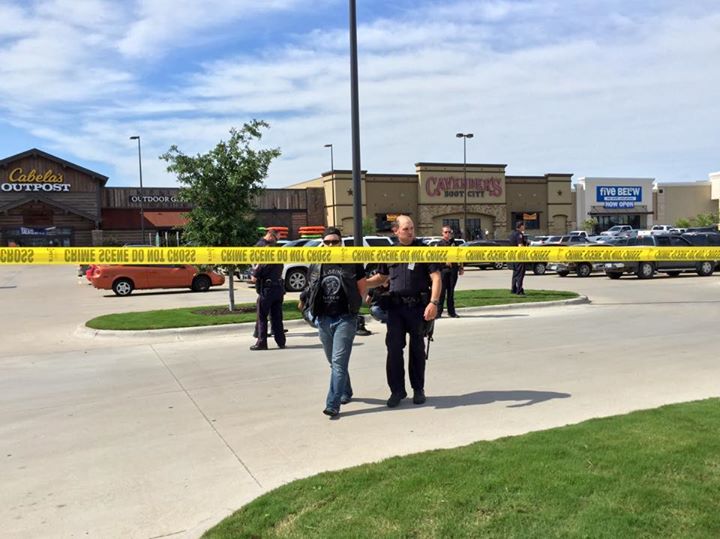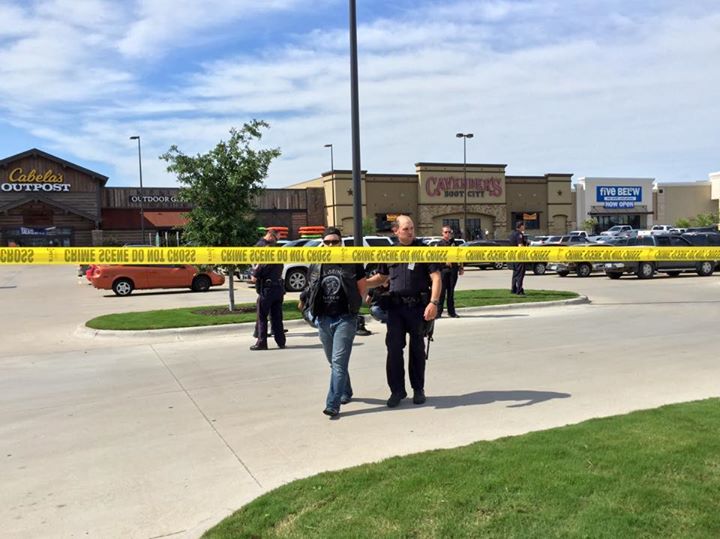 A shootout involving up to 5 Waco Texas biker gangs has led to at least nine persons dead and 18 hospitalized at local suburban restaurant, Twin Peaks Bar and Grill.
Although cops have to date declined to name the bike gangs involved, the colors of the following bike gangs were observed: Cossacks Motorcycle Club, the Scimitars Motorcycle Club and the Bandidos Motorcycle Club.
Waco Texas Biker gang mugshots released: Charged with organized crime, held on $1m bail each
Cossacks, the Scimitars and Bandidos Motorcycle Club identified: Criminals on bikes
According to a report via KXXV what had started as a physical assault just after midday escalated into a confrontation involving chains, clubs, knives and gunfire into a mall parking lot.
Despite cops holding rival gang members at bay, police warned armed individuals were flocking from all over Texas to continue the armed confrontation. 
Aware of a simmering feud between rival gangs in recent weeks at the venue, at least 12 Waco officers in addition to state troopers were at the restaurant when the fight began.
'Officers were on scene when shooting started,' the Waco Police Department posted on Facebook. 'No officers have been injured.'
"@Gus_802: So basically armed bikers, some in criminal gangs, are free to waltz right in to Waco. No profiling. No stops. No SWAT." TEXAS

— k8 (@rolling_2) May 17, 2015
Who will FoxNews blame for the white on white crime in #Waco #Texas? The bikers parents, country music, or Sons of Anarchy maybe. — David Garcia (@DavidArtGar) May 17, 2015
@PoliticsPeach Black kids throw rocks. White bikers use guns. But Baltimore gets martial law. What does Texas get? More guns. #Waco gangs

— MIKE SON (@mikeson30) May 17, 2015
Offered Waco Police Sgt. W. Patrick Swanton via a news conference: 'We were in marked cars. They knew knew we were here,'
'That tells you the kind of level of the people that we're dealing with.'
Swanton would then condemn the restaurant for its failure to preempt the ensuing violence.
Reiterated Sgt Swanton: 'The management wanted them here,'
'Management knew that there were issues, and we were here, but they continued to let those groups of people into their business.'
'A lot of innocent people could have been injured today,' 'These are very dangerous, hostile criminal biker gangs.' Local District Attorney Abel Reyna told KWTX about two weeks ago that trouble between rival bikers had been brewing at Twin Peaks for some time. He said police were on heightened alert because of incidents during Biker Night on Thursdays.
Witnesses described the violence which overflowed into the adjacent commercial shopping strip akin to that of a war zone as patrons and bystanders dove for cover as gunfire raged.
Told Michelle Logan via the Waco Tribune: 'There were maybe 30 guns being fired in the parking lot, maybe 100 rounds,'
'They just opened fire. There's a lot of people in the hospital, a lot of people shot.' 
After the initial confrontation took place in restaurant booths, within 15 minutes, the fight spilled into the parking lot of the Central Market Place, where some were shot dead as they mounted their motorcycles. 
Outside, officers managed to detain the gang members at gunpoint. By late Sunday afternoon the two groups of gunmen on opposite ends of the parking lot surrounded by armed police.
Sgt Swanton said it appears one gang set up the other after arranging a meeting, that officers were monitoring from outside.
However, Swanton said, the diner's management refused to cooperate with law enforcement until after shooting broke out. 
Twin Peaks is a chain restaurant and sports bar sat in a quiet strip of Waco, Texas, which regularly hosts families on the weekend.
As of 7pm EST cops have told that they do not plan on releasing the names of the motorcycle clubs involved in the shootout, not wanting to give them the publicity as report of further skirmishes taking place in other areas now filters in…