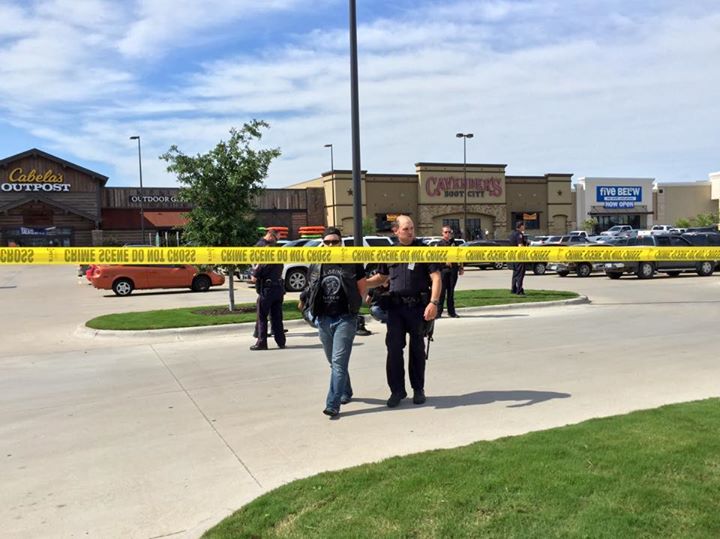 Although not officially named this evening as being the participants of the Waco Texas biker gang shootings, witnesses have described seeing the colors and gang signs of the following biker clubs in the parking lot of Twin Peaks Restaurant: Cossacks Motorcycle Club, the Scimitars Motorcycle Club and the Bandidos Motorcycle Club.
Waco Texas Biker gang mugshots released: Charged with organized crime, held on $1m bail each
According to a report via Waco Tribunal sources said the the Cossacks and the Bandidos were at the center of the incident.
The Scimitars could be seen among the Cossacks during the aftermath of the shooting. 
It is alleged up to five bike gangs have since become embroiled in the violence.
Offered Waco Police Sgt. W. Patrick Swanton: 'They are a biker gang. We know exactly who they are,'
'A bunch of criminal element biker members that came to Waco and tried to instill violence into our community and unfortunately did just that.'
'These are criminals on Harley-Davidsons.'
Police said there were at least 100 bikers at the scene and at least five gangs involved. Swanton said the argument started over a parking issue.
More than 100 weapons were recovered at the scene.
The Bandidos Motorcycle Club was named by Texan authorities as one of the four most influential gangs in the state alongside the Pagans, Hells Angels, and Outlaws. Members have been convicted of smuggling drugs across the U.S.-Mexican border – an area they are said to specialize in.
The outbreak comes just weeks after McLennan County District Attorney Abel Reyna said law enforcement was aware of simmering conflicts between gangs that gathered at the restaurant.
Cops are now pointing fingers at Twin Peaks restaurant for not having done enough to temper the simmering violence between the bikers in recent weeks and heavily promoting their venue as drink sessions and bikini dancing girls venue to the gangs …despite local police requests to scale back.
At present authorities have separated the involved gangs and held them at bay with whilst they prepare themselves for the influx of new bikers who promised to avenge their fallen brothers…
You should really see the history of the Cossacks, Banditos and Scimitar biker gangs involved in that Waco shootout. http://t.co/qENwv8G4Kl

— Black Authority (@TheBlackChannel) May 18, 2015
Waco bloodshed between Bandidos, Cossacks and Scimitars. http://t.co/ev6u0DW6Iq pic.twitter.com/c0pOIiQf8A

— Jose Galvan (@Jose_Galvan) May 17, 2015