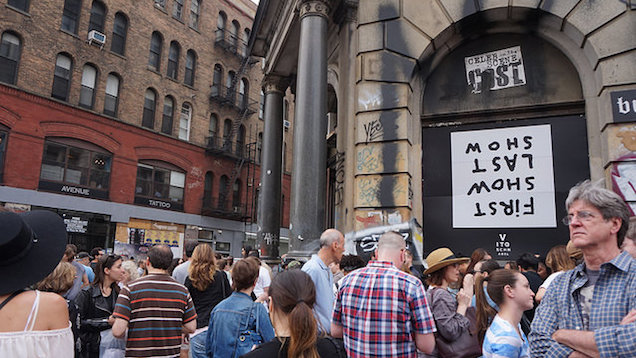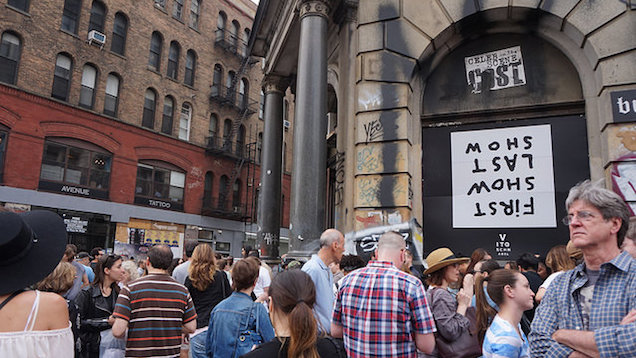 It seems the real art this weekend at the newly opened First Show/Last Show as curated by model chaser, Vito Schnabel and Aby Rosen's new 190 Bowery building was the adroit skill of 'getting in' to see the art. The art itself naturally was second fiddle, cause what really mattered was if you were cool enough to get in.
How Vito Schnabel was able to date older supermodels. Heidi Klum and Elle MacPherson pegged.
Billed as a public invitation to the show, the thronging hoi polloi come early Saturday afternoon were already beginning to do a dizzy bend around the newly acquired space at 190 Bowery, which until recently used to be the private property of photographer Jay Maisel before he unloaded the gravy train for a cool $55 million to real estate tycoon Aby Rosen.
But then something happened.
Vito looked out the window and realized that shit would never do.
So he closed the public invite until further notice and then scooted in a select few to appreciate his gilded taste in fine art.
That said, according to artnet, the gravy train was put off the market the previous day when Vito purportedly got spooked by the prospect of having free loaders guzzling at the pristine walls and mixing with Vito's well to do friends.
Needless to say Saturday afternoon for most of you was spent arguing with security guards explaining in vain why you deserved to cast your eyes on Vito's new artistic venture.
Told one irate blocked attendee: 'This isn't art. This is fascism.'
Well maybe it is. Fascism for the down trodden and exclusive capitalism for those of you with deep money to burn and gilded access to the art world.
Bidding starts now.
One billion, two supermodels, velvet ropes, oligarchs sipping yummy champagne, sorry guess list closed, 13 giggling supermodels, 4 shiny black limousines parked outside, how I wish for the old days of New York suckers….
First Show / Last Show will be open by appointment only until May 29. Vito will be waiting for your call then…