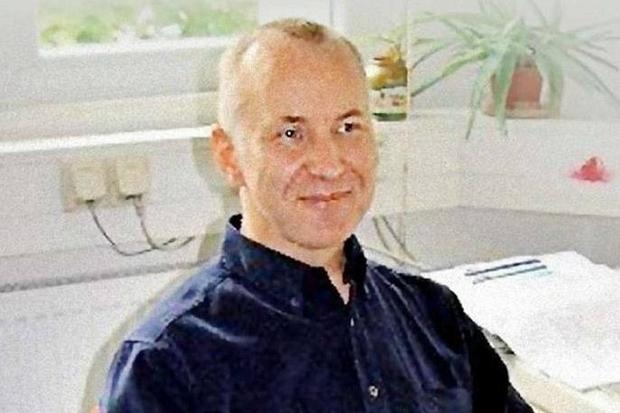 Detlev Gunnel, 56 a former German police officer who dismembered a willing victim he met on a website for cannibal fetishists was today sentenced to eight years and six months in prison.
According to court testimony, Gunnel chopped Polish-born Wojciech Stempniewicz, a 59 years old business consultant into small pieces while listening to pop music before burying them in the garden of his home in Hartmannsdorf-Reichenau in 2013.
Offered presiding judge Birgit Wiegand: 'He was found guilty of murder motivated by sexual lust and disturbing the peace of the dead.'
Attorneys had sought 10 and a half years in prison for the defendant, Guenzel, a father of three whom neighbors described as friendly, generous and unfailingly polite.
Lawyers representing the family of Stempniewicz, 59, had requested a 15-year sentence, the maximum in a murder case.
But prosecutors said they stopped short of this demand because Stempniewicz harbored a sexually charged death wish.
Reiterated Wiegand: 'He wanted to be killed to make his fantasy come true.'
According to a report via the UK's dailymail, the two men came across each other in October 2013 on a website for slaughter and cannibalism fantasies billed as the '#1 site for exotic meat' and boasting more than 3,000 registered members. 
The two kept in contact via email, text message and telephone before finally arranging the fatal date for November 4 that year.
Their emails bore the title 'Schlachtfest', the German word for a country feast after the slaughter of a pig. Guenzel called himself 'Caligula 31', Stempniewicz logged on as 'Heszla-Longpig.'
On the day of the murder, Gunezel picked Stempniewicz up at Dresden's main railway station and drove him back to his house in Hartmannsdorf-Reichenau which he ran as a bed and breakfast with his male partner.  
Prosecutors said Detlev Gunezel then took his victim to the basement where he strangled him using a rope tied to a pulley before chopping the corpse up into small pieces.
A video reportedly shows Guenzel in his underwear slicing the naked body of his victim into pieces while it hangs from a hook. In the background pop music plays, with the defendant at times stopping to join it with the chorus.
The defense would argue that the video showed Stempniewicz with his feet in constant contact with the ground, meaning he could have stopped the strangulation if he had wanted to and had in essence killed himself.
They claimed the video, which was shown to judges behind closed doors, proves the victim hanged himself. 
At one point, Gunezel is heard saying in the video: 'I never thought I would sink so low.'
Why the man necessarily taped the mutilation of his willing accomplice's body is not necessarily understood.
Gunezel is said to have then spent a total of four hours cutting the body up with a knife and saw, before burying it in shallow holes the garden.
Offered Gunezel to the courtroom: 'I don't claim I'm entirely innocent — it was the biggest mistake of my life. But I am not a murderer.'
Gunezel's arrest would come after cops traced him via computer messages and telephone calls and with the assistance of a handwriting specialist.
When police arrived at the property he showed them where the pieces were buried, but officers say the victim's penis has never been found.
Guenzel, a police officer with 30 years of service, was married to a male partner at the time of the killing. The pair would divorce before trial began last September. It would also be disclosed Guenzel had three children from a previous marriage and described himself as gay.
Wiegand said the court found the expression of faint regret seen in the video unlikely Guenzel would repeat such an act.
She said this differed from the infamous case of German cannibal Armin Meiwes, who admitted to killing, mutilating and eating the flesh of a lover in 2001 after meeting him on the Internet via an advertisement looking for a 'slaughter victim.'
He was sentenced to life imprisonment in 2006.
top image found here
Michael Schneider gets 4 years after cooking severed head of gay lover who died in sex game gone wrong