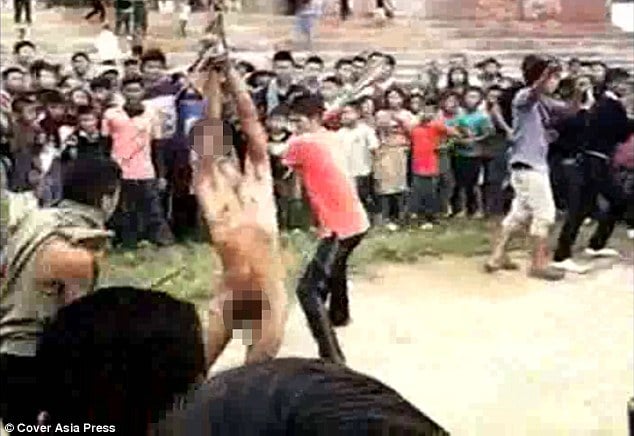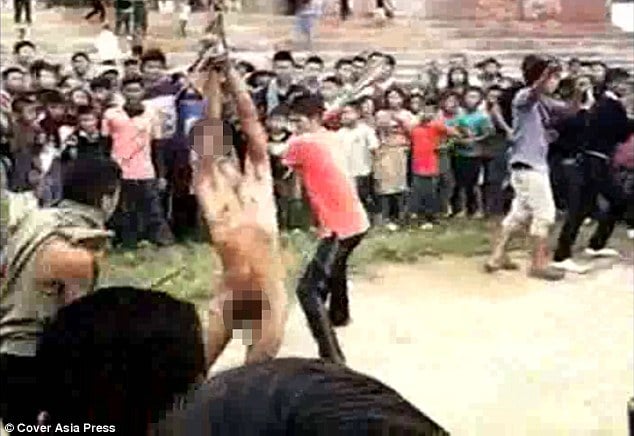 Not just a week after an angry Indian mob in Nagaland broke into a prison and stormed off with suspected rape suspect Syed Farid Khan before brutally murdering him, a second man, Ibo Cha is said to have also been stripped, strung up and slowly beaten to death after accusations of rape.
Pictures: Indian mob seize rape prisoner, Syed Farid Khan, beat him to death
Captured on video footage in the same state as the first man documented to have been hounded by a mob, Cha's torture and eventual murder takes place in front of thousands of baying onlookers who jeer for more.
In the video, various individuals are seen taking turns attacking the 18 year old victim whilst a ring leader intermittently steps in to stop the baying mob from killing the man too quickly.
According to local reports the man was dragged from the nearby Meluri village, before being stripped, strung up and beaten for an hour before eventually fatally succumbing to his injuries.
Although both victims had been suspected of brutally raping women, neither man would be afforded a trial and shown to be legally accountable for the crimes that they were accused of.
A report via the UK's dailymail tells Inspector General of Nagaland, Wabang Jamir saying Ibo Cha had not been arrested and the villagers took the law into their own hands before the police became involved.
Reiterated the Inspector General: 'The police was not informed about the rape and murder of the young girl. Unfortunately there was no report lodged and we only learnt about the case after the beating of this man incident.
'Three First Information Reports have been registered for the murder of the alleged rapist but the investigation is still ongoing.
'No one has been apprehended in the case so far but we are hopeful that we will soon make arrests.'
The body of the 11-year-old was found in a forest less than a mile away from Meluri village in September and soon tension mounted in the area.
Eventually, crowds gathered to find the murderer and rapist. But when Ibo Cha – who was also the victim's neighbor – fled, he became their prime suspect.
Groups formed determined to find him and locals located him outside Meluri, before attacking him in the village centre.
The footage was shot in September, but has only come to light following the kidnapping and murder of alleged rapist Syed Sarif Khan in Dimapur.