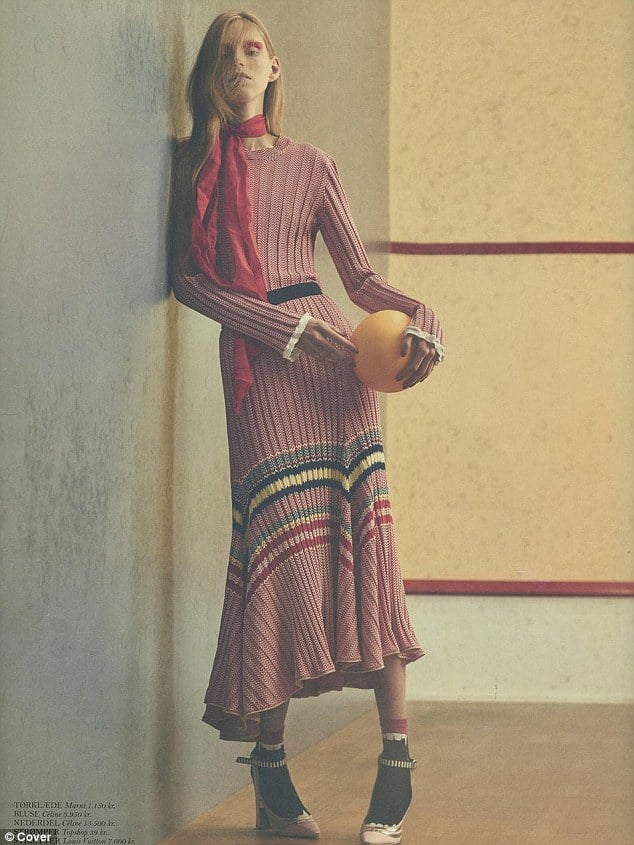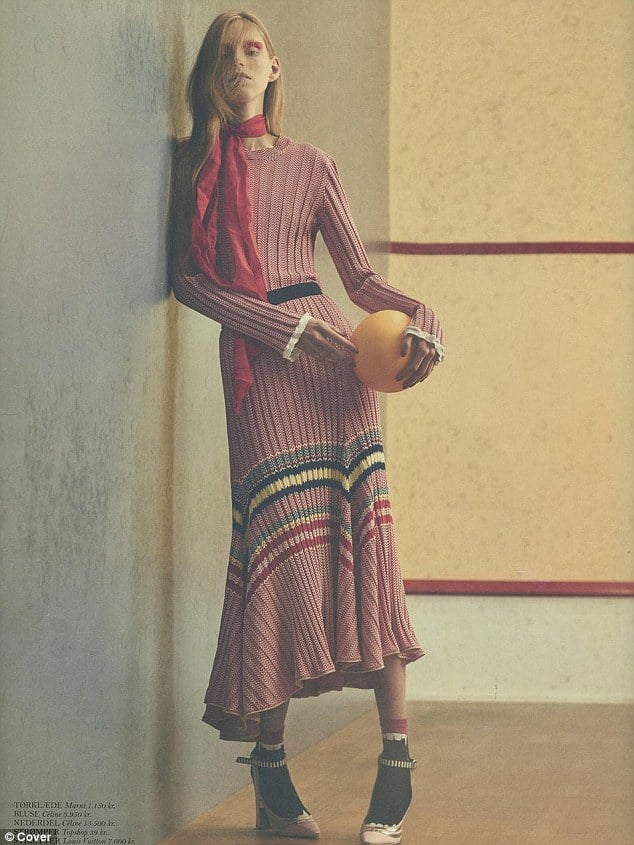 Danish Magazine COVER has been forced to issue an apology after using the image of uber thin 16 year old model Lululeika Ravn Liep leading to claims that the journal sought to promote anorexia.
The use of the model would lead to a Reddit thread titled 'Corpse or model?' where commentators questioned the Dutch magazine's tact and wisdom in glamorizing in what many perceived to be an unnaturally thin model.
Contemplated reddit user C0lMustard: 'BlahBlahBlah…we wanted a shocking cover to sell magazines, and it worked.'
Reflected drohhellno: 'Yes, but people are being pressured to see even morbid obesity as normal. If a severely underweight model sends a dangerous message about body image, so does an overweight.'
Offered keepitgoinglouder: 'I totally understand that in fashion, clothes tend to "hang" better on slender frames but this is taking it way too far. 
'Not only does she look like a skeleton, her whole complexion and facial expression makes it seem like she is near death. Glad to hear the editor took responsibility for this poor choice.'
While reddit user lincolnparkafterdark offered : 'I genuinely don't understand how a look this emaciated can be considered beautiful or fashionable or sexy in any country/culture. 
'This poor girl clearly needs help. It's obvious she's not healthy. It's so detrimental to young girls around the world to glamorize eating disorders.'
The debate would also spill on to Twitter under the hashtag #CoverGate where users went on to express their disapproval of the use of the model who the girl's agency would later explain had gone through the death of two family members and had been under duress.
Offered @Caroline_Alexa who took the view that the Danish magazine was probably just following what passes for chic and the norm in the fashion industry: 'Fashion industry leaders need to be more responsible. Anorexia is a disease, this Danish model needs help.'
Responding to the outcry, COVER magazine's founder Malene Malling apologized on the magazine's Facebook page, calling it a 'sad day.'
Posting: 'I have not lived up to my responsibility as a publisher, woman and mother and am truly sorry,'
'At COVER we have, in all the years, worked to show an expanded beauty ideal.
'[To] show that you can be beautiful in various ages and various sizes. We have always sought to work with healthy girls. Just two months ago we had plus-size model Diana Graham on the front of the COVER, so it is certainly a subject we focus on.'
Lululeika's agency Scoop would later offer that the 16 year model had recently worked for French fashion house Louis Vuitton, having modeled their SS15 collection in Paris in October.
Oh really? Model scout hopes to score talent at eating disorder clinic.
Manorexic? Skinny male fashion models in Paris cause outcry.
It's time to meet the Romanian model with a 20 inch waist who has now become a favorite on pro-ana porn web sites.
Anorexia: A coping mechanism or are women just vain and gullible?
The new low in pornography- soliciting anorexic girls.
Top Shop forced to take down anorexic campaign
The return of the anorexic model. UK's Top Shop busted
Georgina Wilkin explains how modeling left her emaciated and with collapsed organs.