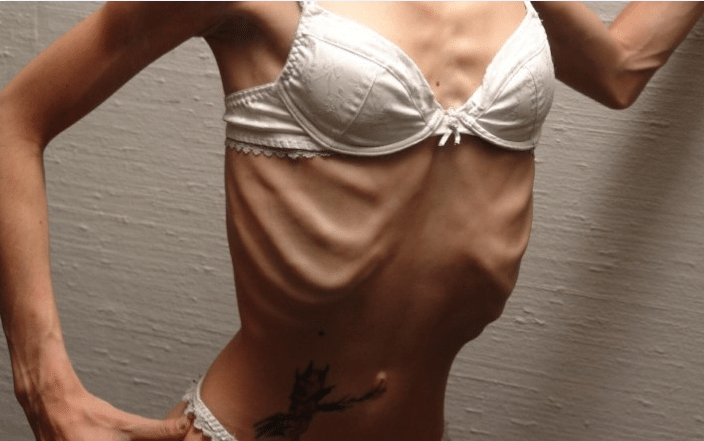 Here comes a dispiriting story that will make you wonder about what the heck makes the world go round.
jezebel: After the Daily Mail ran a story about Ioana Spangenberg, an 84 lb. model with a 20-inch waist (which becomes even smaller when she wears her corset) I naturally watched a YouTube clip of her impossible Barbie-Doll-come-to-life proportions in motion and couldn't help but wonder, "What the fuck does she even model?" I mean, no designer's clothes would fit her figure. Then I discovered the website that released her video — Skinnyfans.com (link NSFW) — and realized she doesn't need clothes. Because it's porn.
Hmm. Skinnyfans.com. Kids when was the last time you made a cursory check of your favorite underweight model cavorting in the nude? Or in a corset? Or how about with her neck bones jutting ominously? Surely some of you out there can raise your arms to such a feat?
And the shit gets better. Well not really….
The site features women who are drastically underweight, with protruding bones and haunted faces, posing nude in a way that's supposed to suggest some kind of eroticism.
Well each to his own one supposes? But what the hell is a site like that doing around in the first place? Or let's ask another question? How does a site like this even get its hands on its images? Isn't there an authority that deals with this kind of stuff?
Well to answer that question, here's something we wrote on the theme not so long ago that may have you eyeballs gaping.
The new low in pornography- soliciting anorexic girls.
And what about the complicity of certain individuals who run the anorexic websites?
One anorexia pornography agency admits to paying owners of pro-anorexia websites for each person who joins it after being contacted via the sites. "I pay the owner of this pro-ana community a donation for every model I found here," confesses a "skinny scout" in the email to McDonald.
Does this stand the code of moral ethics that one would normally find to believe firmly in place? Or is morality thrown out the window when a buck is thrown in our faces?
Talking of morals, how have some of the pornography agencies behaved?
Ronny Bi, (not real name) originally from China, now living in Canada, says she was held captive and forced into anorexia pornography after being tricked by someone she had been in contact with online. "He forced me to pose for photos both in revealing clothing and nude, it was sickening. I was too weak to fight back because of how thin I was. I was completely powerless." Bi, who was held.
The moral of the story? Where there is a buck, a fantasy and a woman who can be taken advantage of she just may well be. 
But surely these sites are being closed down? Right? Think again….
And what has been the reaction of governing bodies?
Anorexia nervosa has the highest mortality rate of all psychiatric illnesses, but in the UK, those with the mental illness have no protection from online exploitation. The legality of anorexia porn means that indecent images of vulnerable adults can be freely published.
"It is government policy that controls a balance between freedom of expression and protection of the public on published material which should be proportionate to the potential harm that might be caused," says Justin Millar, a member of the Home Office's computer crime team. "The general test of obscenity is flexible, reflecting society's attitude towards pornographic material. But even if material is not illegal, it is open to anyone concerned about the content of pornography websites to ask the relevant internet service provider to remove them."
Next time you find yourself being aroused by an emaciated women ask yourselves if the thrill of the chase is worth the grief it has borne on the subject?
So much for 20 inch waists and the waif girls who live inside these bodies. Surely there must be a way to bring a stop to all of this?