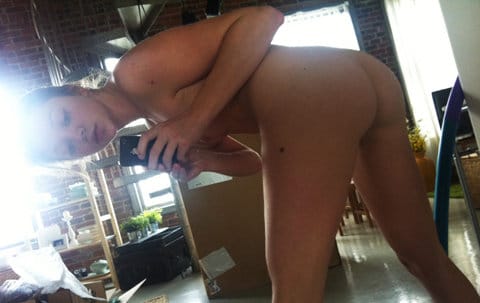 Revenge porn kingpin hustler Hunter Moore, 28, formerly of now defunct site, IsAnyoneUp.com faces up to seven years jail after pleading guilty to federal charges of hacking and identity theft.
Considered one of the most hated men on the web, Moore gained notoriety by posting online stolen nude photos of women, often the subjects of jilted men who sought to humiliate their victims with Moore's abetment and active participation.
Alongside photos, Moore included the ex's full name, profession, social-media profile and city of residence, which ensured that the pictures would show on Google, ensuring further online embarrassment.
As part of his plea deal in a Los Angeles federal court, Hunter Moore faces a sentence of two to seven years in federal prison and a $500,000 along with probation for up to 3 years once he gets out.
The plea deal also forbids Moore from contact with any of the seven revenge porn victims noted in the indictment, identified only by their initials.
Revenge porn website founder Hunter Moore has a new scary venture in mind even if Anonymous are now targeting him.
Hunter Moore doesn't care if you don't like his revenge porn photo site. He thrives on offending and exposing you!
Dumped girlfriend gets revenge by spamming her boyfriend's images on Google.
How Marianna Taschinger's life fell apart. Revenge sites come under legal scrutiny.
NSFW: Emma Holten gets revenge on her ex by releasing her own nudes.
Revenge porn site being sued. But are the women to blame too?
Pictures: Cazine McCarthy, revenge porn victim: 'How my ex humiliated me.'
Prosecutors said Moore, who once bragged that he was a 'life-ruiner,' also sought out racy content himself, enlisting a hacker to dig up nude photos from email accounts.
Photos posted between 2010 and 2012 included an American Idol finalist, the daughter of a major Republican donor and a woman in a wheelchair, according to a 2012 article in Rolling Stone magazine.
In his plea deal, Moore acknowledged paying Charles Evens to hack email accounts and steal photos.
Evens, 26, of Los Angeles, in turn pleaded not guilty and is now scheduled for trial next month.
Both Moore and Evans would come to the attention of authorities after they incriminated themselves in January 2014 in an FBI sting operation.
Told Assistant US Attorney Wendy Wu last year of Evans: 'Basically, he was impersonating these victims' friends and was able to get confidential information that would allow him to access their accounts.'
According to an indictment, on multiple occasions, Moore paid Evens to break into email accounts and steal nude photos.
In an October 2011 email, authorities say that Moore wrote to Evens that 'they needed to create new e-mail accounts and delete evidence of the hacking scheme.'
In other e-mails to Evens, Moore allegedly instructed him to 'hack more' and 'hack all week for me,' presumably referring to hacking into email accounts in search of nude photos.
Moore is due in court February 25 for a sentencing hearing, although U.S. attorney's office spokesman Thom Mrozek said the proceeding could be postponed until March.
Revenge porn has drawn the attention of lawmakers in several states who have passed legislation intended to stop the practice.
Prosecutors have brought a number of criminal cases against operators of revenge porn sites, some of whom have charged women to have their photos deleted.
In 2013, California Governor Jerry Brown signed the first law in the nation specifically targeting revenge porn. New Jersey has an older law that allows prosecution of revenge porn, but it was passed as a far-reaching cyber-bullying statute.
A revenge porn bill passed by Arizona lawmakers was put on hold last year by a federal judge after a rights group argued the legislation was too broad.
Earlier this month, reports arstechnica, England and Wales passed a law making it a criminal act to distribute nude and explicit photos of a person without their permission, and in California a similar year-old law was used in December to convict a man who posted photos of his ex-girlfriend on Facebook.
And then there was this comment on the web that caught my eye:
So, seriously – they basically stole many of the pics. Its not like the people were putting their own pics up, or were being compensated for it. Does someone have to get hurt for that to be wrong?
And frankly, there's TONS of porn out there, so what exactly is this site offering that's unique? Oh, wait, its the fact that these pictures aren't supposed to be made public is the draw… So, its not the nudity that's the real draw here when you really get down to it, now is it? Its that the pictures were meant to be private between the person whose photo was taken, and the original recipient. Hell, I wonder how many photos went up of minors (which is, again, illegal).
It wasn't consensual (which I think we can agree upon is vital for anything sexual), and the site profited from that. It marketed off of that. That's the sticking point! If you put nude photos of yourself online, for free or to make money off of, that's YOUR choice to make. If someone took your photos and did that without your permission or consent, that's wrong, that's illegal, and really shouldn't be defensible.
Seriously – the day any company can steal my image, identity, etc., with no permission and use it as their own, possibly make it their own IP? That's the day I really need to move countries. And when I say steal, I MEAN STEAL. As mentioned, again, in the story.
WE are NOT public property, nor are we public domain.