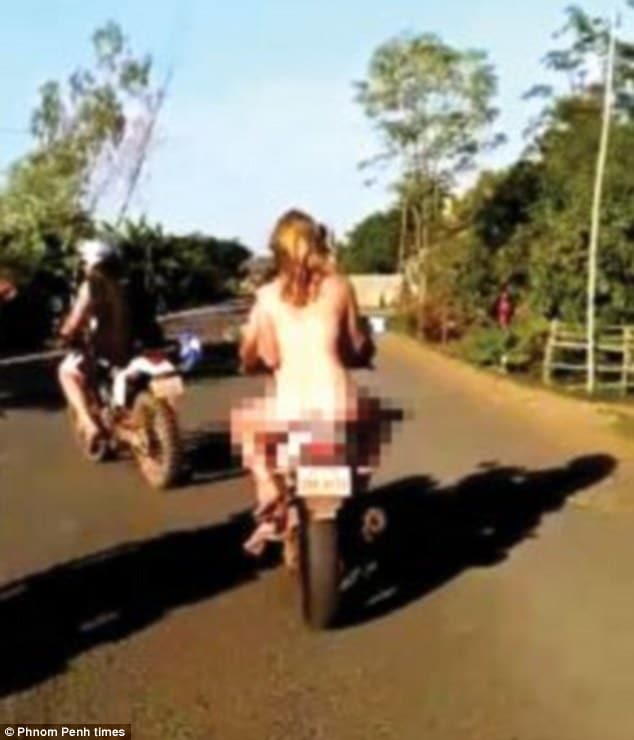 Crawford Brown a 24 year old British man has been set to be kicked out of Cambodia after riding a motorbike naked with two other backpackers near Phnom Penh.
In an official reason for his impending expulsion, authorities told that Brown was 'violating the beautiful customs and culture.' Adding further that police can not let tourist 'commit pornography in our country.'
For his troubles, the University of the West of Scotland student spent the weekend jailed after his care free antics came to the attention of patrolling police.
Also caught naked with our collective hero was 22-year-old Catarina Aarnio, from Finland, and Italian, Giancarlo Allocca, 30.
The trio had reportedly stripped off and rode in the Leuk Daek district, 50 miles south east of Phnom Penh. 
Told Officer Chuon Chomkol via the Cambodia Daily: 'We saw them drive in front of our commune police station and I then ordered my officials to follow them and stop them.
'They drove when they had no clothes on. It looked so indecent in public and in our country, so we needed to arrest them.'
Adding: 'I can't let foreigners act like this, even if they didn't know the traditions of our country.'
He said the backpackers did not immediately stop when police gave chase as they were not aware they had done any thing wrong. 
He believed the naked trio were planning to cross a border checkpoint in to Vietnam. 
Told Kandal police chief Eav Chamroeun via the Phnom Penh Post: 'I think that this was the first time there have been foreign people driving motorcycles naked in Cambodia.
'Their actions have seriously violated Cambodia's integrity, the beautiful customs and culture of Cambodia, and Cambodian law. We cannot allow them to commit pornography like this in our country.'
'The General Department of Immigration has asked the leadership of the Ministry of Interior to expel them from the country as punishment,' Sok Phal, head of the Ministry of Interior's immigration department, said.
It was reported they would be permanently barred from the country for violating a section of the Penal Code related to indecent exposure. Indeed…