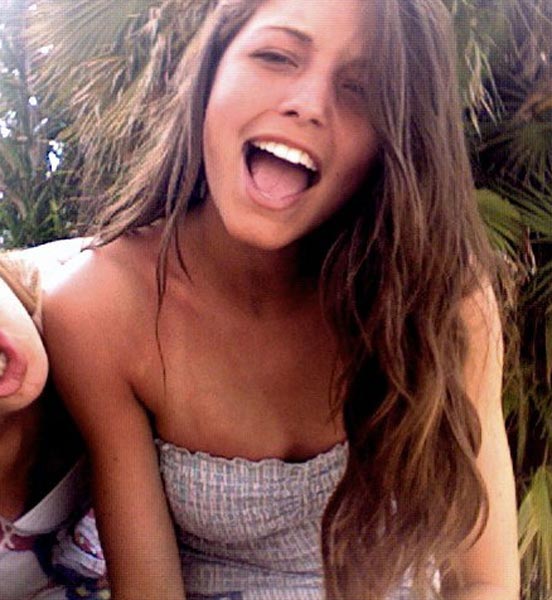 The parents of a popular Pennsylvania track star, Madison Holleran who committed suicide in January of 2014 have shared their daughter's suicide note.
Reads Madison Holleran's suicide letter prior to the 19 year old jumped to her death atop of a Philadelphia parking garage:
'I thought how unpleasant it was to be locked out, and I thought how it is worse perhaps to be locked in,'
Madison would poignantly end her suicide note with an apology, saying; 'I love you all…I'm sorry. I love you.'
Madison Holleran former teacher petitions for suicide helpline
Why was Madison Holleran ashamed to admit mental illness?
Madison Holleran funeral. Was she on anti depressants?
Madison Holleran death: Is her school to blame?
Why did Madison Holleran kill herself? Too perfect?
Madison Holleran father: 'My daughter needed help.'
Why did Madison Holleran commit suicide?
Along with her note, Madison Holleran would also leave behind cookies for her grandparents, chocolate for her father and necklaces for her mother
Tells Madison Holleran's father, Jim Holleran 53 via the UK's dailymail: 'During the funeral, a guy from [the town] came and said, "Jim, if I were to tell you, I'm God and I'm going to give you a daughter for 19 years but I will take her back, will you take this deal?"
'And I said, you just told me about Madison. So I would say yes. She gave me 19 phenomenal years.'
Offered Jim Holleran via People: 'I don't think she realized how awful it would be for us to not have her around,'
'Parents, if you see a huge change in your child and you haven't discussed suicide with them, open that discussion up.'
In a sign how tortured the young woman was and in her ever constant pursuit of 'perfection', Madison's parents would even find a first draft of a suicide note in her dorm room. A quest for perfection which some would wonder would be her undoing at the ever competitive ivy league University of Penn that she attended.
'I don't know who I am anymore. trying. trying.trying,' the note began.
'I'm sorry. I love you…sorry again…sorry again…sorry again…How did this happen?'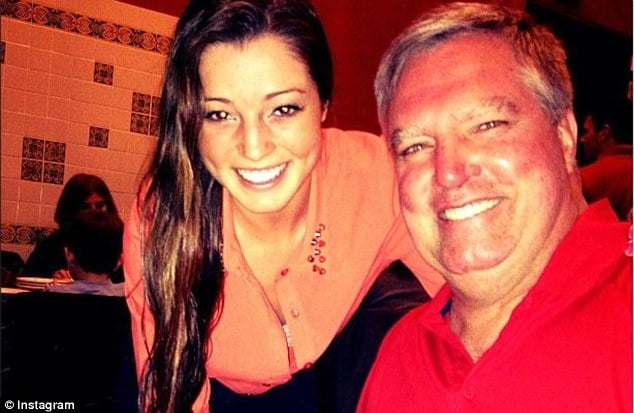 Since Madison's death, James Holleran and his wife Stacy started The Madison Holleran Foundation in her honor to help high school seniors and college freshman who might be depressed or suicidal.
They go to schools to see how the kids are feeling, give talks about their daughter and warn about the dangers of social media on the self-esteem of youngsters. 
'Everyone posts pictures of the best time they're having; no one posts pictures of themselves sitting in their rooms crying,' said Madison's childhood friend Jackie Reyneke.
'Madison was the happiest kid, you know, when she was happy,' explained Jim. 
'And if that person would understand what they are doing to their family and their friends and their extended friends, they would not choose suicide if they really understood that they would be gone forever. They would not make that choice, but they are not thinking in their right mind.' 
In a sign of the depth of depression that Madison Holleran suffered, depression that saw her with no way out, locked in, one commentator on Facebook page in her memory  where commentators come every week to express their feelings would leave the following post which posits to the degree of depression existing in society and our reluctance to come to terms with it.
Tells Kevin Breel:
REAL TALK: "I tried to take my own life. But I survived. And that left me with my story. And my story is four simple words: 'I Live With Depression.'
"Sadness is what you feel when something in your life goes wrong. Depression is what you feel when everything in your life is going right.
"The world does not understand depression, does not understand mental health — which is ironic because depression is one of the best documented problems in the world, but one of the least discussed. We just push it aside and put it in a corner and hope it will fix itself. Well, it won't. It hasn't. And it isn't going to. That is wishful thinking. And wishful thinking is procrastination. And we cannot procrastinate on something THIS important.
"The stigma around depression in our society is very real. The stigma is very real. If you think that it isn't, think about this: would you rather make your next Facebook status you can't get out of bed in the morning because your back hurts, or you can't get out of bed in the morning because of depression. Because unfortunately we live in a world where if you break your arm, everyone runs over to sign your cast. But if you tell people you are depressed, everyone runs the other way…
"Depression, we don't see it on social media, on Twitter, on Facebook, because it's not happy, it's not light, and we don't see the severity of it. But the severity of it is this: somewhere in the world, every 30 seconds, someone takes his/her own life over depression.
"I don't know the solution. But it has to start here, has to start with me, has to start with you, has to start with people who are suffering. We need to be brave for what we believe in. The problem is not building a world and eliminating the ignorance of others; it's building a world where we teach the acceptance of ourselves. Where we're okay with who we are. And depression is there. And you need to know depression is okay. If you're going through it, you're okay.
In an attempt to honor their daughter's legacy and to open the discussion of the reality of depression, Madison's parents this year will also award a scholarship to students at their daughter's high school, Northern Highlands, in her name.
James Holleran said that Madison had told her parents in December that she was feeling suicidal and was seeing a therapist. 
'That weekend she told me she needed to talk to somebody, because she was having suicidal thoughts,' said her mother Stacy.
'I was shocked. She's never been depressed before. I knew she needed a therapist, but I couldn't get her an appointment because it was the weekend. On Sunday I had a friend come over who works in the mental health field.'
She seemed to get better over her holiday break, enjoying her time off and hanging out with her friends.
'We had a last supper with all of our friends before going back to school,' said friend Brooke Holle.
'She was so happy we were all together.' 
Ironically on the day that Madison jumped to her death, her father texted her encouraging her to see a therapist for some anti-depressants, and she said she would.
Just an hour before she jumped to her death, Madison posted an image of a sunset over Rittenhouse Square to her instagram account.
Offered Jim Holleran via NorthJersey.com in an interview since the death of his daughter: 'The thing I am still shocked about is that every 13 or 14 seconds in the United States, someone will take their own life,'
'I can't fathom that.'
And already, the family's foundation is helping teenagers who are struggling.
'The first letter we got from a girl in Phoenix said, "I have suffered tremors of depression, because I am not able to run anymore,"' offers Jim Holleran.
'I am just like, "Oh my, what the hell does that mean?" But it was the perfect imagery. She said, "Because of your daughter, I am running again." And I was just like, this is why we have to get the message out.'
'Jim has had a profound affect on people, even in his shock,' said family friend Steve Meneve.
'Him coming out and being very open about this has brought people out.'
James Holleran has since told that he does not blame the school for his daughter's suicide but that he wanted to warn other parents. At the time there had been disconcert as to whether pressures to excel at the ivy league school may have prompted the daughter to feel feelings of inadequateness.
Offered family friend Bob Weckworth of the high achiever who he suspected ultimately couldn't cope with the expectations she'd set herself.
'People talked to her within hours of her act of suicide and there were no red flags, warning signs, nothing,' he told the Daily News.
'This kid didn't have a boyfriend. There were no drug issues. There were no mental health issues in her background. It was just the last two, three weeks where they saw a change in her. Something snapped.
'She got a 3.5 her first semester, and I think just the high expectations that she put on herself was that that's just not acceptable.'
Days after Holleran's death, more than 600 devastated relatives and friends paid their respects at a funeral service at the Guardian Angel Church in Allendale, New Jersey.
And then there was this comment that caught my attention on the web since Madison Holleran's suicide:
Let us stop judging a person we did not know. I agree billions of people have a "harder" life than Madison had. However, Madison may have had a really skewed view if her reality, and/or reality in general. Is that mental illness. Maybe? Is that a reason to kill oneself? Obviously Madison saw no other option, sadly. Let us not judge. Let us understand. Maybe then they will find reason to continue.
For confidential support in the U.S., call the National Suicide Prevention Line on 1-800-273-8255.