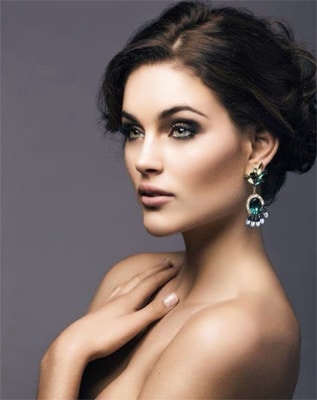 Who knew 4th year medical students had the time or the temerity to enter beauty pageant contests? Case in point Rolene Strauss (aka Miss South Africa) who over the weekend would be crowned Miss World 2014.
In winning her title the 22 year old would beat out 121 other contenders, including first and second runners-up, Edina Kulcsá, Miss Hungary and Elizabeth Safrit, Miss United States.
Contestants from Australia, England, Guyana, Brazil, Kenya, Mexico and India rounded out the top 10.
So who is Rolene Strauss anyway?
According to E! News the Miss World 2014 is, 'the daughter of a doctor and nurse, is a fourth-year medical student who had put her studies on hold. She had said becoming Miss South Africa and later Miss World and studying medicine were her childhood dreams.'
Told the medical student who currently attends the University of the Free State in Bloemfontein: 'Many people change their visions of what they want to become as they grow older. Mine never changed: I've always known that I would study medicine, just like my father. I was known as 'Little Dr Strauss' in town, as I followed my dad everywhere he went.'
Adding: 'I'm a test tube baby and I believe my passion for health was born with me.'
And how exactly does one come to aspire to being a Miss World winner?
In the case of Rolene Strauss it all happened when she was merely 8 years old when she witnessed the crowning of Miss South Africa in 2000 and set about one day also becoming Miss South Africa.
As to why she actually entered the Miss South Africa beauty pageant, Strauss told Oprah Magazine: 'Miss South Africa is all about giving, and that's why I entered the competition. South Africa is my pride. I am who I am because of our country and the opportunities she has given me. It is now time to start giving back. The pageant is the ideal platform for giving back and making a difference.'
Reflects Rolene Strauss on her own website: 'We moved to a small town called Volksrust, in Mpumalanga. Ever since then I was a small town girl with big dreams,'
'To be the best me, to follow my destiny and someday be a woman who uses what she was given out of grace; to inspire, to love, to sympathize and to give.'
Ardently religious, Strauss also notes: 'The following verse never fails to give me goose bumps: "For I know the plans I have for you," says the Lord. "They are plans for good and not for disaster, to give you a future and a hope." – Jeremiah 29:11. We all have a future of hope, a destiny planned for each as individual. The choices we make are the turns we take on the road to our destinies.' 
But winning the title did come with some trepidation after Strauss found herself being openly critiqued for incurring weight gain prior to the Miss World competition.
Reports heavy: In early-August 2014, Rolene received heavy criticism for her weight gain.[7] This subsequently led to Sun International issuing a press statement that Rolene would only begin her fitness regimen for the international pageants in mid-August.[8] Rolene has teamed up with supplement-giant USN, as well as Virgin Active for her strenuous 12-week body transformation, which is scheduled to end just in time for Miss World 2014.