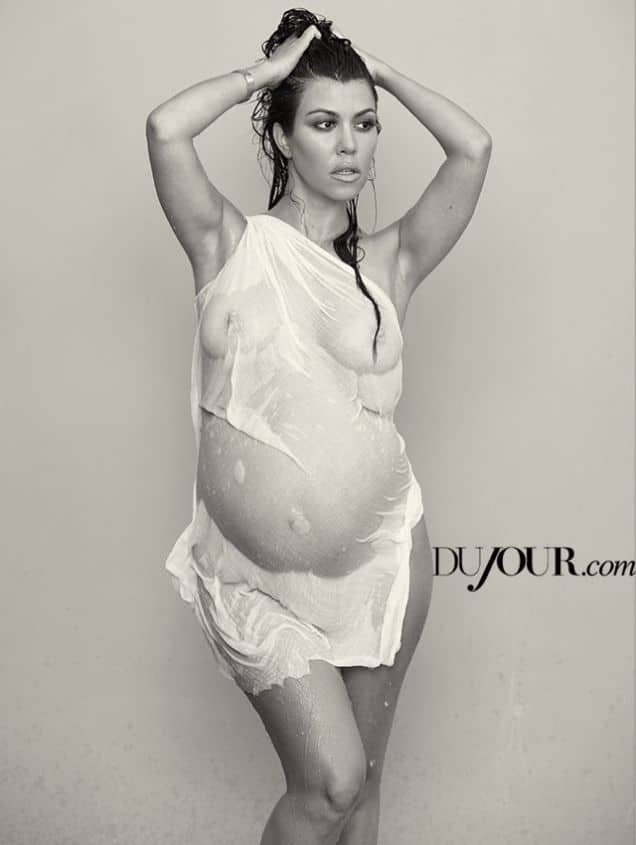 It never stops and it will never stop, but that too is half the fun and intrigue as eldest and very pregnant Kardashian sister Kourtney unveils her own set of naked pictures weeks after sister Kim Kardashian bared all for Paper Magazine.
Video: Kim Kardashian naked breaks the internet and then some
NSFW: Kim Kardashian naked full frontal vagina photos via Papermag
(NSFW) Kim Kardashian naked photos leaked by 4chan?
Chelsea Handler's naked butt is more real than Kim Kardashian's. But who cares?
Not to be undone (but with perhaps a sliver of sister Kim's unadulterated media attention) Kourtney Kardashian would tell Dujour magazine that her decision to bare all came with the desire to celebrate the shape of her body (she is close to 9 months pregnant) unlike Kim who was game set match intent on blowing the internet away.
Explains Kourtney to us mere mortals: 'I wanted to do something that felt authentic to me rather than being pushed in a certain direction by somebody else. '
Adding: 'To me, nudity is not something to be ashamed of. I'm at my best when I'm pregnant.'
A statement that could be best perhaps applied to all of the Kardashian flock who have since the time of Kim Kardashian's sex tape have been under constant public gaze both in the rough and in the buff.
Unlike elder sister Kim who has constantly battled public perception of her image, weight and while we're at it her credibility, Kourtney insists she's not particularly bothered by what others may think of her naked. Which may in fact be true but then why bother posing for a national magazine in the first place if that wasn't necessarily the case?
Tells the mother of soon to be three: 'It's my body: I'm not trying to impress anybody or be something that I'm not,'
'But in general, I don't really care that much about what people think. It doesn't rule my world. I did this because I wanted to and it made me happy.'
And that too might be the lynch pin: it made Kourtney happy and whether it makes us happy or not is besides the point. So stare at your heart's content if you must or just accept you're not nearly as immortal as Kourtney who gets to have it both ways, uber in public admiration and uber in private self adulation…